In July, Gov. Ned Lamont announced Connecticut was increasing its rebates for the purchase of an electric or zero-emission vehicle, boosting the rebate from a maximum $5,000 to $7,500 depending on the type of vehicle purchased.
According to the governor's press release, "Connecticut needs 125,000 to 150,000 EVs by 2025 and 500,000 by 2030 to meet the state's statutorily mandated greenhouse gas reduction target."
But the goal of putting 125,000 electric vehicles on Connecticut roads in the next four years is a long way off.
Connecticut currently has 14,000 electric vehicles registered in the state, according to the Department of Motor Vehicles, meaning Connecticut would need to increase the number of electric vehicles nearly ten-fold in four years to meet its 2025 target, let alone come anywhere near its 2030 target.
That state's target is clearly ambitious, particularly for a state with a legislature that has for many years have declined to allow Tesla – the most popular electric vehicle model in Connecticut – to sell directly to consumers, rather than through a car dealership.
It also stems from an equally ambitious memorandum of understanding that Connecticut signed onto in 2013 under Gov. Dannel Malloy known as the ZEV Alliance. According to that MOU, Connecticut along with nine other states, including New York, California and Massachusetts, pledged to get 3.3 million zero emission vehicles on the road by 2025.
To that end, Connecticut created the CHEAPR program, offering rebates to incentivize electric vehicle purchases in Connecticut. To date, the program has awarded $12.2 million in rebates for the purchase of more than 7,000 zero emission vehicles.
According to the Department of Energy and Environmental Protection's 2020 Electric Vehicle Roadmap for Connecticut report, "EV sales will need to increase substantially to achieve sales volume needed to reach the ZEV MOU target of 125,000 to 150,000 vehicles in 2025."
"Recent economic conditions surrounding the COVID-19 pandemic could make this target more challenging to reach," the report continued.
Will Healy of DEEP noted that many vehicle manufacturers are now transitioning toward producing many more electric vehicles by 2025 or 2030, including Ford, Toyota, Honda and Mercedes. Some manufacturers like Fiat and Volvo say they will be entirely electric by 2030.
"Deployment of electric vehicles is key to Connecticut improving its air quality and reducing its greenhouse gas emissions," Healy wrote in an email. "March 2021 saw the highest purchase rates of new EVs nationwide over a single month, and April was the second highest."
Furthermore, President Joe Biden announced he will issue an executive order setting a target that 50 percent of vehicles sold in 2030 be electric vehicles – another ambitious goal being that only 2.3 percent of 2020 vehicle sales were electric vehicles, according to the World Economic Forum.
Among the challenges facing this ambitious goal, is not just sales of electric vehicles, but also having the charging infrastructure available both at drivers' residences and in public to facilitate electric vehicle usage.
Connecticut currently has 1,197 charging outlets at 449 stations throughout the state, but that is far less than would be needed if the state actually reached its EV goal for 2030. According to the 2020 EV Roadmap, the state would need "831 Level 3 chargers, 6,704 Level 2 public chargers, and 11,085 Level 2 workplace chargers."
The state would also have to incentivize off-peak charging by EV owners as the large number of new electric vehicles "will certainly increase overall electricity demand and revenues for utility providers," the report says.
Part of the federal infrastructure bill, which passed today in the Senate, will also reportedly include $7.5 billion for building out EV charging stations throughout the country.
However, Gov. Lamont and DEEP continue to push for another revenue source to support more electric vehicle investments in the state, namely the Transportation and Climate Initiative program, which would require gasoline wholesalers and distributors to purchase emission credits at auction, with the money – upwards of $90 million per year for Connecticut — being sent to participating states for climate investments.
"Improvements to CHEAPR, and new initiatives like the Transportation and Climate Initiative program, will collectively accelerate adoption and improve affordability of EV's while investing in the supporting infrastructure – critically important measures that will drive down pollution and provide clean air to breathe, especially in overburdened communities along our transportation corridor," DEEP Commissioner Katie Dykes said in the June press release.
Originally envisioned as a regional pact between 12 states, thus far only Connecticut, Massachusetts, Rhode Island and Washington D.C. have signed onto the final memorandum of understanding. Neither the Connecticut General Assembly nor the Rhode Island legislature has approved a bill authorizing their states' participation, although advocates are pushing for a special session to approve the program.
Opponents have likened the measure to an additional gasoline tax because the cost of purchasing emission credits will likely result in higher gasoline prices, ranging from 5 to 17 cents per gallon, as the emissions cap decreases year over year.
But Connecticut's electric vehicle goals are part of a broader, self-imposed goal to reduce greenhouse gas emissions across the state.
In 2008, Connecticut set a greenhouse gas reduction target to reduce GHG emissions to 10 percent below 1990 levels by 2020 and 80 percent below 2001 levels by 2050.
The latest Connecticut Greenhouse Gas Emissions Inventory, which was based on 2017 data, found Connecticut's GHG emissions were 10.5 percent below 1990 levels, meaning Connecticut achieved part of its GHG reduction target before the 2020 deadline.
The Emissions Inventory report also noted that "Connecticut's per capita emissions are among the lowest in the country and have declined 18 percent between 1990 and 2017."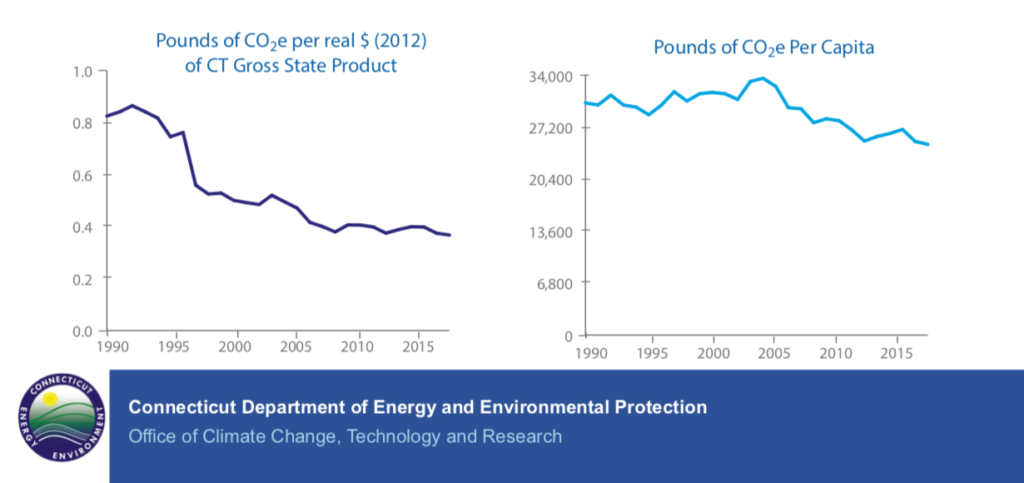 However, in 2018 Gov. Malloy signed a new environmental goal to reduce GHG emissions to 45 percent below 2001 levels by 2030 and maintaining the 80 percent reduction by 2050.
According to the Greenhouse Gas Emissions Inventory – again, based on 2017 data – Connecticut's emissions are 17.4 percent below 2001 levels which will require an additional 24.6 percent reduction over the next nine years, or 13 years if counting for the lag in data reporting.
While that may seem like an unlikely goal to reach in such a short time period, the reality may be different. As noted in several DEEP reports, the transportation sector produces the most GHG emissions in the state, accounting for roughly 40 percent of state emissions.
According to the Transportation and Climate Initiative, however, emissions from the transportation sector are projected to decline "naturally" by 24 percent by 2032 as vehicles continue to become more fuel efficient, federal emission standards change and electric vehicles become more popular.
So its possible that even if Connecticut misses its electric vehicle targets in 2025 and 2030, the emissions generated by Connecticut residents — already some of the lowest in the country — will continue to trend downward toward the state's overall emissions reduction goal.
"Deployment of electric vehicles is key to Connecticut improving its air quality and reducing its greenhouse gas emissions," Healy wrote.