Former president of AFSCME Local 749, Charles Della Rocco, spent nearly an entire year on union business leave, according to time sheets obtained under a Freedom of Information request.
Della Rocco served as a police officer for the Connecticut Supreme Court and was paid roughly $70,000 in salary and approximately $30,000 in fringe benefits over the course of fiscal year 2019, according to the Open Connecticut website, but documents show that he wasn't showing up for work during that time.
Instead, for 212 workdays that year – totaling 1,635.2 hours of state time — Della Rocco was on union leave, meaning the state paid him while he conducted union business.
From July 2018 through September, Della Rocco used union leave, administrative leave and vacation time in amounts ranging from 6.5 hours per day to 8 hours per day for every single work shift.
During days when Della Rocco recorded 6.5 hours of union leave time, he would work at the Supreme Court for 1.5 hours, starting at 7:30 in the morning and then leave to handle union business, according to Brian Hill, director of Human Resources for the Judicial Department.
Della Rocco spent most of October 2018 on administrative leave, according to the time sheets, and then from November 2018 to July 2019, spent every work shift on union leave.
In total, the union president spent 212 days taking union leave, 22 days on administrative leave, 6 days on vacation and 3 days on funeral leave. There were small accumulations of 10 hours personal leave time and 7 hours of medical time off.
Della Rocco's extensive use of union business leave was part of a stipulated agreement between the Judicial Department, AFSCME Local 749 and Della Rocco. In exchange for the leave time, Della Rocco agreed to drop his grievances against the department.
Hill says the extensive use of union leave time was part of a stipulated agreement worked out between the Judicial Department, Local 749 and Della Rocco.
At the time, Della Rocco was embroiled in a fight for his job at the Supreme Court, as the Judicial Department switched from using police officers to court marshals for court security. Della Rocco filed "many grievances" against the department to fight against the change, according to Hill.
He was also campaigning for reelection as president of Local 749 and trying to overturn an election loss to Jody Barr for the position of executive director of AFSMCE Council 4.
"We entered into a stipulated agreement with Local 749 and Mr. Della Rocco to resolve his employment status," Hill said. "At the time there was a new election in AFSCME and if he maintained his position as president we could transfer him to a job within Local 749."
As part of the stipulated agreement, Della Rocco was allowed to take union leave for the year and, in exchange, he dropped his grievances against the department. "That was one of the stipulations," Hill said.
Della Rocco had overseen the purchase of two cars by the union to conduct union business, and, according to a campaign letter sent to Local 749 members, Della Rocco claimed to have "personally visited every location that houses a member of 749 at least twice."
Della Rocco eventually lost his bid to overturn Barr as executive director of Council 4 in a second election. Della Rocco won reelection as president of Local 749 but decided to take a job outside of the Local 749 bargaining unit as a state animal control officer with the Department of Agriculture in July of 2019.
According to the Local 749 contract, the union is allotted 1 hour of union business leave per fiscal year for each member of the bargaining unit. Local 749's website lists approximately 1,540 members.
However, Hill says Della Rocco's leave time was not credited against the contracted bank of hours because he was handling "numerous grievances" against the department and therefore the leave time does not count toward the bank of hours.
According to the contract, the roughly 1,540 hour bank of union leave time is not charged for "processing or investigating grievances, Statewide Labor-Management Advisory Committee Meetings, contract negotiations or steward training. The union leave bank is not even charged for union members to attend Connecticut AFL-CIO conventions.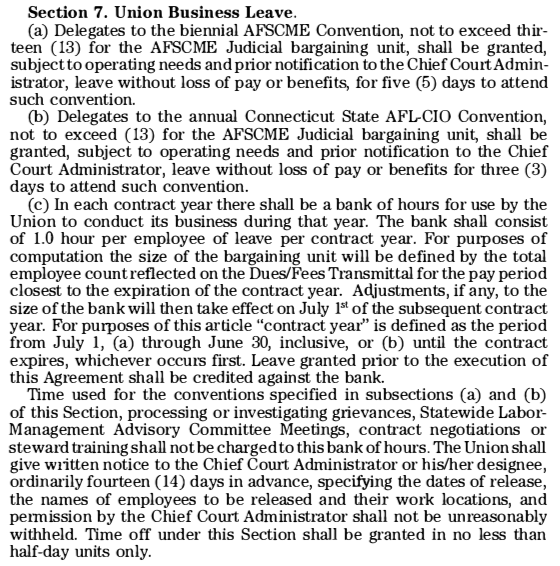 Although his new job transferred him into a new bargaining unit, Della Rocco attempted to retain power at Local 749, by making himself "executive director" of Local 749 — a position that did not previously exist. AFSCME International did not permit Della Rocco to remain in that position.
Instead, Local 749's executive board – several of whom were appointed by Della Rocco – voted to make him "President Emeritus," which gave him a permanent, non-voting seat on Local 749's executive board.
Union business leave is written into collective bargaining agreements and allows an employee paid time off to conduct union business, attend grievance hearings or union conventions.
Public employees who are paid by states to work full time for the union — sometimes months or even years — are often referred to as "ghost employees." The matter has been the subject of lawsuits in the past, particularly in school districts.
A 2016 study by Yankee Institute found the state spent $4.12 million paying for union business leave in 2015, as employees racked up 121,000 hours of union leave time.