Gov. Ned Lamont is given a tough greeting by toll protesters from No Tolls CT as he arrives at the Capitol building.
Democratic senators are filmed being met with jeers of "No tolls," as they head for the caucus room; television cameras and news reporters swarm in the hallway interviewing protesters.
A box truck with Rhode Island plates and a digital sign advertising Lamont's CT2030 transportation plan circles the Capitol building, and digital billboard advertisements paid for by the construction industry and labor unions begin appearing along I-91.
The spectacle of tolls has returned to the Capitol.
The debate over whether or not to install tolls on Connecticut's highways and bridges has become possibly the most public and politically divisive issue in state politics, and today's meeting between Lamont and Democratic senators proved no exception.
Patrick Sasser, head of No Tolls CT, and probably thirty other protesters arrived at the Capitol to make sure the governor and the Democratic senators felt the pressure.
Lamont was there to drum up support among Senate Democrats for his new CT2030 transportation plan that would use toll revenue collected at 14 different gantries around the state to leverage low-interest federal transportation loans. The new plan marks a stark departure from Lamont's previous tolling plan that called for 50 congestion-priced tolling gantries on all the interstates.
But it might not be enough to sway public opinion.
Sasser, in an interview with several news reporters, said the governor and the legislature need to find a way to use existing transportation revenue to fund infrastructure projects and find a way to cut costs, rather than impose tolls.
"We can't tax our way to prosperity in this state," Sasser said. "Lawmakers have to come up with a different way to keep people here, to retain citizens and taxpayers. Otherwise taxes will have to rise because there will no one left to foot the bill."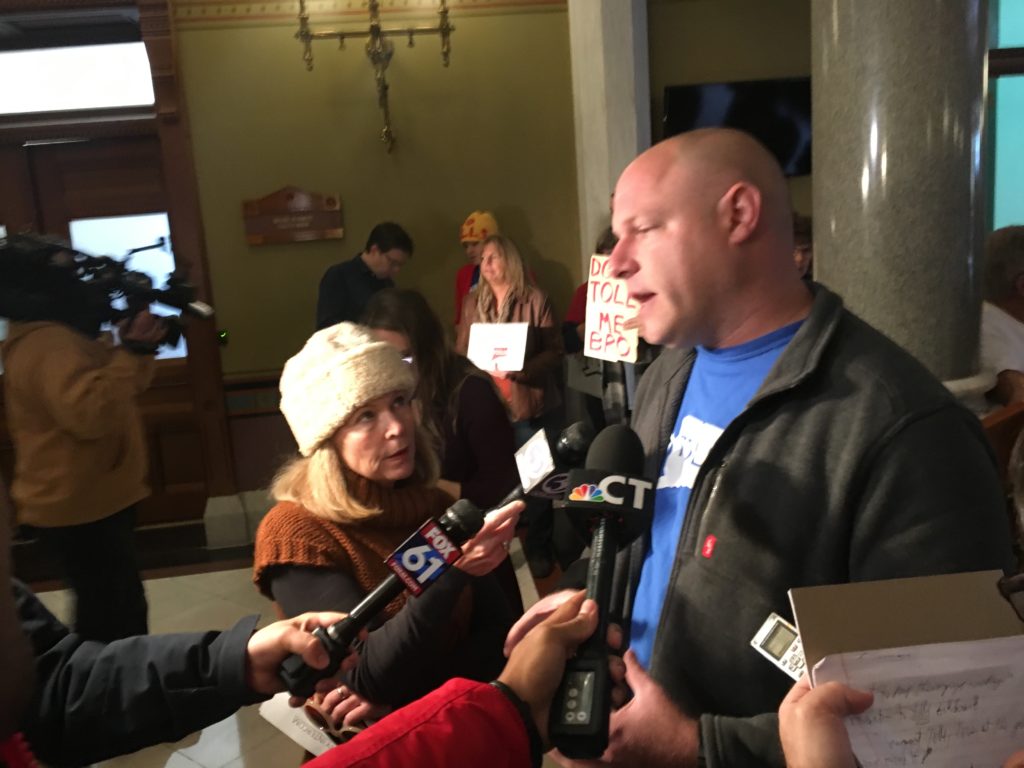 Sasser pointed out that Connecticut saw a net loss of 29,000 residents in 2018, according to the U.S. Census Bureau. He believes adding tolls to the highways will cause more people to leave the state.
Not Tolls CT has remained active over the summer months when many lawmakers were on vacation, taking out billboard ads and sending mailers to voters in key districts.
The group has also secured 22 municipal resolutions opposing tolls in places like Stamford, Enfield, Danbury and, most recently, Southbury.
Alfredo Castillo, councilman for the 136th district in Bridgeport, says he will bring a resolution before the city council to oppose tolls.
"We don't want tolls in Bridgeport," Castillo said. "They can find other money, they don't need to tax the poor, don't tax they people, they have to go to work."
According to polling by Sacred Heart University, public opinion remains steadfastly against tolls, with nearly 60 percent of respondents opposed to the idea.
There may have already been some political fallout during the 2019 municipal elections as Sen. Cathy Osten, D-Sprague, lost her reelection bid as first selectwoman of Sprague. Osten voted in favor of Lamont's previous tolling bill during the committee process and attributed her loss, in part, to the toll debate.
No Tolls CT's latest slogan "Vote for tolls, lose at the polls," may have Democratic senators and representatives nervous as they come into a 2020 election year.
After a two hour meeting, a somewhat irritable Ned Lamont addressed the press and said he had a "productive conversation" with Democratic senators.
"We have a serious, credible plan on the table and the numbers add up," Lamont said. "If anybody else has an alternative, speak up now. It's a good time to speak up."
"As a small businessman it was my job to get people to say 'yes'," Lamont said. "I'm surrounded by people who say 'no'."
Republicans say they will be putting forward an alternative to be released Thursday and Senate President Pro-Tem Martin Looney, D-New Haven, recently floated the idea of legalizing marijuana and sports gambling to raise revenue for infrastructure.
Lamont said he hasn't heard any viable alternatives and that Looney's idea was not broached during the meeting. Based on the general mood and demeanor of the press conference, it would seem things did not go as well as the governor hoped. The press conference was short and he was quickly ushered away by his handlers.
With the legislature apparently in limbo regarding Lamont's transportation plan, the spectacle will likely continue unabated.
Stay tuned.