Senators Will Haskell, D-Westport, and Alexandra Kasser, D-Greenwich, have filed a bill authorizing the Department of Transportation to install electronic tolls on Connecticut's interstate highways and parts of Route 15.
The debate over tolls was put to rest in late 2019 after Gov. Ned Lamont and Democrat leaders couldn't reach an agreement, but with Democrats gaining an even larger majority in both chambers and the loss of revenue due to the pandemic, the table for whether tolls can be passed in Connecticut could be reset.
The Special Transportation Fund went from having a projected positive balance to a $21.5 million deficit by 2024, according to the Office of Fiscal Analysis, as the number of drivers plummeted during the pandemic leading to less gasoline tax revenue.
Both Kasser and Haskell had said they would continue to support tolling highways over the summer, even as former Speaker of the House Joe Aresimowicz said that tolls would never happen in Connecticut.
Whether Lamont or Democrat leaders will have an appetite to return to the tolls debate remains to be seen.
According to the CT Mirror, Lamont said that he would not seek tolls again during the 2021 session and said he was looking into alternatives.
But if the tolls bill finds its way to the Transportation Committee it could mean a resurgence of No Tolls CT, a group that hounded both the governor and toll-supporting lawmakers throughout 2019.
"This doesn't surprise me," said Patrick Sasser, founder of No Tolls CT. "These two senators have a fixation on tolls. Instead of looking for ways to cut costs at DOT and reduce spending, they want to take the easy way out by charging to drive work when people in our state are struggling more now than ever."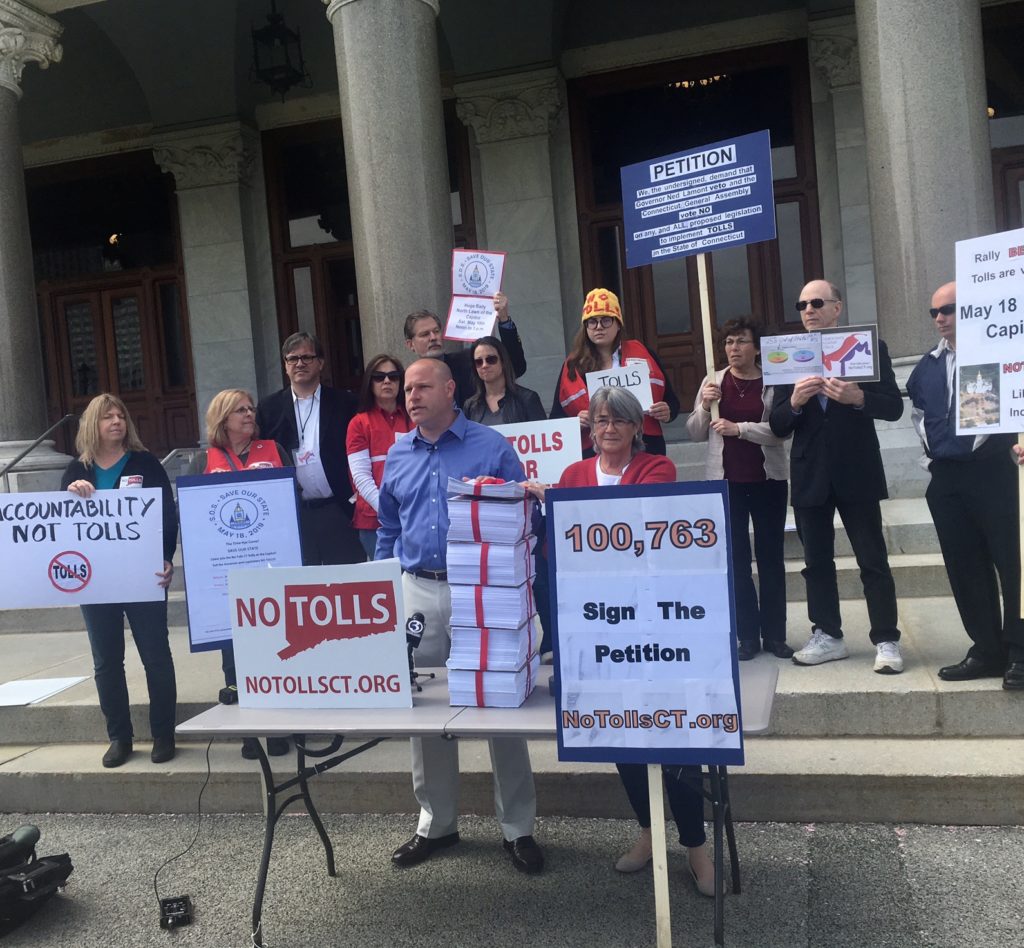 Traffic on highways remains lower than average as many commuters remain working from home. Gasoline prices, as well, have remained low leading to less revenue from the Petroleum Gross Receipts tax.
According to the OFA, revenue to the transportation fund is projected to be $140.7 million lower in 2021 than previous projections, although expenditures were also decreased by $79.6 million.
Beginning in 2023, the state will also fully commit sales tax revenue from motor vehicle sales to the STF, after the governor and legislature diverted much of it during for the years 2020 and 2021, but it will not enough to offset the increased cost of debt service payments related to transportation bonds.
One of the governor's alternatives to tolls, could be the Transportation and Climate Initiative that Lamont signed onto in December.
The agreement with TCI would force gasoline producers and distributors to purchase carbon allowance at auction. The money from those auctions would then be funneled to states like Connecticut, Rhode Island, and Massachusetts – the only states to have signed onto the agreement along with Washington D.C. thus far.
The effect could be to raise gasoline prices by as much as 17 cents per gallon in the first year with possible increases to come in following years as the emissions cap is lowered.
But the optics of pushing for higher costs on residents – whether through tolls or a regionalized gasoline price increase — during a time when unemployment remains high and the pandemic is still preventing businesses and the legislature from fully reopening could prove difficult.
Neither of the senators are listed as serving on the Transportation Committee this year.