United Van Lines released its National Migration Study on Monday and, despite the pandemic and a hot real estate market, Connecticut was once again in the top five states that saw more people moving out.
According to the study, 63.5 percent of the state's migration was outbound, compared to 36.5 percent inbound. Connecticut had the fourth-highest outbound rate in the country, with New York, New Jersey and Illinois all faring worse.
The rate might come as a surprise to many, as New Yorkers have reportedly been leaving the city and flocking to Connecticut, but 2020 appeared to be business as usual for Connecticut with the outbound rate very similar to 2019's study.
United Van Lines, however, also tracked age, the reason for moving and income levels, which showed the majority of moves both in and out of the state were by those in higher income brackets.
According to the study, 48.51 percent of people moving out of the state earned more than $150,000 per year and 25.37 percent of movers earned between $100,000 and $149,999 per year.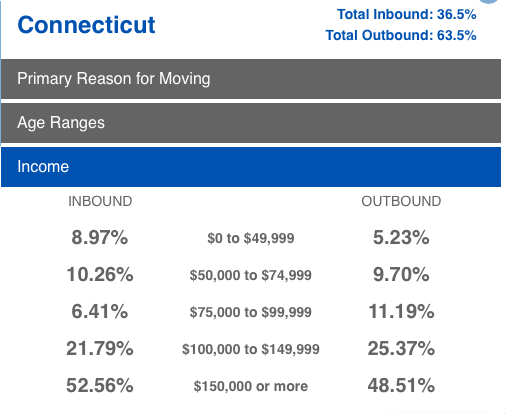 Similarly, those moving into the state were also on the high end of the income spectrum, with 52.56 percent earning more than $150,000 per year and 21.79 percent earning between $100,000 and $149,999.
The primary reason for moving out of Connecticut was almost evenly split between those retiring and those moving for job-related reasons. The largest cohort of people moving into the state did so to be near family, followed by those moving for a job.
Previous years' data from the Internal Revenue Service has shown Connecticut tends to see a net loss of high income earners who have the resources to be highly mobile. 
If United Van Lines' data holds true, it means that even with an influx of New Yorkers paying top dollar for Connecticut real estate, Connecticut could once again see a net out-migration of wealth from the state.
IRS data for 2020 will not be available for at least another year. The most recent data from the U.S. Census Bureau showed Connecticut lost roughly 22,000 people to other states in 2019.
Connecticut has seen eight straight years of migration loss since the state's population topped out in 2013, with southern states like Florida reaping the benefits from not only Connecticut but other Northeastern states.
Michael A. Stoll, economist and professor in the Department of Public Policy at the University of California, Los Angeles, said the pandemic may have accelerated migration trends.
"United Van Lines' data makes it clear that migration to western and southern states, a prevalent pattern for the past several years, persisted in 2020," Stoll said in United Van Lines' press release. "However, we're seeing that the COVID-19 pandemic has without a doubt accelerated broader moving trends, including retirement driving top inbound regions as the Baby Boomer generation continues to reach that next phase of life."
The study did find differences in the reason people moved during the pandemic, however, with fewer people moving for job-related reasons and more moving to be closer to family.
While Connecticut neighbors New York and Massachusetts also saw more outbound migration, Rhode Island saw more people moving into the state by 10 percentage points.
Idaho was the top inbound state with 70 percent of moves coming into the state, followed by South Carolina, Oregon, South Dakota and Arizona.