Connecticut ranked 6th in the nation for loss of wealth to other states between 2017 and 2018, with a net loss of $1.13 billion in adjusted gross income as people moved out, according to figures released by the Internal Revenue Service.
Where is all the money going? Florida, mostly. The Sunshine State has been drawing Connecticut residents consistently for years and, over the course of 2017, accounted for $922 million of Connecticut's total loss of gross income.
Connecticut also saw a net loss of $157 million to Massachusetts and $149 million to North Carolina.
Connecticut did gain more than $1 billion in wealth from New York as people moved across state lines, but it was not enough to prevent the overall loss, which amounted to .7 percent of Connecticut's total adjusted gross income.
According to the U.S. Census Bureau, Connecticut experienced a net loss of 29,517 people in 2018, with a significant increase in the number of individuals moving to Florida.
Connecticut has seen an overall population loss to other states consistently since 2013, and studies show those moving out have higher earnings than those moving into the state, but 2017's loss wasn't nearly as bad as some previous years.
2015 saw a net loss of $2.6 billion, largely from high-wealth individuals leaving, with $1.8 billion of that wealth going to Florida, according to the IRS.
Between 2016 and 2017, Connecticut saw a net loss of $2.1 billion, according to IRS figures
The largest groups of people leaving generally consist of retirees and college students, and retirees make up a large portion of the income and wealth loss. But Connecticut's sluggish economic growth may be driving people seeking jobs out of state as well.
The 2018 moving survey by United Van Lines ranked Connecticut 4th in the country for more people moving out than moving into the state. The primary reason for moves was job related, followed by retirement.
The 2018 United Van Lines survey showed that 51 percent of the people moving out earned over $150,000 per year, while 42 percent moving in had similar earnings. The latest 2019 survey shows similar results.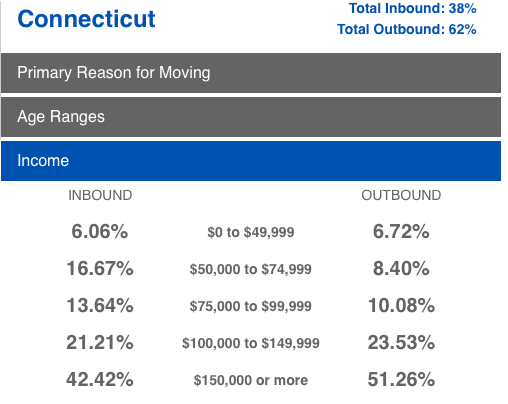 Florida has attracted some of Connecticut's most wealthy individuals, including Paul Tudor Jones, Barry Sternlicht, Edward Lampert, C. Dean Metropoulos and Thomas Peterffy. Florida has no state income tax and actively tries to poach investment companies from Fairfield County.
The causes of Connecticut's outmigration and population loss is a common subject of debate, ranging from the weather to the state's tax burden, but the loss does have implications for the state's fiscal future.
Lawmakers expect Connecticut's revenue to continue increasing, and last year's income tax receipts showed growth, but the year-over-year loss of high earning individuals for those earning less may complicate the math in the future.
Gov. Ned Lamont and the legislature closed a $1.5 billion budget deficit in 2019 with a mixture of small tax and fee increases and maintaining taxes that were meant to sunset. But the state now faces a $28 million deficit this year, when it was expecting to see a $141 million surplus.
The Office of Fiscal Analysis, however, projects budget deficits ranging from $757 million to $1.2 billion between 2022 and 2024, largely due to escalating fixed costs that are growing faster than revenue.
Fears of a recession for both the state and the country are somewhat tempered given Connecticut's growing Rainy Day Fund, which is projected to grow to $3 billion by 2021.
New York, Illinois and California all saw large outflows of wealth, losing as much as 1.3 percent of their total AGI to other states, according to Wirepoints.org.