Employees at the state-run Connecticut Valley Hospital and Whiting Forensic Hospital racked up $102,213,466 in overtime over two years, according to a report by the Auditors of Public Accounts.
This averages out to $38,870 in overtime per employee across the 2,699 workers at those state hospitals.
The auditors also found that five of the employees earned "excessive overtime," working more than 30 consecutive days in a row on numerous occasions.
"These employees worked more than 30 consecutive days on 14 occasions in fiscal year 2017 and 16 occasions in fiscal year 2018," the auditors wrote. "Additionally, 4 of the employees earned more than double their annual base salaries in both fiscal years."
Employees at Whiting and CVH can be mandated by management to work overtime, however, meaning the excessive overtime is not necessarily voluntary. Extensive amounts of overtime can lead to staff exhaustion and create difficult or dangerous work conditions.
The auditors also found that there was not documentation and approval for hundreds of hours of overtime.
Massive overtime at Connecticut's hospitals is nothing new. The Department of Mental Health and Addiction Services, the state department which oversees the hospitals, is usually only second behind the Department of Correction in yearly overtime spending.
In fiscal year 2018, DMHAS spent $54 million on overtime and $52.9 million in fiscal year 2019.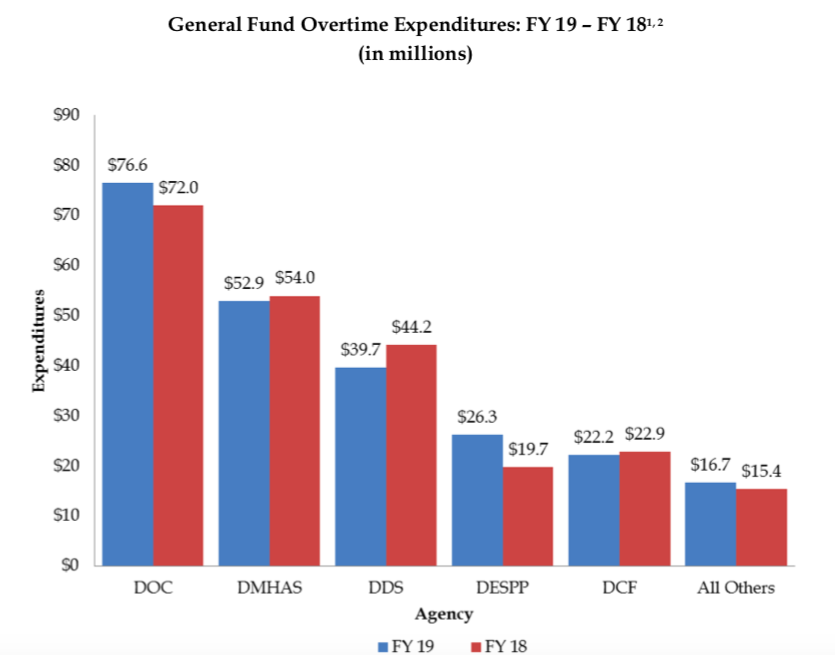 The latest quarterly report from the Office of Fiscal Analysis shows DMHAS has so far expended $44 million on overtime, roughly $4 million more than this quarter last year.
Overtime earnings count toward state employee pensions and can drive up an employee's pension payout when they retire.
Past attempts by lawmakers to remove overtime earnings from pension calculations were met with stiff rebuke by union leaders and were never passed. However, the 2017 SEBAC Agreement added a new retirement tier that limits the amount of overtime that counts toward a pension payment, but only applies to employees hired after 2017.
The auditors, however, noted that the excessive overtime was due to "the complexity of the department's workforce, staffing shortages, and a lack of oversight by management."
The department responded that Whiting Forensic Hospital "notified all bargaining unit personnel that the hospital would be adhering to previously issued guidelines that prior authorization be approved for requesting overtime."
The department also said it is installing a new electronic timekeeping system "which will fully automate this function."
"This system will assist WFH in managing overtime and maintaining precise documentation of hours worked," the department wrote.
Staff and union leaders for Whiting Forensic say that lack of staffing, mandated overtime and dealing with violent patients in Connecticut's maximum-security psychiatric facility have led to unacceptable working conditions.
Whiting Forensic Hospital was the center of a patient abuse scandal in 2018 that saw the removal of 36 staff members, including 10 arrests for the abusive treatment of a patient.
At least one nurse, Mark Cusson, was found guilty in court and is currently serving a sentence, while also collecting a pension.
In 2016, Cusson earned $88,000 in salary with an additional $64,000 in overtime and nearly $18,000 in "other pay," according to the Open Connecticut website.
Eight other employees dismissed in the abuse investigation are also receiving pensions.