With Connecticut's budget on the rocks and a state employee pay increase just weeks away, SEIU 1199 launched a commercial on television and social media saying some politicians are "going to take away my wages so they can balance the budget."
The "Don't Call Me a Hero" commercial features state employees from the Department of Developmental Services and the and the Department of Children and Families citing their experiences during the COVID-19 pandemic and telling the public to contact their lawmakers.
"This is how you treat essential workers?" one employee with the Southbury Training School asks.
State employees are scheduled to receive the second half of a roughly $353 million pay raise in July, the start of a fiscal year that is already estimated to be facing a $2.2 billion deficit.
The commercial comes as Connecticut faces an projected $7 billion budget deficit over the next three years and 531,000 state residents filed for unemployment claims amid the coronavirus shutdown of non-essential businesses.
But the job losses affected essential workers in the private sector as well, as hospitals have had to cut hours and furlough nurses and layoff other employees to deal with a severe decline in surgeries and other in-patient treatments during the pandemic.
The Connecticut Department of Labor measured a loss of 45,200 jobs in the Educational and Health Services sector in April, a decrease of 13.1 percent. The DOL cautioned, however, that their latest unemployment report was "severely underestimated" due to issues in data gathering.
Gov. Ned Lamont said a press conference that he has not had productive talks with union leaders regarding suspension of the wage increases.
"We've had good discussions, but not productive discussions," Lamont said.
Lamont said he offered to keep raises for front-line workers, those in nursing homes and corrections but told union leaders he believed other employees could hold off on receiving a wage increase.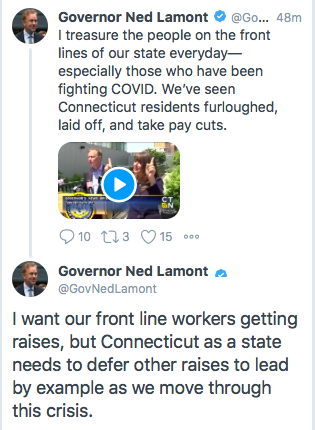 "I can't see giving everyone in state government a raise right now. I would have put it off, I think you should put it off." Lamont said.
But the governor said he does not have the power to suspend those raises. "No. I tried. I can't find any way to do that," Lamont said. "We don't have a lot of leverage under the contract for another year or so."
The 2017 SEBAC Agreement negotiated between Gov. Dannel Malloy and the State Employee Bargaining Agent Coalition, offered the raises and layoff protection for state employees until July of 2021 in exchange for increased medical premiums and copays and a new retirement tier.
New York Gov. Andrew Cuomo temporarily suspended a 2 percent pay increase for state employee in April and Pennsylvania Gov. Tom Wolf froze the pay of roughly 9,000 state employees, saying they could take vacation time or unemployment.
There have been numerous actions by states and state universities across the country to reign in labor costs as they face difficult budgetary problems due to the pandemic.
The commercial that just began airing on June 8 certainly appears to be a rejection to the idea that state workers might have to wait for raises.
The commercial also comes on the heels of the "Money Bags and Body Bags" protest organized by unions, including SEIU 1199, where 40 cars drove through Greenwich honking their horns and placing fake body bags outside people's homes.
The protest was meant to draw attention to the unions' call for increasing the tax rate of Connecticut's top earners to support Connecticut's budget deficits.