A new study from the Beacon Hill Institute in Massachusetts found that project labor agreements cost Connecticut taxpayers an extra $500 million in school construction costs between 2001 and 2019.
Using a sample of 95 school construction and renovation projects in Connecticut totaling over $2 billion, the study found taxpayers paid between $8.9 and $26.7 million more per school construction project.
"Our estimates show that taxpayers would have saved $503.463 million, or over $9.681 million per project, if PLAs had not been used," the study says.
The findings could have big implications in Connecticut's debate over tolls and Gov. Ned Lamont's most recent transportation bill, which guarantees infrastructure projects will be completed using project labor agreements.
Project labor agreements essentially require a construction project to be completed using union labor, rather than non-union companies, but the overall effect, the study found, was to increase the cost of the project by 19 percent.
Lamont rode to victory in his gubernatorial campaign with the help of Connecticut's unions, which held rallies in his support and spent over $1 million in independent expenditures supporting Lamont.
A coalition of construction labor unions has spent over $1 million in lobbying for Lamont's various tolling plans over the course of 2019.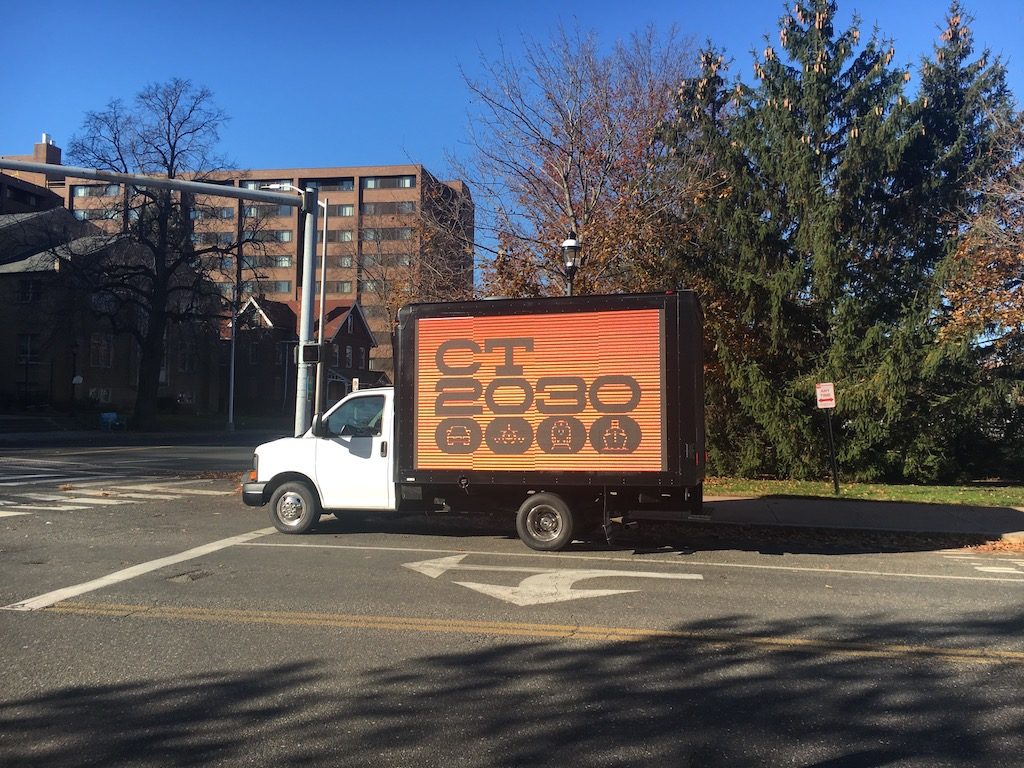 Unions have come out in force to support Lamont's plan, crowding the Capitol with pro-toll signs and even circling the Capitol with a box truck from Rhode Island advertising Lamont's CT2030 plan.
But the guarantee that infrastructure projects will be completed using project labor agreements has spurred the ire of Connecticut's non-union construction industry, which comprise between 80 and 85 percent of construction companies in the state.
"This study confirms what we've been saying all along," said Chris Fryxell, president of the Connecticut Chapter of the Associated Builders and Contractors in a press release. "Government-mandated project labor agreements unnecessarily and significantly drive up construction costs, forcing taxpayers to pay more."
The inclusion of the PLA language in this bill, affecting such a broad scope of projects is unprecedented and inappropriate.

Chris Fryxell, president of the Connecticut Chapter of the Associated Builders and Contractors, testifying before the Transportation Committee
Connecticut is required to put projects out to bid in order to secure the best price, but critics say mandating a project labor agreement means non-union firms are unlikely to submit a bid because it forces them to hire workers from union halls, adhere to union rules or make their own employees dues-paying union members for the length of the project.
"PLAs effectively prevent those local, qualified workers and contractors from getting a fair opportunity to work on public projects paid for by their own tax dollars," Fryxell said.
Supporters of PLAs say the agreements guarantee the work will be completed on time by skilled and qualified workers who are guaranteed good wages, benefits and protections while they are on the job.
Testifying before the Transportation Committee on January 31, President of the CT AFL-CIO Sal Luciano said PLAs "are a much better process because it makes sure that companies don't cheat."
"It makes sure that the people you're bringing to the job are people from the community," Luciano said and pointed out that recently completed work on I-84 in Waterbury was done using a PLA. "They're famous for being on time because they quote you how much money it's going to cost, tell you when it's going to be done and they're very good at producing those on time."
The Beacon Hill study, however, says that such claims are "merely anecdotal" and pointed to several studies that have shown PLAs drive up the cost of construction substantially. Boston's infamous "Big Dig" — a major tunnel project that came in 190 percent over budget and eight years late — was done using a PLA.
A study by the New Jersey Department of Labor in 2010 found PLAs increased the cost of school construction by 30 percent, while a similar study out of California by the National University System Institute for Policy Research found PLAs increased school construction costs by 13 to 15 percent.
School construction costs in Connecticut are generally paid for through a combination of state and local funds. Connecticut will issue bonds to pay up to 80 percent of school building costs, with the municipality footing the rest of the bill.
But Connecticut's spending and bonding history has begun to play havoc with the state's finances. Lamont is trying to put the state on a "debt diet," by restricting bonding, even after the legislature passed a $1.9 billion bonding cap in 2017.
"For years, our state has struggled with budgetary issues, including the availability of funds for construction projects," Fryxell said. "We should be looking to spend every tax dollar as wisely and efficiently as possible, and step one should be the elimination of government-mandated PLAs."
The inclusion of PLAs into Lamont's transportation bill before any projects have even come up for bid, could also have long-term effects. The governor hopes to leverage $172 million in truck-only toll revenue to pay for $19 billion in infrastructure projects.
Higher construction costs mean fewer projects will be able to be completed for the money and could send lawmakers back to the drawing board to find more revenue.
The nod to big labor in Lamont's transportation bill was not lost on toll protesters at the public hearing on January 31, some of whom brought signs lambasting the connection between Lamont and the unions.
Testifying before the Transportation Committee, Fryxell said the inclusion of PLAs in the transportation bill "discriminates" against non-union contractors.
"Government-mandated PLAs discriminate against the roughly 85 percent of Connecticut workers and contractors who have chosen not to join a union," Fryxell said. "You're restricting the bidding process, so you're eliminating a lot of competition, you are also dictating a lot of rules that I would say are uncommon in most construction projects."
All state and municipal projects over $1 million in Connecticut are subject to prevailing wage standards that dictate the pay and benefits of employees performing the work. State law also allows for PLAs on a project-by-project basis when it is shown there is an overall benefit to the public.
Twenty-five states have passed laws restricting the use of government-mandated PLAs, according to the CTABC.