Senate Democrats gave tepid support for Gov. Ned Lamont's plan to toll trucks following a long caucus meeting, but a special session on the matter remains in limbo as a bill has yet to be drafted and the numbers fully vetted.
Senate Democrats remained Lamont's biggest hurdle after rejecting the governor's original CT2030 plan because it would toll all vehicles.
Senate President Pro Tem Martin Looney, D-New Haven, said his members remained concerned about oversight of the Department of Transportation and ensuring the tolls remain for only trucks, rather than cars.
Senate Democrats caucused for several hours as both anti-toll and pro-toll protesters waited in the hallway having occasional light-hearted chanting sessions as senators walked by.
Earlier in the day, Speaker of the House Joe Aresimowicz, D-Berlin, said he was "comfortable" the plan would pass in the House, but said bill language still has to be drafted and revenue and expense numbers fully fleshed out before a vote can be taken.
"I feel very comfortable is the way I termed it and I still feel very comfortable," Aresimowicz said. "There are some questions left to be answered, there's the finality of the bill actually being written up and getting the bill in their hands so they can read it, but I feel very comfortable that we can move forward."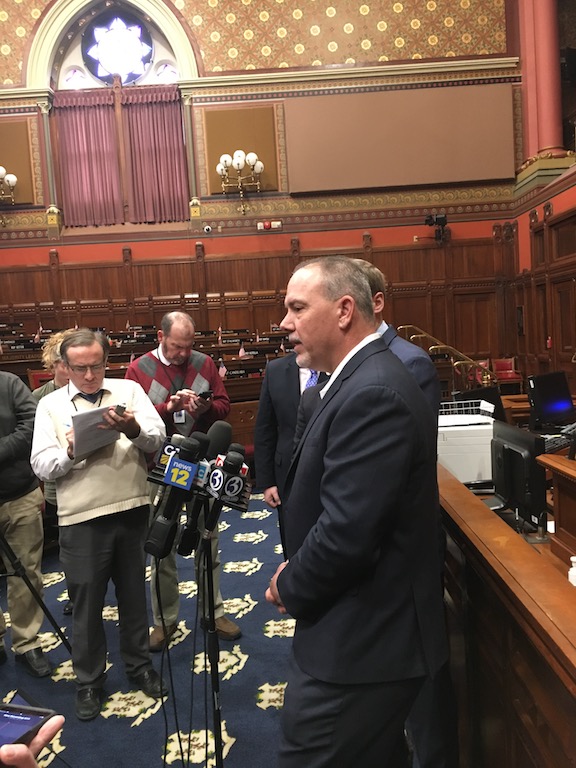 The truck tolling plan has been slightly changed: only 18-wheeler tractor trailer trucks will be subject to tolls, not box trucks that are often used by tradesman or moving companies.
This change lowers the projected revenue from tolls from the original estimate of $187 million to "between $150 and $175 million," according to Aresimowicz.
The speaker added that he does not believe a vote on tolls will hurt Democrats' elections prospects during the 2020 election. "I absolutely do not," Aresimowicz said.
Senate Democrats appeared less confident. Looney said he had to protect his members from "partisan attacks," by adding provisions to the yet-to-be-drafted tolling bill.
Republican Senate Leader Len Fasano, R-North Haven, and House Republican Leader Themis Klarides, R-Derby, said their members remain steadfastly opposed to any tolls and cast doubt on whether or not Democrats actually have the votes to pass the plan.
"There's no toll plan, let's be clear. I'm not exactly sure what today was about. They don't have a bill, they don't have a plan, they're saying it's changing as we talk, the revenue is going down," Fasano said. "If they had the votes, they'd vote it. We all know how this building works."
"What we heard of what they said today just appears to be a regurgitation of the past, except for the fact that the amount of money that they were anticipating to get from the first trucks-only plan – which wasn't enough at the time – is now less," Klarides said. "We are still strongly against tolls for all the reasons we've given before."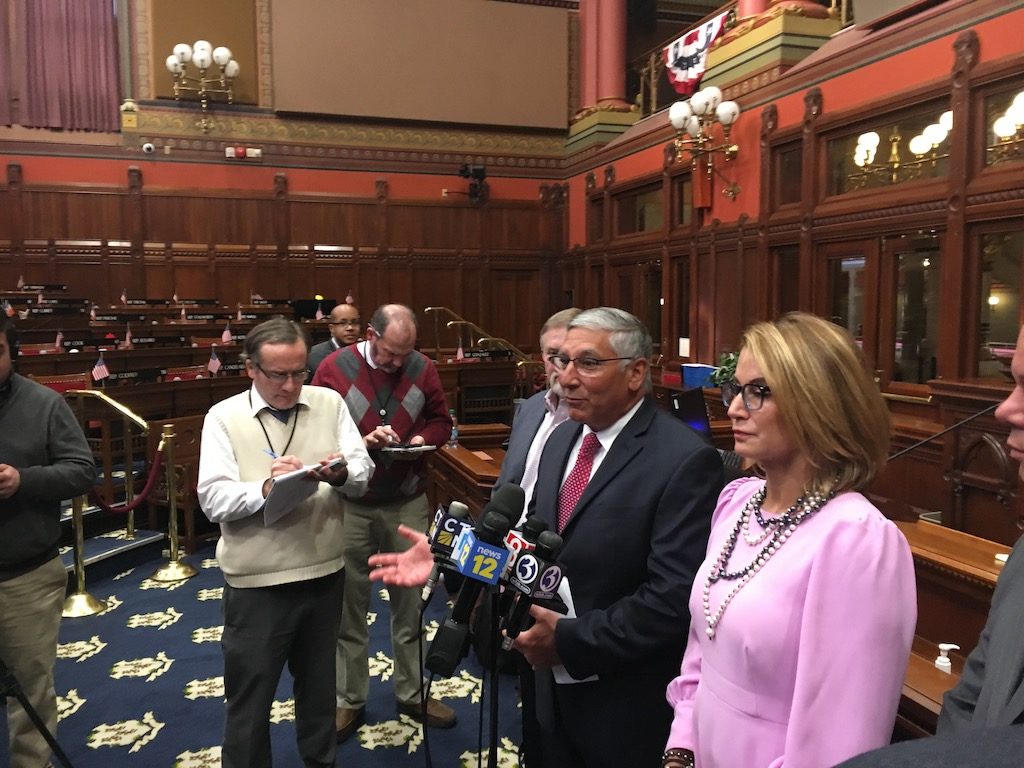 If passed, the truck tolls would not take effect until about 2023, although a lingering lawsuit brought by trucking associations against the state of Rhode Island over the state's truck-only tolls threatens to undermine the whole plan. Democrats say they are "confident" Rhode Island will win the case.
The changing numbers and details led Joseph Sculley, president of the Motor Transportation Association of Connecticut, to question the governor and Democrat leaders' credibility on the plan.
"No one should trust these numbers," Sculley said in a press release. "It is clear they are not based on any reliable information."
In a statement, Lamont thanked the Democratic caucuses for meeting and said he looks forward to more discussions.
"These are decisions that prior elected officials put off for decades and Connecticut can no longer afford to kick the can down the potholed road," Lamont said. "I look forward to continuing these discussions so we can adopt a plan to finally fix out transportation system and get our state's economy moving again, in short order."
Aresimowicz predicted a special session could occur in the last half of the month of January.