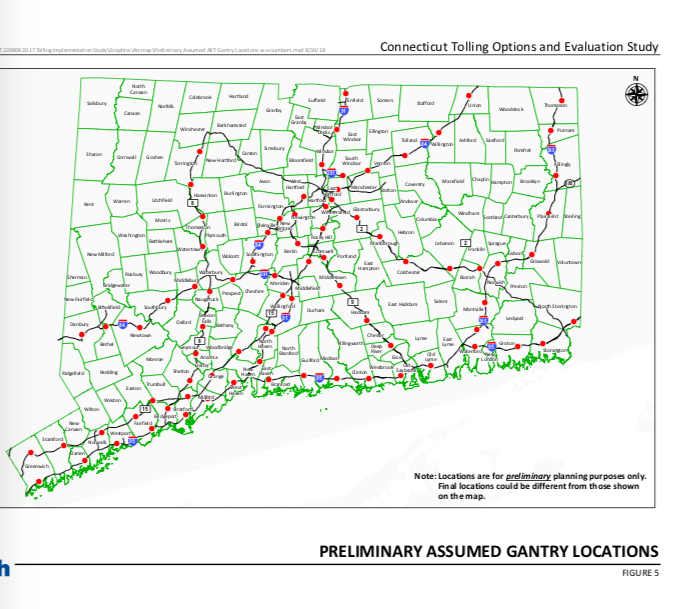 The Connecticut Department of Transportation released a new tolling study by engineering consultants CDM Smith which outlined a proposal to install 82 electronic tolling gantries on all Connecticut's major interstates and routes 15, 8, 9, and 2.
"The report we are releasing today is designed to inform a dialogue among our elected leaders and the citizens of Connecticut about the potential for instituting tolls in the state," said CTDOT Commissioner James P. Redeker in a press release. "Governor Malloy's Transportation Finance Panel concluded that current revenues are insufficient to maintain our roads and bridges or to remove traffic bottlenecks and reduce congestion and recommended tolls as one way of generating new revenue."
CDM Smith estimates the tolls would generate $1.086 billion per year and cost approximately $100 million per year in operating costs after the initial installation costs of $372 million.
According to the report, Connecticut drivers with an E-Z Pass would receive a 20 – 30 percent discount, while out of state drivers and trucks would pay more.

Peak rates for drivers were estimated to be 7.9 cents per mile, with a discount down to 5.5 cents per mile for Connecticut commuters, although the rates change depending on time of day and the type of E-Z Pass.
A single, one-way trip on I-95 from New York to New Haven during peak hours would cost $2.11 or $4.22 for a round trip. That could equal $21.10 per week for a regular commuter with an CT E-Z Pass commuter discount.
Heavy trucks could pay as much as 47.3 cents per mile, under the plan.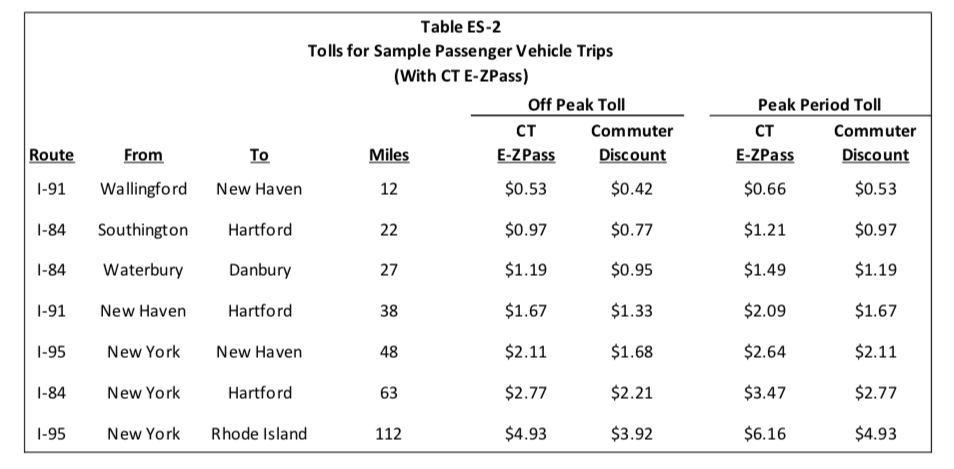 The CTDOT estimates the average Connecticut driver travels 12 miles on "limited access highways" like Routes 8, 15, and 9.
Including the discounts for Connecticut drivers with an E-Z Pass, CDM Smith estimates that 40 percent of toll revenue would be generated by out of state drivers.
The electronic tolls – known as "congestion tolls" – would also serve to divert traffic off the highways during peak hours, according to the report.
The study was previously kept under wraps by DOT Commissioner James Redeker and was the subject a complaint to the Freedom of Information Commission by Sen. Len Suzio, R-Meriden. In July, Redeker cited the results of the study in testimony before the state Bond Commission but refused to release the study until today.
Gov. Dannel Malloy and a number of other state legislators say tolling Connecticut's highways are necessary to support the state's Special Transportation Fund.
Several tolling bills were proposed during the 2018 legislative session, but none were brought to a vote.
The study released by CTDOT is different from the $10 million tolling study authorized by the state Bond Commission in July, which would conduct the environmental studies necessary for the federal government to approve tolling on the interstate highways.
Malloy issued an executive order to conduct the environmental studies after the legislature was unable to pass a bill to authorize the study.
Governor-elect Ned Lamont said he would try to limit tolling to out of state trucks only, but a similar plan by Rhode Island has resulted in a lawsuit against the state.
The number and locations of the tolling gantries are subject to change, according to the study, and will likely depend on how lawmakers choose to implement the tolls.
Previous tolling bills called for the establishment of a Transportation Authority – a quasi-public agency which would oversee the implementation and collection of toll revenue.