Gov. Dannel Malloy's education cost sharing executive order maintained flat funding for the Bridgeport school system, but that wasn't what Bridgeport Superintendent Aresta L. Johnson was hoping for, according to her budget talking points.
Despite receiving the same amount of state education funds as last year, the Bridgeport school system has implemented a hiring freeze and an operational account freeze for nonessential and contractual accounts as the school system faces rising costs.
The flat-rate funding also means Bridgeport schools will not be able to bring back paraprofessionals, councilors and teachers they had to lay off last year – sparking criticism from residents at State Board of Education meeting in September.
During the 2016-2017 school year, the state cut approximately $1.3 million in grants from the Bridgeport while costs related to collective bargaining, health insurance and special education created a budget deficit of $16 million.
In response, Bridgeport cut kindergarten paraprofessionals, home-school coordinators and guidance councilors and had to lay off some teachers.
The Bridgeport school system requested an additional $15 million from the state for the 2017-2018 school year.
Due to the lack of a state budget and Malloy's executive order, Bridgeport's funding will remain flat while 139 towns and cities will see their education funding slashed or eliminated.
But receiving the same amount of money has last year will leave Bridgeport public schools hanging on by a thread.
The Bridgeport board of education was set to run out of money on September 31, just before the first round of grants under the executive order, according to a letter sent from Bridgeport Office of Policy and Management Secretary Nestor Nkwo.
"In the event that the State does not remit State funds for Board expenses, the City will not have funds to pay any additional Board expenditures," the letter said.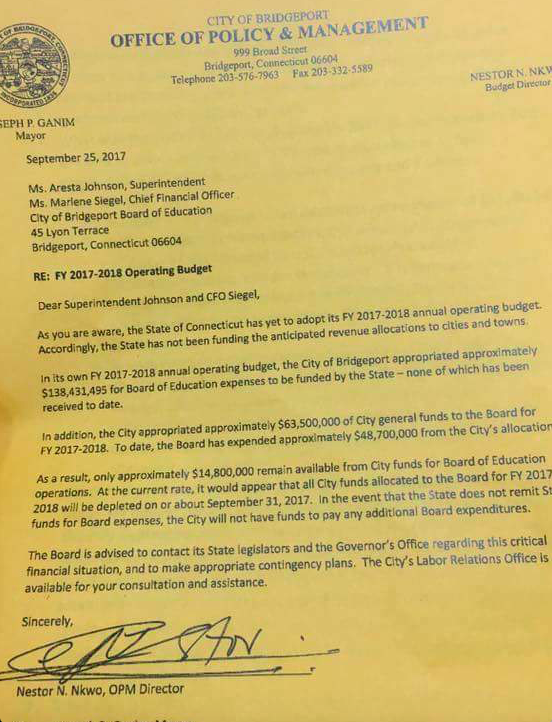 The City of Bridgeport had given the board of education $63.5 million for the FY 2017-2018 operating budget but as of September 25, only $14.8 million remained.
On October 2, Bridgeport received the first 25 percent of its executive order funding of $181 million, but that is only enough to get the school to the new year even with the hiring freeze and service cuts, according to Nkwo.
"We hope that the State of Connecticut budget issues will be resolved by then," Nkwo said in an email.
Despite the challenges facing Bridgeport, lawmaker and media attention has largely been focused on Hartford. Hartford faces a number of challenges and is preparing for the possibility of bankruptcy.
Both school districts are part of the 30-member Alliance District of underperforming schools which were held harmless in the executive order.
But Bridgeport has to make do with much less, which appears to be a sore spot. "If Bridgeport were equitably funded with Hartford, as an example, Bridgeport's budget would rise by $105M!" Johnson wrote in the budget talking points.
Hartford's education funding also remains flat under the executive order, but their cost per pupil is much higher than Bridgeport's. Hartford spends $19,138 per student, while Bridgeport spends $14,186 per student, according the State Department of Education.
The Bridgeport board of education receives 74 percent of its funding from the state, compared to Hartford, which receives approximately 78 percent of its funding through state grants.
Hartford schools, however, are facing problems similar to Bridgeport. The state cut some education funding grants last year and costs are increasing, leaving the Hartford board of education having to make cuts and lay off staff. The City of Hartford is hoping for a bail-out from the state to stave off bankruptcy.
Matching the previous year's state allocation, means that both Bridgeport and Hartford will have to find ways to deal with increasing costs.
Under the terms of Bridgeport's collective bargaining agreements between the board of education and the unions representing teachers and other education staff, salaries for employees will increase $3 million this year alone.
Health insurance for active employees and retirees and special education costs are both projected to grow an additional $1.8 million each, according to the board of education's budget presentation.
With the additional costs and school enrollment projected to grow, Bridgeport's long-embattled public schools may face a difficult year, even after a budget agreement is reached.