The US economy has officially recovered the private-sector jobs lost at the beginning of the pandemic, but Connecticut's slow growth means it still has a way to go. 
June job numbers, released last week by the state's Department of Labor, show Connecticut added 900 private sector jobs, for a total of 1.427 million. Compared to private sector employment levels in February 2020, the state is still off 34,500 jobs from a full recovery. Put another way, it is 87 percent recovered from the April 2020 Covid crash. 
In contrast, the US Bureau of Labor Statistics shows the nation regained all its Covid-19 jobs this past April and they increased by 0.1 percent in June.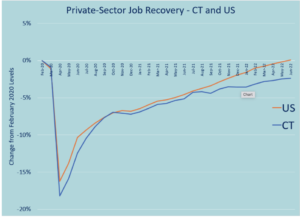 Getting the state back to pre-pandemic levels should not be the end game. Connecticut's private industry employment in February 2020 was approximately the same as it was in February 2017. In short, by 2020, Connecticut had seen three years without private sector job growth. 2017 was also the last time Connecticut tracked with the national economy.