Connecticut added 8,600 private-sector jobs in May, its biggest monthly gain since September, but the state has a long way to go to recoup its early pandemic losses.
The state Labor Department figures released yesterday show Connecticut remains an estimated 93,300 jobs short of employment levels in February 2020, after which almost 270,000 jobs temporarily disappeared. Put another way, 13 months after hitting bottom in April 2020, the state has recovered 65 percent of its losses. By comparison, the US economy has recovered 70 percent of that drop.
Connecticut since January 2021 has added an average of 3,500 private-sector jobs per month, netting just 100 in April. If this year-to-date rate continues, the state won't reach pre-pandemic employment levels until the second half of 2023.
The still-missing jobs are spread across the economy, not just the hospitality and leisure sector that bore the brunt of lockdown measures. Even if Connecticut recovered the remaining lost jobs in that sector (30,800), the state would still be over 60,000 jobs short.
Arguably the most worrisome trend in the state's job data is the continuing decline in its highest-paying sector, financial activities. This covers people working in finance, insurance and real estate (FIRE), and has never recovered to 1990 levels when it included 155,000 jobs. Connecticut's FIRE jobs have been steadily declining since early 2016, and May's numbers (118,100) mean the state has lost almost one in ten positions in just five years, and that the state has fewer FIRE jobs today than at any point in recent decades—including the depths of the 2008-09 global financial crisis or the 2020 lockdowns.
The state's employment prospects are best considered in the context of what was happening before the pandemic. Private employment in February 2020 stood at roughly the same level it did in February 2017—that is to say, the state had three years without private-sector job growth despite the national economic expansion.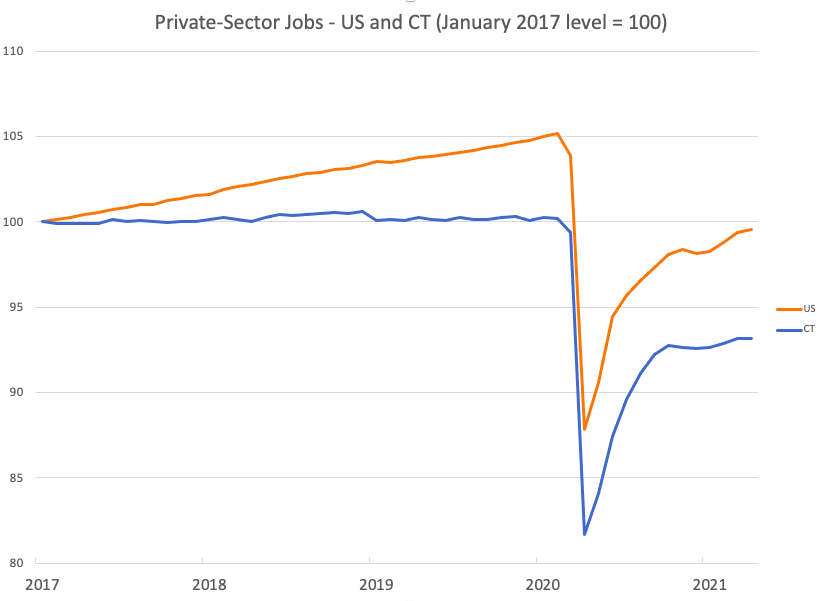 If Connecticut's private sector had kept pace with the rest of the country, it would have picked up another 69,000 jobs over those three years. The fact that it didn't is a glaring reminder to policymakers that the policies and issues that stifled growth before COVID will make recovery more difficult.
While the return to normalcy has let the state intermittently post large monthly gains, the state is likely headed back to a no-growth trend because nothing has meaningfully improved the incentives or ability of businesses to invest or expand in Connecticut.
Employers face the same headwinds that existed before COVID:
Connecticut state and local governments collect the country's second-highest taxes per capita.
Minimum wage, now at $12, is set to hit $13 later this summer.
Energy costs remain among the country's highest.
"Temporary" corporation business tax hikes have been continued and a contingent of state lawmakers appear intent on increasing personal income, capital gains, and property taxes.
Proposals to regulate independent contractor work arrangements would prevent businesses from continuing in Connecticut.
A portion of Connecticut's delay in returning to pre-COVID employment, especially in lower-wage and entry-level roles, is likely being driven by continued enhanced unemployment benefits worth $300 per week.
On the other hand, it's unclear how many employers have disappeared for good. The Harvard-led Track the Recovery project estimates almost 42 percent of small businesses remain temporarily or permanently closed.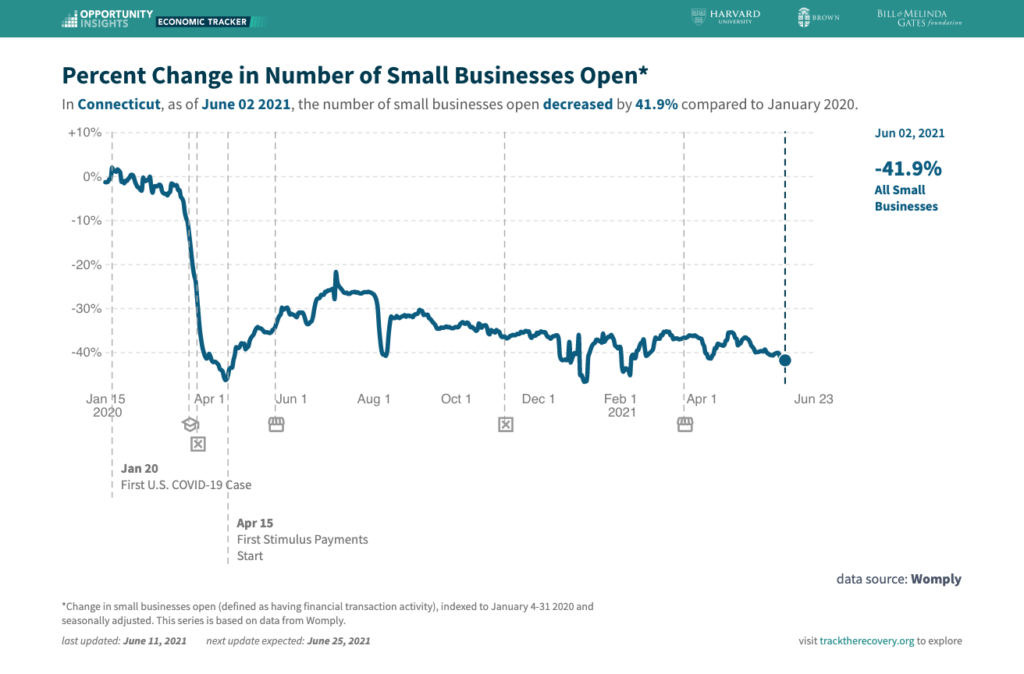 And if there's one thing to be learned from Connecticut's pre-COVID jobs stagnation, it's that we may be waiting a while for new jobs to replace them.