A survey of 900 chief executive officers 700 executives in the United States and globally found that labor shortages and inflation are their top two concerns in 2022, according to a new report by The Conference Board, a non-profit organization focused on businesses and corporations.
"At the start of 2021, inflation barely registered on CEOs' radars. But as 2022 begins, inflation soared to the top tier of concerns," a press release from The Conference Board says. "Last year, inflation ranked 22nd on CEOs' worry list; it's now risen to 2nd. What's more, CEOs think rising prices are here to stay: 55 percent expect inflation to last into 2023 or longer."
According to the report, those surveyed plan to mitigate the impact of inflation by cutting costs, passing the cost increases onto customers – which, they noted, was highly favored by U.S. executives — or absorbing price increases into profit margins, which was not a particularly popular idea among surveyed CEOs.
Inflation has continued to remain high over the past year, with official numbers matching inflation rates from 1982, according to the U.S. Department of Labor.
"Less than 40 percent of CEOs believe their organization is well prepared for an inflation-related crisis," said Chief Economist for The Conference Board Dana Peterson. "Many are running organizations with workforces that have never experienced inflation's broad influence on operations and, above all, on wages."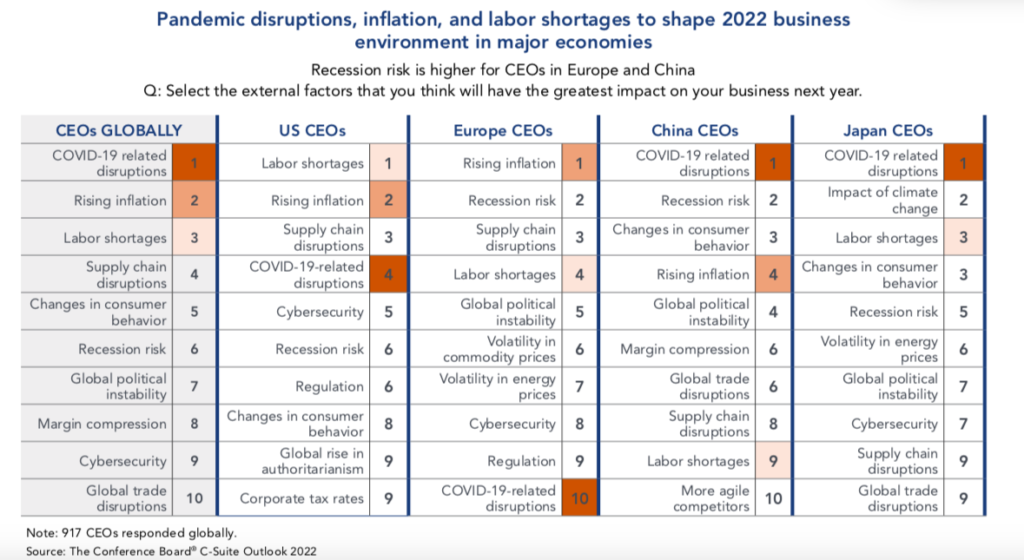 However, the number one concern among CEOs in the United States was the shortage of labor. Spurred by the COVID-19 pandemic, which saw millions put out of work due to government lockdowns and the threat of illness, human capital remains in short supply.
Labor supply has also been affected by call-outs due to illness from the COVID-19 virus and its variants, combined with what some have termed "The Great Resignation," which has seen large numbers of people quitting their jobs over the past year.
"As bargaining power shifts from employers to workers, companies should prepare for higher wage and benefit costs along with increased turnover in 2022," the report says. "A wage-price spiral – where higher prices and rising wages feed each other, leading to faster increases in each – may already be in the works in some industry segments or regions within economies."
According to the Bureau of Labor Statistics, wages, on average, increased by 4.7 percent in 2021. However, with inflation rising 7 percent during the same time period, the overall effect was a decrease in buying power that amounts to a 2.3 percent pay cut.
Eric Gjede, vice president for legislative affairs at the Connecticut Business and Industry Association says the results of The Conference Board's survey "is exactly consistent" with what he's been hearing from his membership.
"Obviously Connecticut is already an expensive place to do business," Gjede said. "The workforce issues are really the ones that resonate with my membership more than anything."
Gjede points to CBIA's own survey of Connecticut business owners, which found 80 percent of surveyed companies had difficulty finding and retaining employees.
"If you look at just the manufacturing sector, it's more like 90 percent," Gjede said. "They just can't find the people with the skills, so they're resorting to trying to train people but it's hard to even get people interested in that."
Gjede also points to Connecticut's new Paid Family and Medical Leave law as adding to hiring and retention woes, saying more than 5,000 applied before the program even launched.
"That's certainly not going to help going forward," Gjede said.
CEOs also see remote work as a long-term possibility, with more than half of U.S. CEOs "planning for at least 40 percent of employees to be working remotely after the pandemic subsides," the survey found.
As the country prepares to enter its third year of the pandemic with the Omicron variant causing positivity rates to spike, many offices continue to have employees work remotely from home or only be in the office part-time.
The Hartford Financial Services Group in Hartford delayed bringing thousands of employees back to the office following the emergence of Omicron, and Travelers Insurance Group delayed a return to the office "indefinitely," according to the Hartford Courant.
"Rising inflation, labor shortages, supply chain disruptions, and changing consumer behaviors are the high-impact events that are top of mind for CEOs and other C-suite executive," the report states. "Each is directly tied to the pandemic, yet each also threatens to take on a life of its own."