With COVID-19 vaccinations well underway in Connecticut some festivals and outdoor activities appear poised to return over the summer, and it may present an opportunity for Connecticut's capital city – and the state itself – to bring much-needed business and people to the capital region.
"Bringing fun and activity and joy back needs to be at the center of recovery, and not just for our kids but for our community as a whole," Hartford Mayor Luke Bronin said during his state of the city address. "Like every city across the country, our city has felt hollow and empty without the energy and cultural life that makes us a city. This summer, we need to bring that back."
Prior to the pandemic, Hartford was home to a popular St. Patrick's Day Parade, multiple food and music festivals at Riverfront Recapture, the XL event center, several theaters, outdoor dining and dancing on Pratt Street and the largest free jazz festival in New England.
The pandemic saw the cancellation of all those events and the closing of those event venues. Restaurants in the city and the state were closed down, often permanently, and hundreds of thousands of people across the state were put out of work. 
In Hartford, popular restaurants like Firebox, Ted's Montana Grill, and Dish won't be reopening.
But with the summer just around the corner, vaccinations increasing and lockdown restrictions easing, some Hartford residents and business property owners feel the time is now to relaunch Hartford as a place for tourism, shopping and dining. 
Jody Morneault, owner of the long-standing clothier Stackpole Moore Tyron, says that she called Gov. Ned Lamont urging him to invest in marketing Hartford as a tourist destination with unique offerings not found elsewhere in Connecticut.
"Part of our problem in the City of Hartford is we've been so reliant on the corporations to be the driving force of the economy, we never did anything for tourism," Morneault said. "I told the governor, when we relaunch Hartford, he's got to get behind a big push for tourism."
Morneault points to other municipalities, like Mystic, that market their assets to create a booming economy by pushing Mystic Aquarium and Mystic Seaport. 
Morneault highlights Hartford's city parks, the Wadsworth Atheneum, the Science Center and the city's riverfront property as means to create more interest in Connecticut's capital city. "All the great things that cities need – open space, water, all the restaurants – we have everything we need but we don't tell anyone about it."
Morneault's shop is located on the corner of Trumbull Street and Pratt Street — a picturesque and historic street in Hartford with valuable storefront property. Prior to the pandemic, the street began to close to traffic to encourage outdoor dining, music and dancing.
The pandemic left many of those activities impossible, but as life (hopefully) begins to return to normal, one developer hopes to relaunch Pratt Street as a way to revitalize Hartford.
Michael Seidenfeld of Shelbourne Global Solutions, which owns four downtown office buildings, is planning a relaunch of Pratt Street as a cultural and shopping destination. Shelbourne owns a significant portion of the properties on the south side of Pratt Street and is planning to convert the upper-levels of the historic buildings to small apartments and bring in more businesses.
Seidenfeld says he wants the businesses on Pratt Street to reflect what he calls a "vintage hipster" vibe. Rather than having a bank or post office, he feels that fostering Pratt Street and Hartford as a cultural hub with a streetscape experience could help turn the city around.
"Sometimes it does take an outsider to see and identify what's necessary to succeed. When we came into Hartford seven or eight years ago it became very apparent to us that Hartford really has a community mentality" Seidenfeld said. "In order for Hartford to succeed, we can't just have narrow interests and be focused on only our buildings."
"There needs to be synergy, there needs to be an ecosystem in the city of a vibrant residential market, of an energized entertainment scene, as a place where people want to spend after-hours and weekends and not just be an office-park," Seidenfeld continued.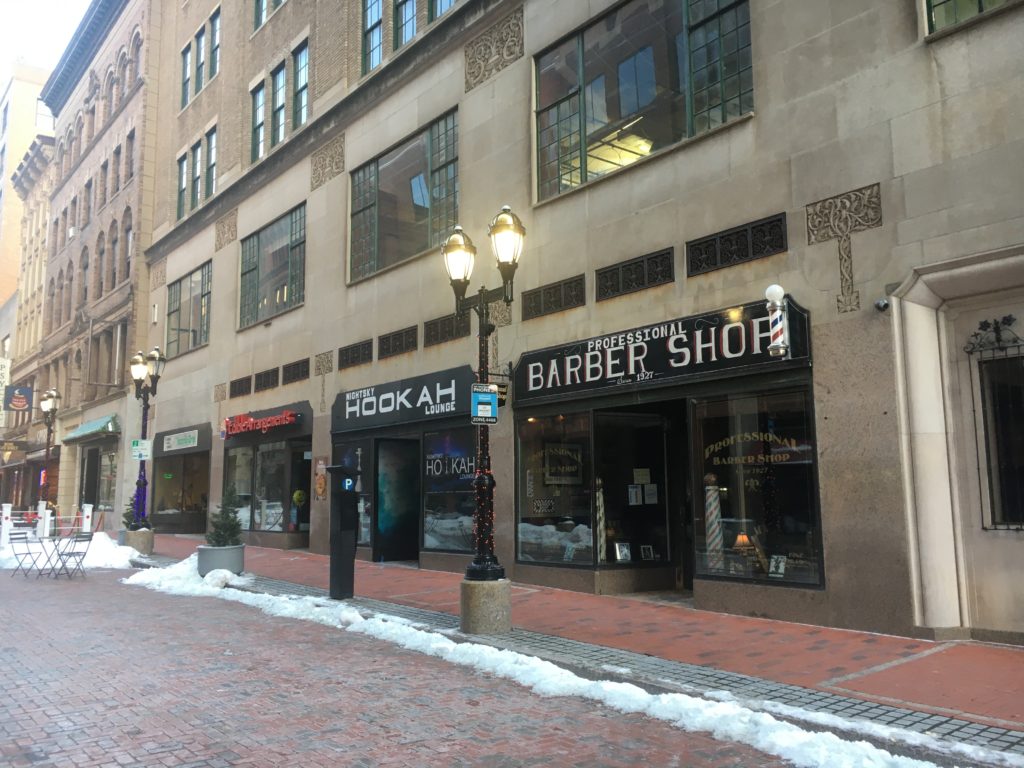 But, naturally, challenges remain for bringing people and businesses into the city, particularly in a post-COVID environment.
Morneault believes Hartford suffers from a "poverty mentality" that developed over the years through media portrayals and divided factions within the city.
"It has become cool to Hartford-bash," Morneault said. "I think if we could get people in our own community to embrace and love what we have it could be a great economic boost for the city."
"The biggest challenge we believe Hartford has traditionally had is the public perception of Hartford," Seidenfeld said. "No one is out there articulating a compelling reason for anyone to come to Hartford. That component is really missing."
Seidenfeld adds that every city has its challenges but that "usually there is a perception, a brand, a message, a vibe, a characteristic people want to tap into. If there's a will to come there, people will find a way to work through the other challenges."
Seidenfeld says that some of those other challenges include the zoning and business approval process in the city, along with the fact that the city largely empties out at the end of the workday.
Morneault and Seidenfeld's points and concerns about reinvigorating the city extend beyond the borders of Hartford to the state of Connecticut as a whole. The point being that Connecticut must start planning now for how to best bounce back from the COVID economy.
Although Gov. Ned Lamont has lifted many of the restrictions imposed on businesses, rebooting the state's economy might take more than just allowing more people inside a restaurant.
Connecticut's tourism industry accounts for $15.5 billion in business sales, $2.2 billion in tax revenue and 84,000 direct jobs. Connecticut's tourism industry grew from 2014 to 2017, according to the state's Tourism Impact Study.
Of course, all of that came to a screeching halt in March of 2020.
Connecticut's tourism tax revenue tanked by 35 percent from 2019 to 2020, and the state's room occupancy tax dropped by 54 percent as hotels were forced to close due, sometimes permanently, due to the pandemic.
But with federal aid expected to pump roughly billions into both the state and municipal governments — and a population that has largely been stuck at home for over a year — it could present an opportunity for the state or some of its beleaguered cities like Hartford to rebrand themselves as tourism and cultural destinations.
Connecticut's Department of Economic and Community Development's Office of Tourism is already planning a comeback campaign called "So Good to See You" that will launch in June with a $1.2 million public relations campaign on television, radio and social media.
Whether any of that public tourism push will be expended on Connecticut's capital city remains to be seen but Mayor Bronin is also planning for a Hartford relaunch.
In his state of the city address, Bronin said he is reconvening the Arts, Culture, Recreation, and Faith Recovery Working Group.
"I think we need to set a goal," Bronin said. "Beginning at least in mid-July, Hartford should be alive again with art and music and dance and sports and food every single day and every single evening."
Bronin acknowledged the city will likely receive ample support from the federal government but said they are debating how to use the money over the next two years to bring the city back from the pandemic.
"We view this coming spring, summer and fall as a critical time," Seidenfeld said. "No one knows what the future is going to be, but we are optimistic and confident that the worse of COVID is hopefully behind us and people are going to start to come back."
"We are connected," Morneault said. "If our downtown is not thriving, it's not good for the suburbs and it's not good for the state because it's the state capital. I think we need to have a love Hartford campaign. We need to relaunch our city."