CTtransit in Hartford, a division of the Connecticut Department of Transportation, has been issued a serious violation notice and a proposed $7,111 penalty by the Occupational Safety and Health Administration after chemicals known to cause respiratory and skin problems were used to disinfect buses.
"On or about 06/11/2020 employees who drive CT Transit buses were exposed to TB Cide Quat, a disinfectant that causes skin and respiratory issues," the OSHA citation states. "The employer had not provided information and training to the drivers that addressed the health effects of the chemicals prior to having them operate the buses with TB Cide Quat."
TB Cide Quat is one of the disinfectants recommended for use against the COVID-19 virus, but leaders of the Amalgamated Transit Union Local 425 representing CTtransit drivers in Hartford say drivers were sickened by excessive exposure to the product.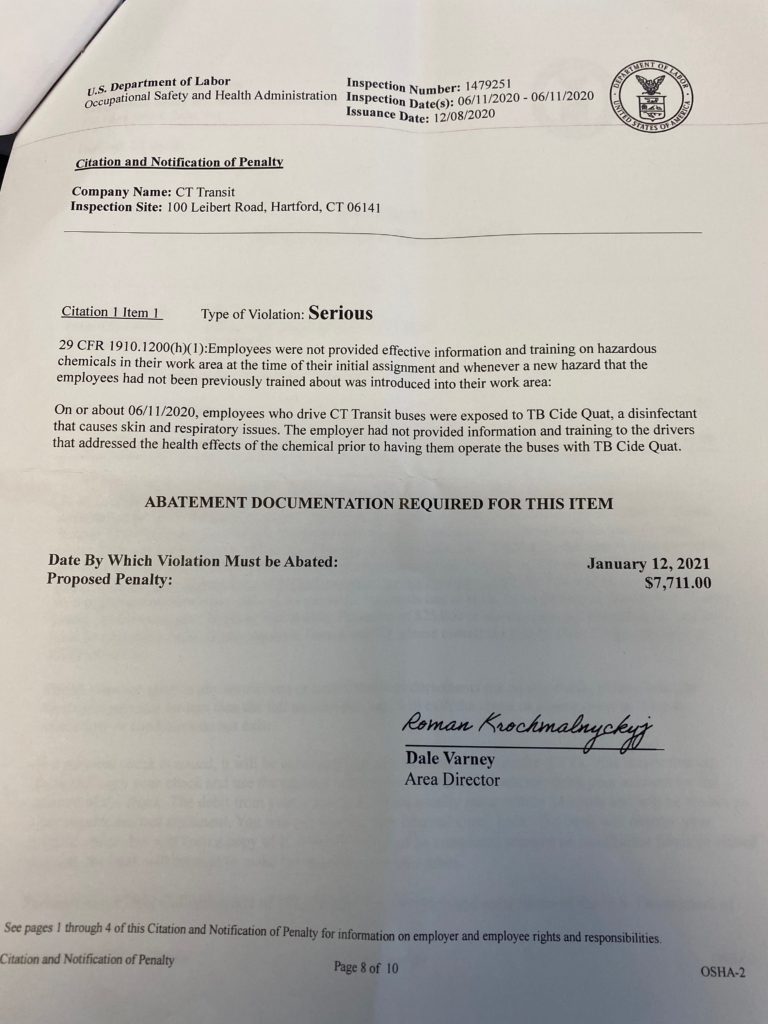 Financial Secretary and Business Agent for Local 425 Artan Martinaj says that while the buses were cleaned regularly before the onset of the COVID-19 pandemic, the use of these chemicals is new as far as he knows.
"When COVID came the cleaners used it so often they didn't give it time to dry," Martinaj said in an interview. "Three drivers almost lost their job because they were unable to focus. I had drivers complain every day to me of rashes, trouble breathing, rashes, migraines, eye irritation."
Martinaj says the same chemicals were being used in New Haven and Stamford but the complaint and citation was limited to Hartford because the complaint was filed through OSHA's Hartford Area Office.
"The public didn't know about this," Martinaj said. "How many people maybe got sick from it?"
The union claims that another chemical — HDQ C2 — was also used on buses, which has similar side effects of skin and eye irritation as well as respiratory issues, although the OSHA citation only lists TB Cide Quat. Overexposure to either chemical carries more serious side effects.
Cole Pouliot, general manager for CTtransit, confirmed that the state-run bus company has received a proposed citation and is actively working with OSHA to resolve the issue.
"At CTtransit, there is nothing more important than the safety, health and well-being of our passengers and employees," Pouliot wrote in an email. "All our bus cleaners were properly trained to work with this product and provided the required [personal protection equipment]. The frequency of the disinfectant's application was appropriate to keep our riders and employees safe."
Pouliot says he does not believe any employees or members of the public were exposed to hazardous chemicals and "we have not received any communications from the public concerning that issue, nor has OSHA issued a citation claiming such."
Martinaj, however, disagrees and says that his members who claimed they were sickened by the disinfectants also had their workers' compensation claims denied. "They were made sick by exposure to these chemicals at work and now they can't even get compensation," Martinaj said.
"We are currently reevaluating our training materials to take extra steps to ensure all of our employees are better informed of all chemicals used in the workplace," Puliot said.