"What's going on right now is a tragedy and is hurting everybody," says Elliot Spector regarding the protests against police throughout the country. "We will have more lives lost because of the attacks on police officers."
Spector is a former Hartford police officer and president of Spector Criminal Justice Training Network. His team trains thousands of Connecticut police officers each year in everything from use of force liability to conflict de-escalation to the fundamentals of being a police supervisor.
Spector is also a practicing attorney who regularly defends police officers, including Wethersfield police officer Layau Eulizier Jr. who was cleared by the Hartford State's Attorney in the shooting death of 18-year old Anthony Jose Vega Cruz. Spector is now representing two Middlebury police officers who were fired for creating false documents to coerce construction contractors to hire them to watch construction jobs.
Spector Training was born out of the Connecticut Criminal Law Foundation, created by Judge Milton Fishman in the 1980s. Spector, who clerked for Fishman, developed a civil liability course for new police recruits, and eventually took over the non-profit venture following Fishman's death in 1986.
Now Spector Training is one of the top training contractors for police departments across Connecticut, putting him in a unique position to discuss the growing backlash against police following the death of George Floyd in Minneapolis and, as a proud defender of police, he doesn't think highly of it.
"It was a wrongful use of force, it was incredibly stupid. [Officer Derek Chauvin] hurt law enforcement officers everywhere," Spector said in an interview. "There's a real misperception about police brutality. It's extremely rare."
He argues that police officers are forced make split-second decisions and compares the number of unarmed civilians shot by police each year, which the Washington Post pegged at 55 in 2019, to the number of deaths due to medical errors, which a 2016 John Hopkins study placed at 250,000 per year.
"It's extremely rare for an officer to shoot someone who doesn't appear to be a risk," Elliot said.
He also pushes back against accusations police are targeting racial and ethnic minorities, or that policing strategies have unfairly burdened low-income, inner city residents.
Everything that's going on right now should not be going on. We've been teaching about racial profiling for a long time. Changing policing is not going to do the trick.

Elliot Spector, attorney and president of Spector Criminal Justice Training Network
"Inner city, low income neighborhoods want police presence," Spector said, noting the controversial "stop and frisk" policies in New York City resulted in guns being taken off the street.
"Don't you want police officers stopping people based on reasonable suspicion?" Spector asked.
Data from the New York Police Department that was analyzed by the New York American Civil Liberties Union showed 1 percent of frisks between 2014 and 2017 resulted in a gun confiscation. Former New York City Mayor Michael Bloomberg claimed the practice took 8,000 guns off the street and 80,000 other weapons.
But there have been increased calls for reforms to police training and tactics over the past month following Floyd's death in Minneapolis.
"Police don't care what your ethnicity is. 99.9 percent are good, hardworking people just trying to protect citizens," Elliot said. "There's probably less bias in law enforcement than in the general public."
Copies of slides from Spector's "Use of Force Liability" training attempts to address possible fear of police among young minority males by telling them "Don't commit crimes" and then listing crime statistics regarding young African American and Latino males.
"Understand that (sic) may stop, frisk and treat you in a manner that may be upsetting," the slide goes on to say. "Remain calm and know that in most cases the officer may have legitimate reasons for his/her actions."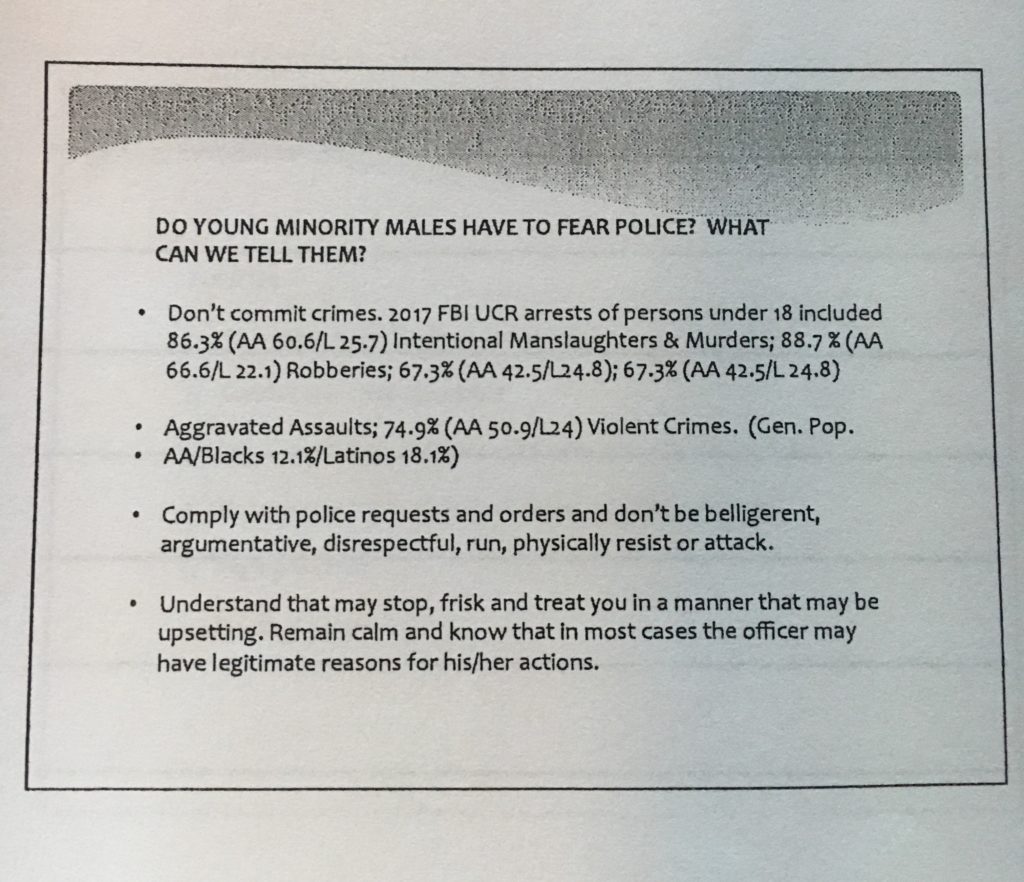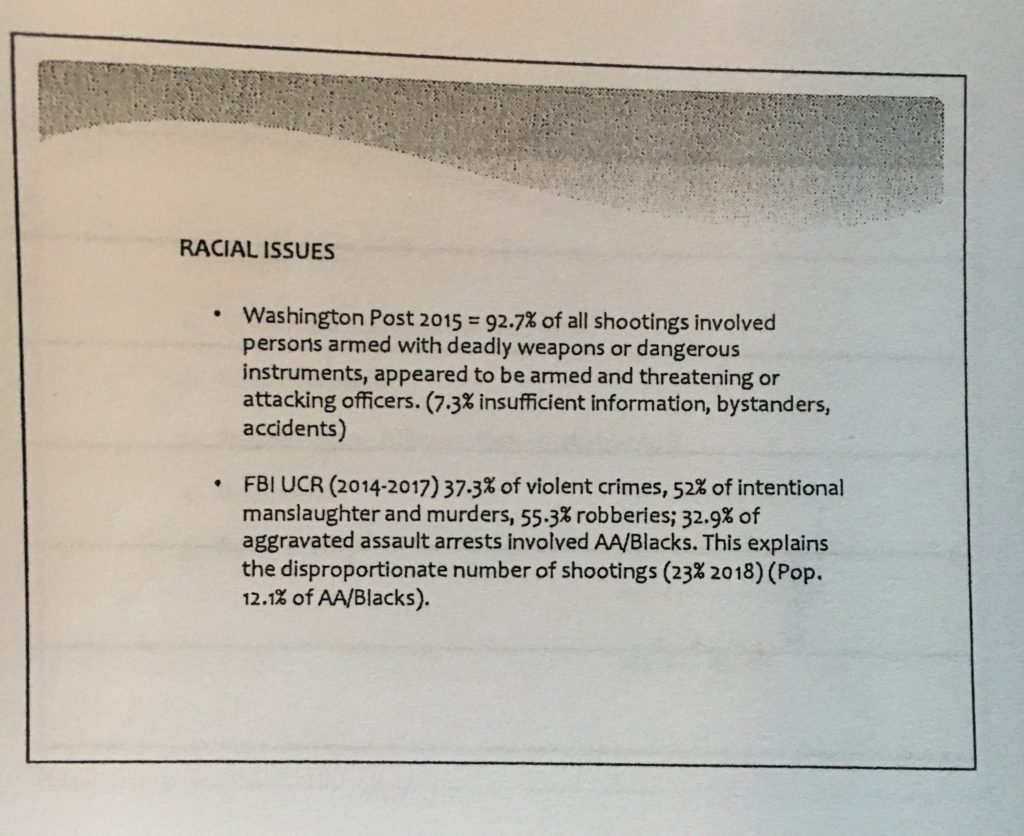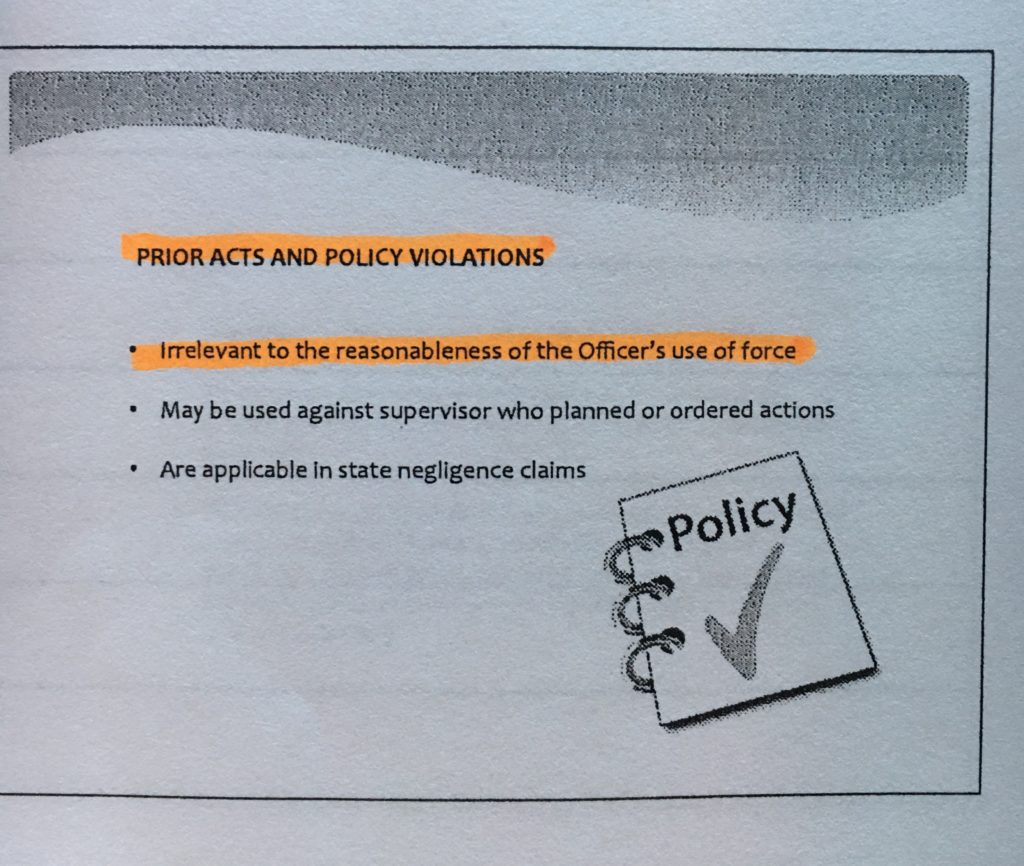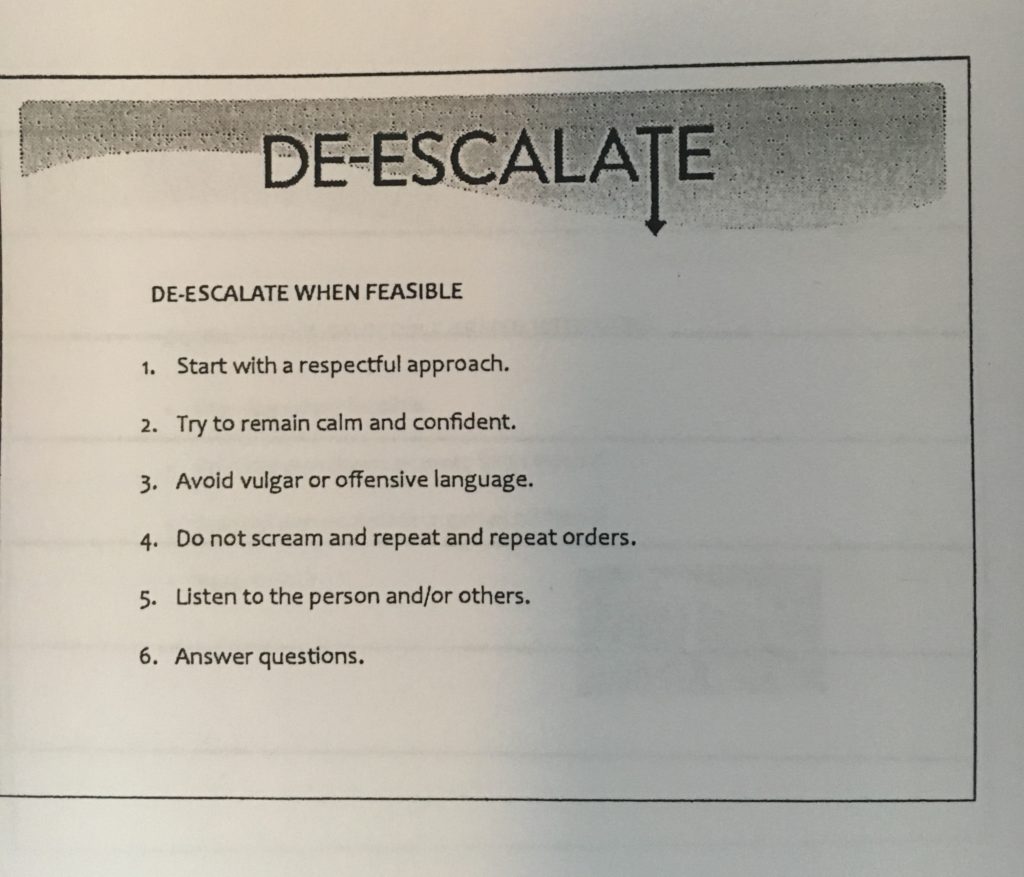 The training slides run the gamut from building trust in police to shooting dogs to when and how to use tasers on suspects and how to handle emotionally disturbed persons.
The training slides also discuss kneeling on a suspect, noting it is "generally allowed until the person is cuffed and under control" and to "try not to jump on persons back or place your entire weight on them."
But the training slides regarding young minority males might strike some as out-of-touch or biased.
Spector says the listing of the crime statistics of young African-American and Latino youth show that young people are being "left behind."
"Tell me it's not a tragedy that these kids have these kinds of statistics. These aren't bad kids, they weren't born bad, we're leaving them behind," Spector said. "You have to help these people and do everything you can to guide them to lead honest, safe, healthy lives. We all want our children to grow up. No parent wants their children to become a criminal."
Spector has not been not immune to the charges of police bias, either, and says he was accused of racial profiling by State Senator Wilber G. Smith when he was a Hartford police officer.
Spector challenges critics to find a single case of confirmed racial profiling in Connecticut and points out a recent Hartford Courant article showing 21 people have been shot and killed by police in Connecticut in the past five years included only "three or four" African-Americans.
"There's not much disparity here in Connecticut," Spector said.
But the outcry for reforms and protests that have been continuing since the death of Floyd are causing Connecticut lawmakers and municipal leaders to rethink policing policy.
Gov. Ned Lamont issued an executive order barring the Connecticut State Police from using choke-holds, requiring body cameras and de-escalation techniques to be used and appointing community liaisons.
The Police Accountability Task Force that was formed last year but has only met once also released a list of 20 policy recommendations, including barring the use of choke-holds, reforming police union contracts, increasing data transparency and implementing civilian review boards.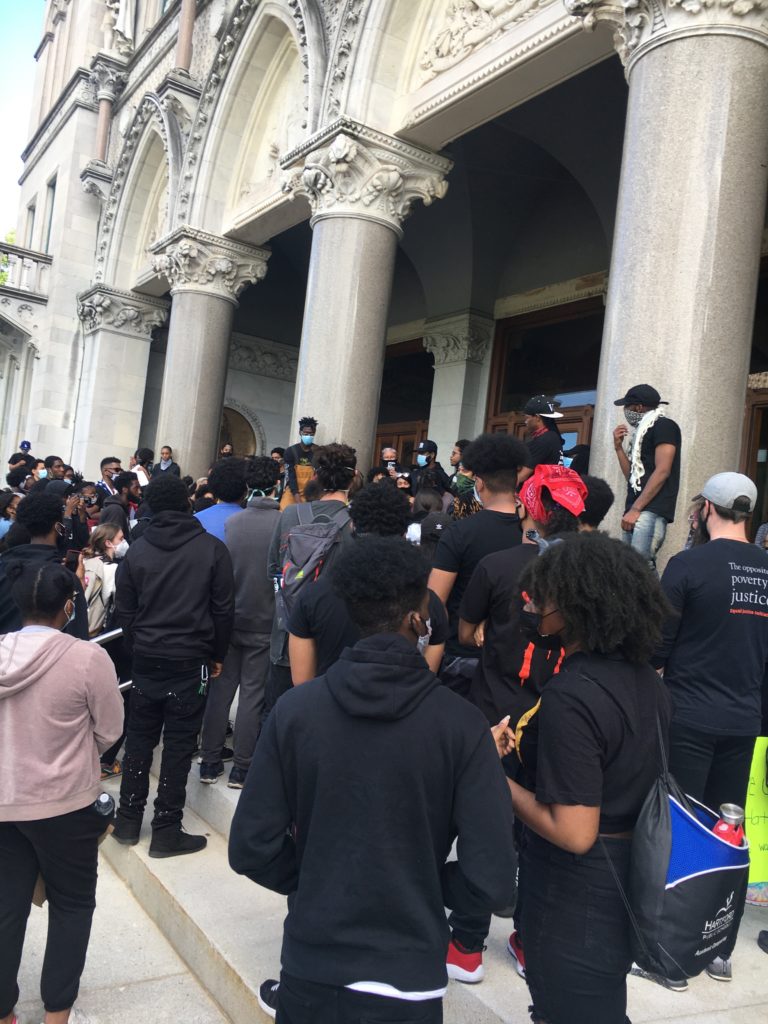 The City of Hartford, responding to public outcry, cut the police department's budget by $2 million and allocated the money to more community resources and the city's Civilian Police Review Board.
Hartford also moved to establish a new independent review board to make police policy recommendations.
Spector, however, says Hartford's new board "is useless and won't make any difference."
He noted that President Barack Obama's 21st Century Policing Task Force was not effective in easing the tensions between law enforcement and the public, as clearly evidenced by the current social upheaval.
Connecticut's Police Accountability Task Force recommendations include modifying police training, including having "high quality training and training innovation hubs," and training on "implicit bias and cultural responsiveness."
"Everything that's going on right now should not be going on," Spector said regarding the nationwide protests.
"We've been teaching about racial profiling for a long time. Changing policing is not going to do the trick. Police should always strive to do better, but police have to respond to these incidents," Spector said. "Who else are you going to call?"