Banking giant J.P. Morgan issued a report estimating the impact of the COVID-19 pandemic and economic downturn on states' unfunded pension and retiree healthcare liabilities, noting Connecticut would have to pay nearly 40 percent of its revenue for the next thirty years to pay off nearly $70 billion in unfunded liabilities.
Connecticut had the fourth highest cost to pay off its liabilities, with Hawaii, New Jersey and Illinois faring worse.
According to the report, the economic downturn added another 4 percent onto how much of Connecticut's revenue would be needed to pay off its long-term retirement liabilities over 30 years, driving the percentage of revenue from 35 percent to 39 percent.
"Estimated COVID impacts were small for less indebted states, and larger for more highly indebted states, as you would expect," wrote Michael Cemblast, Chairman of Market and Investment Strategy for J.P Morgan Asset Management and author of the report. "The first few bars on the left appear unsustainable from a long-term public policy perspective, but this was the case before COVID as well."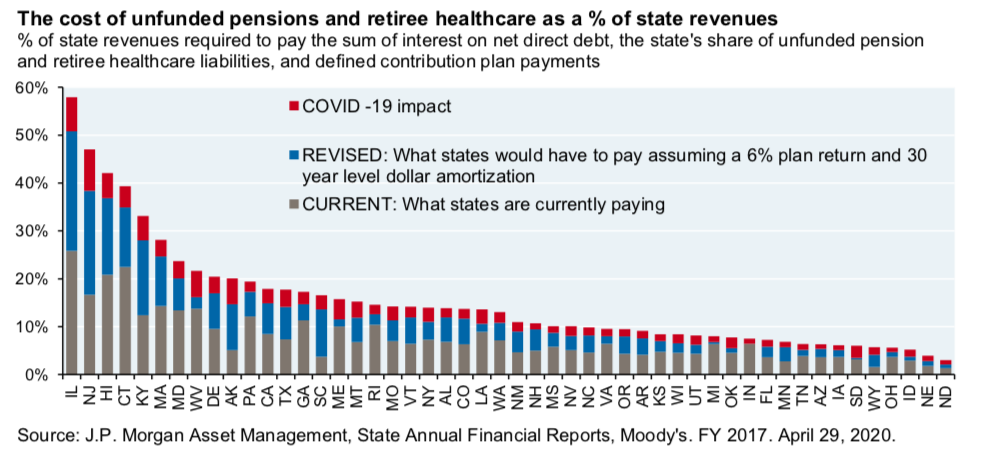 Cemblast assumes a 10 percent "upfront valuation shock" in state portfolios and revenue declines between 13 and 15 percent.
The J.P. Morgan report estimated Connecticut spends roughly 22 percent of revenues to pay for pension and retirement healthcare costs. The estimate was based on state financial reports for 2017 compiled by Moody's.
The Office of Policy and Management estimated General Fund revenue at $19.4 billion for fiscal year 2020, meaning the $3.2 billion in pension and healthcare retirement costs amounted to 16.6 percent of General Fund revenue.
Revenue projections are now dire, with initial estimates lopping off nearly $1 billion from the budget this fiscal year and more than $2 billion in the next two fiscal years.
That amounts to roughly ten percent of Connecticut's budget, but state analysts warned that revenue declines could be worse and will not be known until August.
The lowered revenues and escalating costs of retirement liabilities means by 2022, retirement costs will equal 20 percent of General Fund revenue.
In calculating what Connecticut would need to pay for its long-term retirement liabilities, Cemblast assumed a 6 percent market return and 30-year level dollar amortization. Connecticut recently lowered its assumed rate of return on pension and healthcare investments from 8 percent to 6.9 percent.
The Treasurer's Office said the impact of the market downturn on Connecticut's pension funds would be "significant," but also noted that State Treasurer Shawn Wooden had recently taken risk-mitigation measures for pension investments.
Failing to meet the rate of return can drive up the long-term liabilities for those funds. The last recession in 2008 saw negative returns for the state's pension funds ranging from 5 percent to 18 percent.
Both Gov. Dannel Malloy and Gov. Ned Lamont re-amortized pension debt for Connecticut's State Employee Retirement System and Teachers Retirement System, stretching the payments out to 2044 using a level-dollar amortization.
The re-amortization prevented the pension debt costs from spiking to unsupportable levels — between $3 and $6 billion per year for teacher pensions — but also added billions in payments onto the total debt.
In a previous report – called The ARC of the Covenants – Cemblast said that bankruptcy legislation for states "makes sense."
The bankruptcy issue was recently brought to the forefront by Senate Majority Leader Mitch McConnell, R-Kentucky, as state leaders are asking the federal government for another round of stimulus spending to help states deal with the fiscal fallout of the pandemic.
Cemblast reiterated his argument for legislation enabling states to file for bankruptcy.
"There are serious issues at stake here, both for states that might have to dedicate massive amounts of its revenues over the next 30 years to service some obligations at the expense of others, as well as for more solvent states that would have to effectively share those burdens in the case of Treasury or Fed bailouts," Cemblast wrote.