A March 16 letter sent from State Education Commissioner Miguel Cardona to school officials indicated Connecticut's public schools may remain closed for the remainder of the year in response to the COVID-19 virus and said schools should now focus on continuing education possibilities for students.
"Due to changes in CDC guidance, in which they suggest that there may be long-term cancellations of classes, and the US Department of Education guidance regarding districts' efforts to provide continuity of education, we are planning to reduce your reporting requirements and eliminate individual district applications for 180-day waivers," Cardona wrote
"Now we may all focus our efforts on providing students in Connecticut with continuing educational opportunities to the greatest extent possible," Cardona continued. "Districts should engage immediately in providing continuity of educational opportunities for students and may end the school year at their regularly scheduled end date."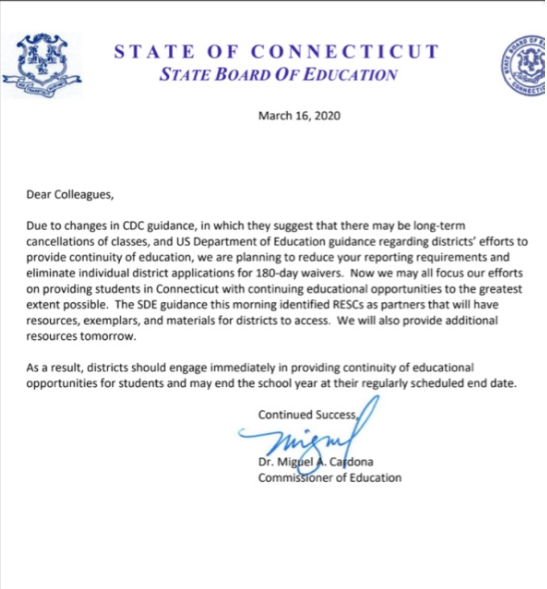 According to the letter, the State Department of Education identified Regional Education Service Centers as "partners that will have resources, exemplars, and materials for districts to access."
RESCs, like the Capitol Region Education Council, are "non-profit, fee-for-service, public education agencies," according to the RESC Alliance, an organization composed of Connecticut's six regional RESCs.
According to the website, RESCs' "mission is to provide quality, cost-effective education resources, programs and services to the state's public schools." They are governed by the local boards of education in each district.
Gov. Ned Lamont has already waived the 180-day school year requirement for Connecticut's public schools in response to the COVID-19 outbreak, as well as banned gatherings of 50 or more people in an effort to keep the virus from spreading.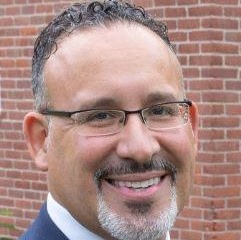 However, the closure of schools has left parents and students in a bind. Many parents still have to go to work, distance learning is largely in its infancy for Connecticut public schools and many children don't have access to computers to the extent they can continue their education at home.
The RESC Alliance says the regional organizations offer adult education and job training as well as curriculum development and assistance and early childhood program coaching and support, among other things.
However, the RESCs appear largely focused on money saving efforts through regional purchasing, transportation services and obtaining grants for school districts.
CREC is offering "extension activities" to "for students to keep their minds active in the event that students are not at school for an extended period of time." The extension activities are essentially activities for children to work on at home.
Some of those activities listed by CREC for children in grades 3-5 include journaling, some math exercises and explaining how science is involved in their daily hobbies. The website provides some web links to assist with the at-home learning.
CREC schools are currently closed and EdAdvance, which is the RESC for the northwestern corner of the state, says that its offices are currently closed until further notice.
A March 9 letter from the Department of Education to superintendents of schools said that individual school districts should consider providing distance learning in lieu of on-site education. Distance learning must be approved by the SDE through a waiver.
"Districts must consider applicable state and federal laws and policies, including but not limited to employment laws, collective bargaining considerations and special education," the letter said. "Consistent with our previous guidance, work with unions to ensure effective and equitable staff engagement in distance learning plans."