Connecticut's total state and local unfunded pension and other post-employment benefits (OPEB) liability is a whopping $124.9 billion, according to an independent report delivered to the Connecticut Council of Municipalities.
Pro Bono Public Pensions, a nonprofit that advises state and local governments on pension sustainability, reported that the State of Connecticut faces $99.5 billion in unfunded pension and OPEB liabilities, while municipalities were on the hook for $22 billion.
The state's portion of unfunded liabilities consumes nearly $2.5 billion per year in pension payments and another $1.2 billion in OPEB payments, according to the state's latest valuation.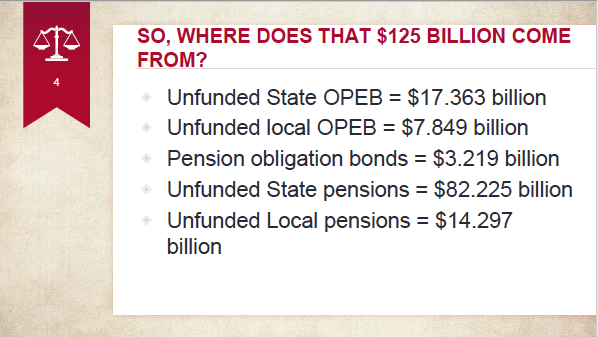 Those payments largely go pay off unfunded liabilities to support 99,594 active and retired state employees and 87,952 active and retired teachers, according to the Office of Fiscal Analysis.
The state also maintains pension funds for approximately 17,000 municipal employees and 493 judges, family support magistrates and compensation commissioners.
Pension obligation bonds accounted for another $3.2 billion, money governments borrowed to help boost pension funds.
Another slide from the presentation show Connecticut's real Gross Domestic Product has declined 7.9 percent since 2007.
Municipalities that were not part of the state Municipal Employee Retirement System on average paid between 96 and 97.2 percent of the annually required contribution toward their pension systems, but only 57.8 percent of the OPEB payments.
However, the author of the study warned that making full annual payments doesn't necessarily increase the funded ratio for pension plans and that neither bonds nor the stock market is likely to help turn things around for Connecticut.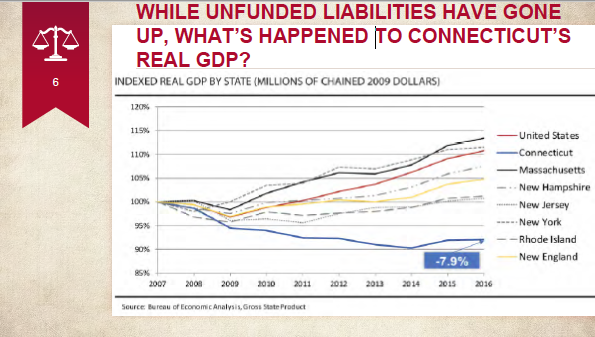 The report comes as CCM announced the creation of a new task force to tackle Connecticut's property tax problems with a special focus on the state's pension problems which continue to exert pressure on both state and local budgets by crowding out other spending, particularly education funding to municipalities and payment in lieu of taxes (PILOT) payments.
"The pension crisis is a significant issue for the task force because it's a financial issue at the state level and will impact towns going forward," said Kevin Maloney, director of communications for CCM.
A 2018 report analyzing municipal data supplied by the Office of Policy and Management showed per capita property tax revenue to towns and cities grew by 250 percent between 1981 and 2016, while Connecticut's median income remained relatively flat.
Maloney said the property tax task force will be meeting over the next six to nine months to address Connecticut's high property taxes and municipalities' continued reliance on the property tax as their sole means of raising revenue absent state grants, which have been slashed in recent years to fill state budget gaps.

State funding for municipalities in the form of grants has become a hot topic in recent years as state budget problems have resulted in less grant funding for cities and towns, which face their own problems of rising costs.
PILOT grant payments have decreased by 35 percent since 2015, dropping from $83.6 million to $54.9 million, according to OFA, and sales tax revenue meant to be shared with municipalities has dwindled from $185 million in 2017 — less than was originally promised — to $39 million this year.
Meanwhile, a change in the education cost sharing grant formula has resulted in a reshuffling of money, reducing payments to some towns and increasing them to others, although OFA notes that fully funding the ECS grants in 2020 would require an additional $324 million.
Gov. Ned Lamont has yet to call a special session to approve a bonding package that would grant $60 million to municipalities for road repair which left municipalities digging into their snow-plowing reserves to pay for road repairs over the summer.
The state's unfunded pension and OPEB liabilities are part of the fixed costs of Connecticut state government, which have been increasing rapidly and contributing to budget shortfalls.
According to the latest budget analysis by OFA, fixed costs are growing by over $500 million per year.
CCM and the Connecticut Council of Small Towns managed to fend off a push by Gov. Dannel Malloy and Lamont to foist part of the teacher pension payments onto municipalities in 2018 and 2019.
But the threat of future efforts by the state to either share the state retirement burden with municipalities or decrease grants — and the lack of major reforms for issues like binding arbitration — has sent municipal organizations scrambling to find revenue alternatives.
A 2018 study by Yankee Institute found that many Connecticut municipalities faced similar financial difficulties as the state: long term pension and debt problems, decreasing revenue and increasing costs.