Trucking companies from across Connecticut said the plan to install tolls on Connecticut's highways would cost their companies upwards of $500,000 per year in a video released by the Motor Transport Association of Connecticut.
Trucking company owners from East Windsor, Hartford, Granby and numerous other locations throughout the state discussed the number of employees they have, what they ship and how much electronic tolls will cost their company – a cost those owners say will be passed down to consumers.
Katie Childs of Tuxis-Ohr Fuel and J. Vitali Transportation based in Meriden said she has 40 trucks in their fleet hauling petroleum products.
"I estimate that driving approximately two million miles per year would cost us between $400,000 and $500,000 per year," Childs said on the video.
Childs said a "good portion" of their business is delivering gasoline to gas stations and added expense of tolls will be passed onto the gas station owners and, naturally, drivers who fuel their vehicles.
"Tolls would be a direct pass onto the gas stations which would then increase the price at the pump. So, you have a customer in Connecticut who pays the gas tax, who pays tolls when they're driving and then the pass-through tolls for when I bring the gas to the gas station."
Several other company owners estimated the cost of tolls between $200,000 and $300,000 per year for their business, which would then be passed on to consumers.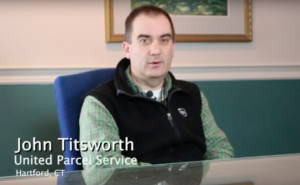 The video also featured John Titsworth and Axel Carrion of United Parcel Service in Hartford, which has 5,000 employees throughout the state.
"One of the things we keep hearing is that out-of-state drivers are going to be paying for the majority of tolls," Titsworth said. "Well, one hundred percent of Connecticut drivers who use our roads are going to be paying tolls."
Tolls on Connecticut's highways are shaping up to be the biggest political battle this year – and potentially the biggest tax increase – after Gov. Ned Lamont reversed his campaign pledge to only toll out-of-state trucks on Saturday.
Lamont said his budget to be released Wednesday, February 20 will contain two tolling proposals: one for only large trucks and one for tolling all vehicles. Lamont said the truck-only tolls would likely not generate enough revenue and faces a legal challenge in Rhode Island.
Lamont said he supports discounts for in-state drivers and estimated that 50 percent of toll revenue would come from out-of-state drivers – a figure which is disputed by the Connecticut Department of Transportation's own tolling study, which estimated 40 percent of nearly $1 billion in toll revenue would come from out-of-state residents.
The reaction to Lamont's reversal on tolling policy was quick as Republicans, the public and toll opponents weighed in over the Presidents Day holiday weekend.
Connecticut Republicans have said tolls are not necessary and have put forward their "Prioritize Progress" transportation plan, which calls for prioritizing state infrastructure investment and reserving bonding for transportation needs.
The state's Special Transportation Fund is actually one of the few bright spots in the state budget. The STF is projected to finish the year with a surplus and funding is projected to grow by $300 million over the next three years, according to state budget projections.
Nevertheless, Lamont says Connecticut needs more revenue for transportation needs and that the state cannot afford to continue bonding for "ongoing and continuous repairs and upgrades."
"It is not sustainable or wise," Lamont wrote in an op-ed with the Connecticut Post.
But other organizations said the governor must first look to cut costs before imposing tolls on state residents.
Yankee Institute President Carol Platt Liebau said in a statement released to media that "until those seeking more transportation funds have set clear priorities and until every responsible cost-cutting measure has been implemented, Gov. Lamont should refuse to burden Connecticut's people with another massive tax."
Patrick Sasser, head of No Tolls CT, said "rather than looking for ways to cut costs or focus on specific projects, the governor is instead opting to institute a massive tax increase on the people of Connecticut."
No Tolls CT is planning an anti-toll demonstration at the Capitol on Wednesday as the governor prepares to deliver his budget address to the General Assembly.
President of MTAC Joseph Sculley said the testimony from Connecticut business owners "dispels the idea that Connecticut residents and businesses will be protected while the state collects from out-of-state vehicles."
"It also reminds the public that everything we buy was on a truck at some point, and because of that, the cost of tolls will reverberate through the economy," Sculley said.