Lawmakers addressed the elephant in the room during a standing-room only meeting of Connecticut's Education Committee to consider bill concepts, including regionalization of education services.
The subject on everyone's mind was a bill proposal introduced by Sen. Martin Looney, D-New Haven, which would force schools in towns with less than 40,000 residents to merge with larger districts.
Senate Bill 454 drew a lot of attention and consternation among town residents, town officials and even some members of his own party.
Republican representatives Kathleen McCarty, R-Waterford, Gail Lavielle, R-Wilton, and Mitch Bolinsky, R-Newtown, asked chairman Douglas McCrory, D-Hartford, whether or not the regionalization concepts under discussion would involve any "forced regionalization."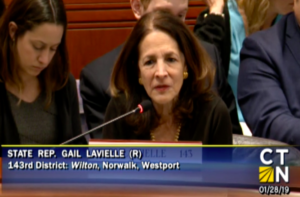 Lavielle said, "As you know over the last few days many in the state have become aware of Senate Bill 454 introduced by Sen. Looney which, although ambiguous on many counts, does clearly talk of forced regionalization of school districts."
"Many people I have heard from have been very distressed, simply because of the existence of the bill regardless of what it may ultimately say," Lavielle told the Committee. "Because they don't feel that someone far away should be telling them what they should do with their children or how to shape the institutions in their own town. They really feel their schools are the soul of their community."
Lavielle questioned whether or not Looney's bill would be dealt with separately or would be part of the concept of regionalization being discussed by the Committee.
Lavielle represents the Town of Wilton which was one of the towns alarmed by Looney's bill because, if passed, the legislation would force them to merge with neighboring Norwalk. Sen. Will Haskell, D-Wilton, and Sen. Alexandra Bergstein, D-Greenwich, both put out statements saying they could not support such legislation.
Lavielle said the existence of SB 454 has caused so much distress, "I've never seen anything quite like it."
McCrory said the concepts under review were only to offer incentives to school districts which choose to regionalize some of their services.
McCrory said he hadn't read Senate Bill 454 but was aware of reports in the media. "I don't think anyone is supportive of anything being forced but I think it's a great idea to have a conversation about regionalization, but in this particular concept right here, I don't think that idea will go."
But some Democrats on the Committee felt that forcing regionalization might be necessary.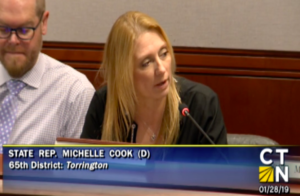 Rep. Michelle Cook, D-Torrington, said "If regionalization is what we have to do to make education in the state work, then we need to figure out how to make that work. I know that forcing people to do things is not always the right way to go, but sometimes we have to help people get there, because they're not going to get there on their own."
Rep. Roland Lemar, D-New Haven, said the Committee must have conversations that "cause distress to the status quo," and said it was a "shame" communities would be distressed by the idea.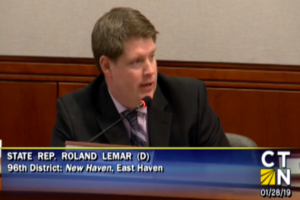 "A lot of communities have benefited greatly by the structural inequities that are inherent in our system today," Lemar said.
The difference of opinion regarding what should be on the table for discussion appeared to be divided along the lines of each lawmaker's school district.
While Lavielle, Bolinsky and McCarthy represent school districts which perform well, Cook and Lemar come from districts which face problems in education funding and quality.
New Haven and Torrington are part of the state's Alliance District, which is a group of the state's 33 lowest-performing districts. As part of the Alliance District, these areas are able to receive "targeted investment" by the state, but must also have their education plan approved by the Connecticut State Department of Education.
The Alliance Districts are often shielded from cuts to state education funding, while better-performing districts like Wilton or Newtown face the potential of funding cuts as Connecticut wrestles with budget deficits.
Connecticut's education system is often touted as a highlight of the state's quality of life, but Connecticut also faces a large achievement gap in school performance.
Education Committee chairman McCrory said the Committee should be open minded as it discusses school regionalization and not table any one proposal out of "fear."