**Update: Senate Democrats have confirmed the figure of 40,000 students was a mistake in the bill. Instead, the regionalization effort would apply to towns with less than 40,000 total population. The article below is amended to reflect that change**
Senate President Martin Looney, D-New Haven, proposed a bill which would force school districts in towns with less than 40,000 residents to consolidate with neighboring districts, alarming a number of towns and even fellow Democrats.
Senate Bill 454 would force the regionalization of a large number of towns in the state, merging their school districts with larger municipalities or cities. Only 24 municipalities in Connecticut have a population over 40,000. If passed, the change could cause an upheaval in where students are educated and at which schools.
The massive undertaking, according to the bill, would become effective starting in July of 2021.
The stated purpose of the bill is to create a more efficient school system, but fellow Democratic lawmakers and town officials don't see it that way.
Under pressure, newly elected Wilton Senator Will Haskell issued a statement saying he could not support the bill.
The Wilton Republican Town Committee also issued a statement saying they strongly opposed a measure which would merge the Wilton school district with Norwalk. "The proposal (Senate Bill 454) of State Senate President Pro Tempore Martin Looney (D-New Haven) would seriously jeopardize Wilton's reputation for high quality, locally controlled education. Other serious consequences for Wilton, known and unknown, would no doubt follow."
Connecticut faces a declining school population in many areas, however the state's current minimum budget requirement laws largely prevent municipalities from reducing education funding. Towns which meet particular guidelines can apply to the state to reduce their school budgets if student population declines.
But school funding is a hot topic, particularly after Gov. Dannel Malloy threatened to reduce or eliminate school funding for all but thirty municipalities during the 2017 budget standoff. Many towns' state education funding was held flat or slightly reduced, necessitating changes and adjustments to municipal budgets.
State education funding for towns is the largest non-fixed cost to the state and also represents the biggest potential source of funds to deal with state budget deficits.
The push for regionalization of schools and towns has been a constant drumbeat in recent years as state lawmakers look for ways to lessen the impact of potential state cuts to municipal funding.
Although the proposal is merely a concept at this point, Democrats have control of both the House and Senate. The 2018 election saw Democrats like Will Haskell and Alexandra Bergstein elected to traditionally Republican strongholds in affluent areas of Fairfield County.
But the call to merge those school districts with surrounding cities could put Democrats like Haskell and Bergstein in opposition to top Democratic leadership, but Democrats have a strong enough majority in the Senate to pass the bill without Haskell or Bergstein's vote.
Looney represents the city of New Haven, which would merge with surrounding suburbs like Branford, which has a population of about 28,000.
That plan might not prove very popular with parents in either the suburbs or the cities who have different sets of issues and challenges facing their districts.
President of Yankee Institute Carol Platt Liebau said the proposal by Looney is "misguided."
"It destroys the local control of schools, which is what enables parents to have a voice in their children's education," Liebau said. "The chaos it will cause also threatens the quality of Connecticut's schools — many of which are excellent. A town's reputation and character is intimately tied to the quality of its schools. Anything that jeopardizes that quality is harmful not only to its children, but to the towns and ultimately Connecticut itself."
School quality does appear to be a major factor in determining where Connecticut residents choose to live.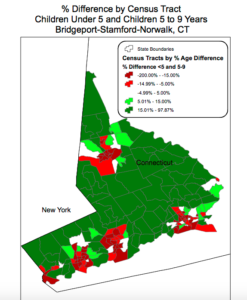 One study found Bridgeport — a poor performing school district — ranked highest in the nation for "family flight" as new parents moved out of the city to surrounding suburbs when their children reached school age.
Connecticut has one of the highest "education gaps" in the country between urban and suburban students. While the state generally has highly rated schools, its urban areas in cities like Bridgeport, New Haven and Hartford have concentrations of failing schools.
Looney's bill would essentially force parents and children into a new school system. It remains unknown how districts would consolidate and whether new schools would need to be constructed in order to handle the merging of thousands of students.
The bill, which is referred to the Education Committee, will likely be closely tracked by town officials, lawmakers and interest groups. The Committee must first decide whether or not to take up the bill and whether to draft detailed language before conducting a public hearing.
Following a public hearing the Committee will vote whether or not to pass the bill out of Committee whereupon it could potentially be voted on in the Senate and House.
Looney also proposed a statewide property tax and motor vehicle tax earlier in the week, implementing a one mill state tax on households, while eliminating the municipal vehicle property tax and replacing it with a statewide vehicle property tax.
**For Legislative Updates on Public Hearings and Bill Tracking, Readers Can Visit the Yankee Institute Take Action page**