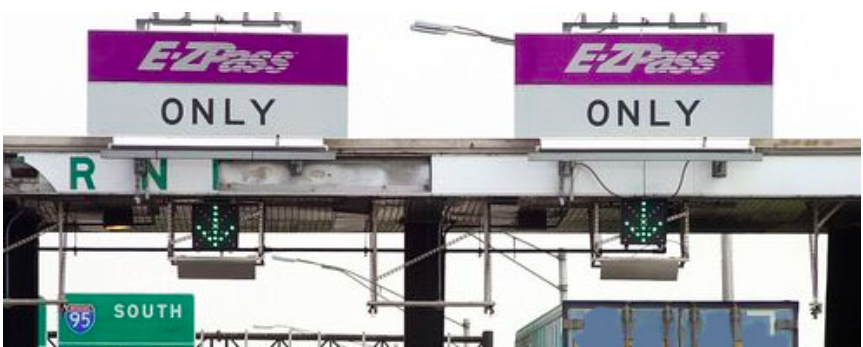 Don Shubert, head of the Connecticut Construction Industries Association, and Mary Tomolonius, executive director for the Connecticut Association for Community Transportation, implored supporters and members to attend tomorrow's Bond Commission meeting in support of transportation funding and Gov. Dannel Malloy's $10 million tolling study.
An email from Tomolonius dated July 24 says Shubert is "asking people to attend the Bond Commission [hearing] tomorrow in support of transportation."
"The agenda is packed with transportation funding. Additionally, there will be opposition to the $10 million for the study to provide accurate information on tolling," the email read. "Please bring as many members, employees and other transportation supporters as possible."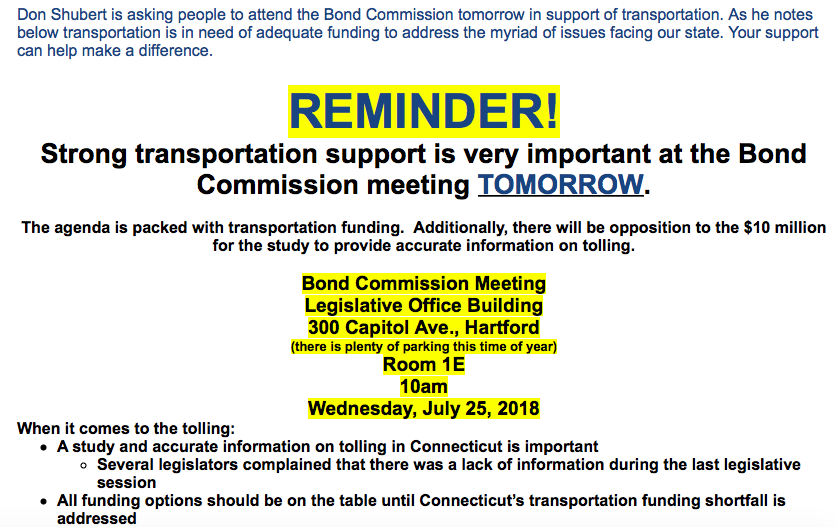 Malloy issued an executive order to conduct another tolling study on July 17. The legislature considered bills to either authorize tolls or conduct similar studies but none were brought to vote after significant public push-back.
Shubert has been a strong supporter of tolls as a means to continue Connecticut's transportation spending.
He appeared alongside Gov. Malloy and Department of Transportation Commissioner James Redeker in January of 2018 when the governor announced the Special Transportation Fund was insolvent and called for tolls, a higher gasoline tax and a tire tax.
Shubert is also part of Move CT Forward, a coalition of Connecticut construction and trade groups which ran a series of radio advertisements in 2018 supporting more transportation spending in Connecticut as the legislature considered several bills related to tolls.
The Connecticut Association for Community Transportation advocates for more state investment in bus service.
According to their website, "Connecticut's investment for more than a decade has been inadequate even to maintain current service, much less make the service improvements and expansions needed to meet the mobility needs of Connecticut residents and visitors."
A review of Connecticut's transportation spending since 2000 shows spending on public transportation has increased 48 percent, when adjusted for inflation.
The CACT website says "While bus operations appropriations to the Department of Transportation have increased in past biennial budgets, operating deficits have grown faster."
Despite the call for support at the Bond Commission meeting, there is little chance Malloy's $10 million bond will not pass.
Republican Senator L. Scott Franz, R-Greenwich, and Representative Chris Davis, R-Ellington, serve on the Bond Commission, but a majority of the members — which include Office of Policy and Management Ben Barnes and Department of Administrative Services Commissioner Melody Currey — cast their votes with the governor.
However, State Comptroller Kevin Lembo indicated that he would not vote for the $10 million bond to study, saying the matter should be decided legislatively.
State Treasurer Denise Nappier said she would abstain from voting on the tolling study bond.
"When it comes to the tolling," the email read, "all funding options should be on the table until Connecticut's transportation funding shortfall is addressed."