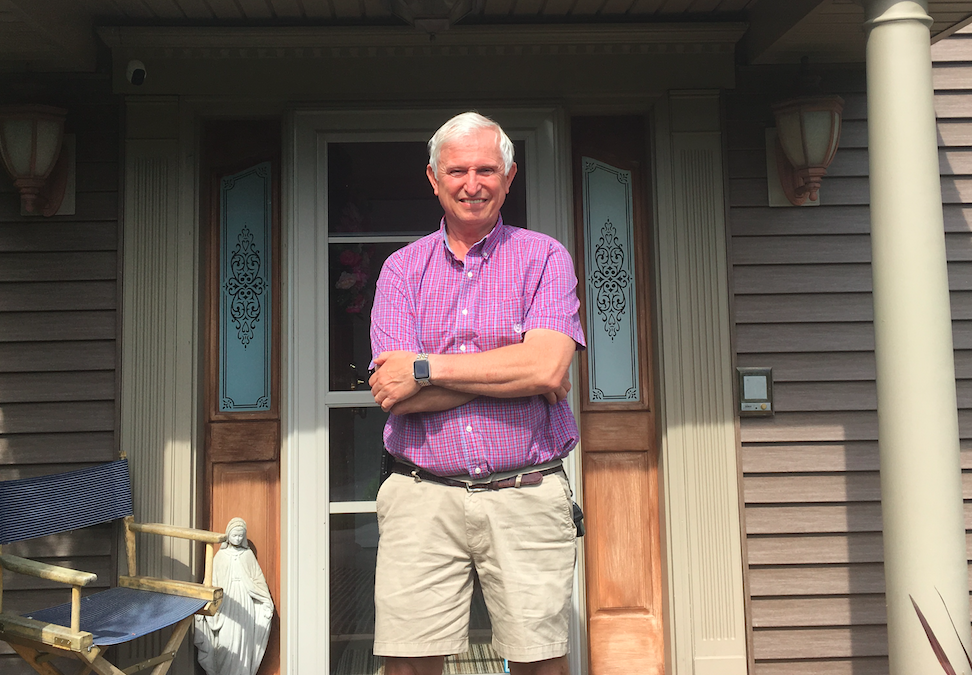 Robert Guynn, 68, has led an interesting and full life. A graduate of the University of Connecticut, Guynn served in the military and worked as a pharmacy director for various hospitals and organizations before returning to UConn Health in 1999 as a pharmacist and faculty member. While at UConn, he helped develop the pharmacy program for Connecticut's prison healthcare system.
Guynn retired from state employment in February of this year, but he won't be receiving a pension.
Instead, he opted for Connecticut's Alternate Retirement Program, the state's virtually unheard-of 401(a) defined contribution plan.
"I don't have to encumber my fellow taxpayers for the rest of my life to have a decent retirement," Guynn said. "To the average taxpayer, this is their life, this [a defined benefit plan] is what they've got."
Having worked in the private sector for twenty years before he came to UConn, Guynn already had a 401(k) plan and knew that Connecticut's plan, which matched 8 percent of salary at the time, was higher than most private sector retirement plans.
"By any standard, it's a fantastic deal," Guynn said.
Connecticut has since lowered its match to 6.5 percent, but the plan remains generous by private-sector standards. Only ten percent of workers receive more than a 6 percent matching contribution, according to the Bureau of Labor Statistics.
While pensions have virtually disappeared in the private sector, they remain a stalwart of state government even as unfunded pension liabilities threaten state budgets.
Officially, Connecticut's unfunded state employee pension liabilities are over $20 billion and the state only has enough money to cover 37 percent of its obligations. That figure does not include unfunded teacher pension or retiree healthcare liabilities.
Guynn says he saw early on Connecticut's pension system would be headed for trouble. "I was very fed up and very concerned even at that time with the course our retirement system was taking," Guynn said, so he declined the state's pension and took the road less traveled.
The ARP is only available to employees in Connecticut's higher education system, including faculty with UConn Health who are some of the most highly paid state employees, leading to large pension payouts.
UConn and UConn Health Center have the two highest payroll costs in the state, according to the Comptroller's Open Check Book website; those agencies also produce some of Connecticut's highest-paid pensioners.
Former UConn Health professor and doctor Jack Blechner received a pension of $317,905 and former UConn business professor John F. Veiga received $316,541 in 2017.
Retirees receive automatic cost of living adjustments every year. For instance, Blechner's pension has increased more than $100,000 since 2005, according to a report in the Hartford Courant.
The number of state pensioners making over $100,000 per year has continued to grow, increasing from 110 in 2010 to nearly 1,400 in 2018, and the trend shows no signs of stopping.
While far from being the highest paid state employee, Guynn was one of the 11,299 state employees earning over $100,000 per year, according to the Comptroller's OpenCT website.
Guynn's final salary before retirement was $131,404 with an additional $48,528 in fringe benefits, but Guynn's retirement now costs Connecticut taxpayers nothing.
Pensions are traditionally associated with blue-collar jobs and pay, but pensions for highly paid professional state employees like doctors and university faculty fuel the upward trend in six-figure pension payouts.
Although state employee union leaders recoil at the idea of switching new hires to a defined contribution plan, Connecticut does have a vehicle for it — and it's already being used among faculty in Connecticut's higher education system.
The ARP remains an optional retirement program, however. According to the Comptroller's Office, 7,509 active employees and 1,483 retirees are enrolled in the ARP.
Since the 2017 SEBAC concessions agreement, new faculty with UConn or UConn Health can choose to enter into the SERS Tier IV pension plan or the state's new Hybrid plan — which combines a pension with a small defined contribution plan. Otherwise they will be automatically enrolled in the ARP.
The choice between retirement plans is meant to a "one-time, irrevocable election," according to the Office of the State Comptroller's website, which states "no change to an employee's retirement plan membership is permitted after election."
But that rule has been disputed in the past by a group of professors who filed a grievance against the state in 2010. The professors — backed by their union — alleged they had been "intimidated" into accepting the ARP plan.
A state arbitrator's ruling allowed professors to make a one-time switch from the ARP to the state's traditional pension plan. By 2016, 1,872 employees had switched over, resulting in higher costs for Connecticut's Colleges and Universities system.
Professors continue to switch plans because the Internal Revenue Services has not yet ruled on the grievance. In 2016, 288 professors switched from the ARP to the pension plan, costing Connecticut State Colleges and Universities another $9 million, adding to budget shortfalls.
For his part, Guynn believes Connecticut could move more employees — or even all its employees — to the ARP style plan and still provide them with good retirements.
Guynn says he understands government unions may not like the idea, but the state is facing a financial crossroads.
"State employees are a publicly funded and a somewhat politically powerful force in the state," Guynn says. "But the taxpayers far outnumber them."
"What I'm suggesting may sound like heresy to folks on the inside [of state government]," Guynn said. "But I'm telling you, I've done it, and it works, and it's not a bad deal."