Why CT is harder and expensive to live in year after year
In 2021, Connecticut residents paid the equivalent of 15.5 percent of the state's net product in state and local taxes — the second-highest rate in the nation.
Yet, policymakers continue avoiding any fundamental structural changes that would eliminate burdensome taxes and fees — which are the first steps toward creating a free and thriving Connecticut.
If our policymakers don't have the fortitude to alter Connecticut's unnecessary taxes and fees, then we will continue dissuading businesses and people from starting lives here and/or retain residents for the foreseeable future.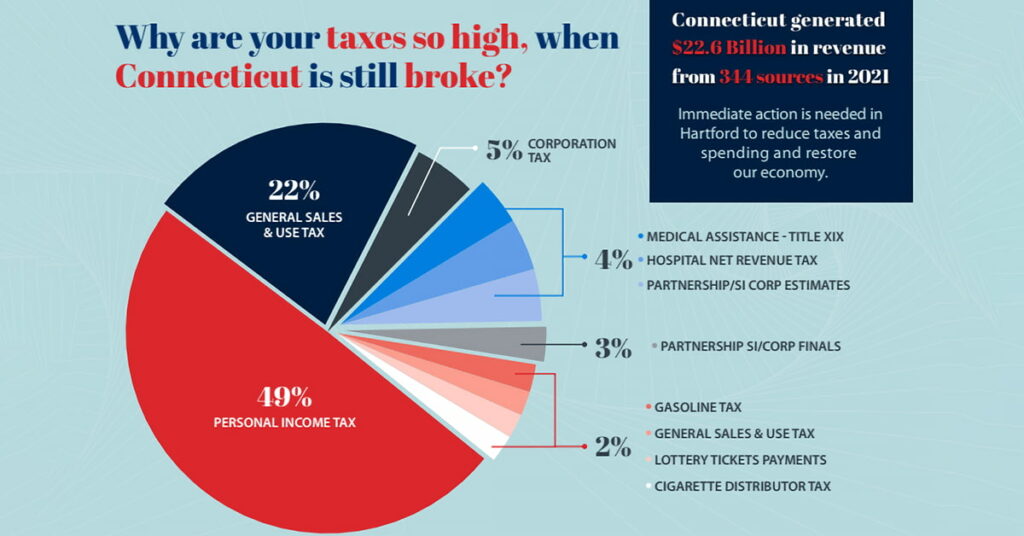 Fee for state's analysis for animal feed ($1,318,840)
Fee for license to make beds and furniture ($508,460)
State lease of oyster grounds ($473,546.86)
Sale of junk and salvaged materials owned by state ($304,382.65)
Fee to obtain a license to own a dog ($270,415)
Fee for state least of oyster grounds ($75,637.48)
Fee for license to operate a jai alai or racing business ($33,245)
Tax on registration fee for Charitable Games ($30,625)
Fee to become a registered hypnotist ($13,500)
Fee for licenses to rent out rooms for fewer than 30 days ($10,112.16)
Fee for state review of the plan for construction of a vault or crypt ($3,750)
Sale of advertising space ($1,608.75)
Fee for license to breed, sell, or possess specific species of wild birds or wild quadrupeds ($1,053)