Across the country, state legislatures introduced 106 ranked-choice voting (RCV) bills compared to 44 in 2022, according to a recent report by Ballotpedia.  
"Seventy-four of the bills introduced this year support the use of RCV in at least some elections, compared to 33 in 2022," the report states, adding that, "Seventeen bills introduced in 2023 oppose the use of RCV, compared to four bills in 2022. The remaining bills amend existing RCV laws or commission studies of RCV." 
Connecticut was no stranger to the debate on RCV this past legislative session, with three separate bills — SB 389, HB 5087 and HB 5701 — being introduced, all of which failed to pass. In late May, state Rep. Josh Elliott (D-88th) tried to amend a bill concerning how town clerks handle instances where candidates drop out of an election after ballots are printed to, instead, implementing RCV for presidential primaries. The bill also failed.  
But the voting process has caught the intrigue of Gov. Ned Lamont, who voiced his support saying it could help to "take some of the sting out of politics and bring some of the decency back to public service," during remarks after his second inauguration. However, Secretary of the State, Stephanie Thomas was critical, cautioning legislators during her testimony "that ranked-choice voting may not be the panacea to our broken politics that you are looking for," adding, "Aside from the significant implementation challenges Connecticut would face, there are other factors unique to our state that would make this policy especially problematic, including our minor party ballot access rules, Town Committee structure, and CEP funding regulations."  
She further testified, "So while ranked-choice voting is a unique electoral reform, it may not be what will work best for Connecticut as we explore our electoral future." 
Rep. Elliott, however, has hinted the debate on RCV could be ongoing in the next legislative session (see below).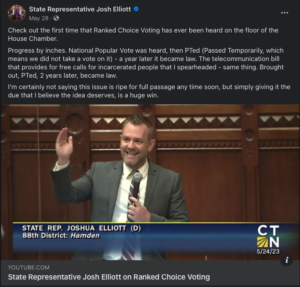 But what are the issues with RCV? And what are the political dynamics surrounding the voting process? 
Yankee Institute released a policy brief in late February suggesting that "On the surface, ranked choice voting sounds like an attractive, more 'democratic' electoral process; however, it can pose more problems and lead to less democratic outcomes." In fact, there are several prominent issues regarding RCV: ballot exhaustion, information deficits, as well as confusion, and even disenfranchisement.  
Ballot exhaustion occurs when a ballot is untallied because none of the marked candidates remain in the contest — meaning someone's vote, by the end of the process, may not be counted.

 
Information deficits on the candidate and critical issues are unavoidable in American society, even with a simple plurality vote. However, a plurality system is straightforward: pick your single favorite candidate. But RCV exacerbates the knowledge gap, placing voters in a position where they 

need 

to be informed about multiple candidates. This can lessen the influence of less knowledgeable voters, resulting in a less democratic voting process.

 
Confusion and disenfranchisement can occur when individuals leave columns blank on their ballots, and the candidates they vote for are eliminated from contention. This leads to ballot exhaustion, which, in turn, eliminates their ballot. This phenomenon is evidenced by San Francisco's 2004 RCV that

revealed

that the "prevalence of ranking three candidates were lowest among African Americans, Latinos, voters with less education, and those whose first language was not English." Overall, the complicated nature of ranked choice voting can 

disenfranchise 

voters and render their votes void in the electoral process. 

 
While RCV received support from Gov. Lamont and his Republican challenger, Bob Stefanowski during the 2022 gubernatorial elections, enthusiasm for the voting system is far more divisive across the country as evidenced by the partisan sponsorship of bills. In 2023, 77 percent of proposed bills supporting RCV were introduced by Democrats — and only 7 percent by Republicans, 8 percent by Other and 8 percent Bipartisan. On the flipside, 94 percent of bills opposing RCV were introduced by Republicans. Yet the sheer volume of bills related to RCV is an interesting phenomenon and indicates the debate in Connecticut is, more than likely, not over. 
However, with election openness becoming a more fraught issue nationally, Connecticut lawmakers need not rush into overhauling the system residents are familiar with — but instead dutifully consider RCV's consequences if implemented.