With the passage of President Biden's infrastructure package, Connecticut will see a projected $5.6 billion come to the state to support bridge and highway construction, railroads and broadband extension, among other projects.
That could mean that construction companies in the state may need to ramp up hiring quickly to meet demand, and Rep. Tim Ackert, R-Conventry, believes that changing Connecticut's apprenticeship ratio may help supply companies with more labor while training the next generation of workers in the construction trades.
"I believe the goal of allowing more qualified apprentices to fill existing vacancies is complementary with this administration's shared goals of developing a modern and diverse workforce right here in Connecticut," Ackert said in a press release. "Coupling reform to the apprenticeship hiring ratio with a historic investment in our hard infrastructure will be a game-changer for employers, journey persons and registered apprentices in the trades."
The apprenticeship ratio in Connecticut has been a contentious issue in the past. Non-union contractors and companies generally want to be able to take on more apprentices to help fill out their workforce, while their union counterparts argue that there need to be enough licensed journeymen on site to ensure safety and adequate training.
State regulations require a company to have a certain number of journeymen for each apprentice, depending on the number of apprentices the company wishes to hire.
In 2017, the hiring ratio was adjusted slightly, reducing the number of journeymen by 2 if the company hires more than three apprentices, according to the Office of Legislative Research, but companies must still hire three more journeymen for each new apprentice once the company has three apprentices.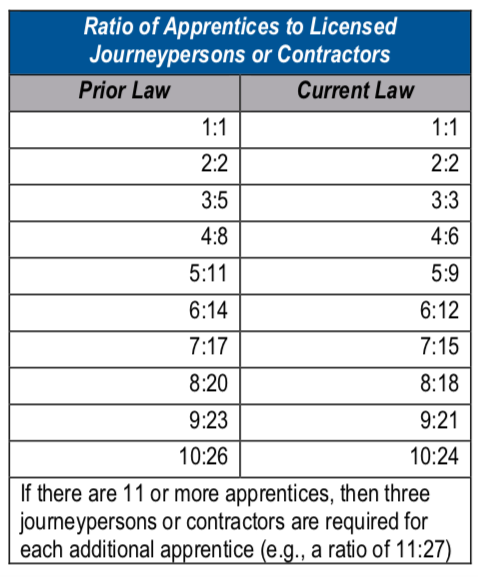 Ackert sponsored a bill in 2021 to change the ratio to 1:1, and while some Democrats signed on as cosponsors, the bill never was never brought up for a hearing.
The 2017 bill also established an Apprentice, Journeymen and Contractor working group, which would meet three times per year to study the apprenticeship hiring ratios and submit a yearly report to the General Assembly starting in December of 2017.
However, the 2019 OLR report indicates that the working group had not yet met.
According to meeting minutes of the Connecticut State Apprenticeship Council on November 3, 2020, Jenn Jennings, a representative of the Connecticut Heating and Cooling Association, said some of her members were having difficulty finding licensed journeymen to meet increased demand during the pandemic. She asked if there were any exceptions to the state's "ratio relief" policy, which allows some companies an exception to the apprentice hiring ratio if they can't find enough journeymen.
"Jenn wanted to go on the record to state that due to the increased need because of the pandemic, it is extremely difficult for companies at this time in history to hire licensed people," the minutes said.
Meanwhile, the number of apprentices in Connecticut appears to be growing despite the COVID-19 pandemic, according to numbers from the U.S. Department of Labor.
Connecticut had 6,972 active apprentices during the fiscal year of 2020, according to DOL, a 23 percent increase of 2017 and a 53 percent increase over 2011.
The DOL notes that, nationally, apprenticeship rates are up 70 percent over 2011.
"The COVID-19 pandemic's affect [sic] on the national economy resulted in a 12% decline in the number of apprentices in FY 2020 compared to FY 2019," the DOL wrote. "Even with this decline, FY 2020 numbers are the third-highest ever for the Registered Apprenticeship program."
Ackert says adjusting the ratio of apprentices to journeymen would help add jobs as Connecticut continues to dig its way out of the job losses suffered in 2020.
"When the General Assembly meets to appropriate our state's share of infrastructure dollars, we should also send Governor Lamont a bill a bill to bring the hiring ratio for these building trades in line with the already proven 1-to-1 site ratio," Ackert said. "Upon receiving his signature this could mean the immediate creation of hundreds of fulfilling careers in this vital sector of our economy and workforce."