An estimated 250 protesters gathered in the rain at the Capitol today to rally against the continuation of Gov. Ned Lamont's emergency powers and carrying signs against mask-wearing mandates for school children.
Lamont has asked that his public health and civic preparedness emergency powers be continued, and the legislature is set to vote on the matter during a special session Wednesday.
The event, which was organized by CT Liberty Rally, included Republican legislators, radio talk show hosts Todd Feinberg and Gary Byron, Yankee Institute President Carol Platt Liebau, and No Tolls CT founder Patrick Sasser.
Republican lawmakers argued that the public health and civic preparedness emergencies were no longer necessary in light of the state reopening and low COVID infection rates and advocated for returning power to the legislature.
"As somebody who is on the Public Health Committee, this request for an extension is absurd," said Sen. Heather Somers, R-Groton. "There absolutely no valid reason to request an executive continuance of his total and complete supreme authority."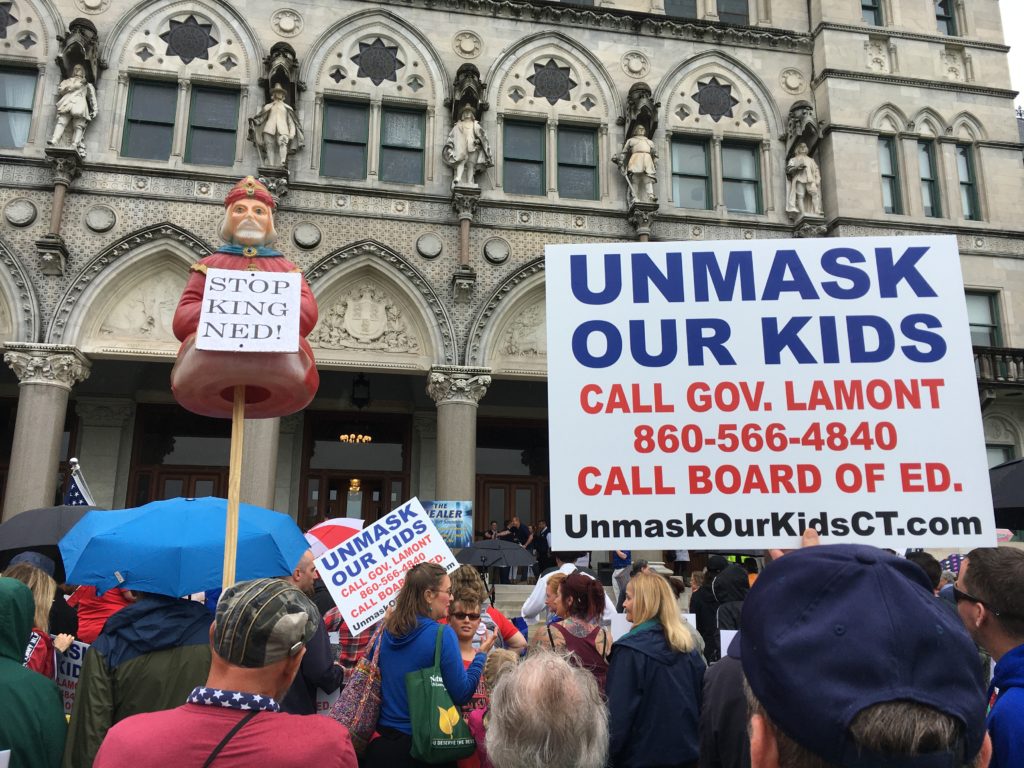 "If there are things that important to do we can be called in as a legislature to make sure they happen," Somers said.
Legislators also pointed out that during the pandemic the General Assembly held special sessions to vote on the police accountability act and marijuana legalization but has thus far refused to end Lamont's emergency pandemic powers.
"Interestingly last summer, at the height of the pandemic, the legislature was able to come in on an emergency to deal with police accountability, but it couldn't deal with the pandemic," said Rep. Craig Fishbein, R-Wallingford. "A few weeks ago, after our session ended, the legislature was able to come in a deal with the emergency of marijuana, but it couldn't deal with the pandemic."
"There's no emergency now, certainly nothing of a grave nature so appropriate to continue to surrender the power of the legislature to the governor," Fishbein said.
After reading from a poem he wrote, Fishbein led the crowd in a chant of "Represent us or resign!"
Although most of Lamont's COVID-related executive orders have expired, the governor has asked for an extension through September to ensure vaccination of more Connecticut residents, flexibility by the Department of Public Health and continuation of federal funding from the Federal Emergency Management Agency and the USDA Food and Nutrition Services.
"These orders are still needed to protect the public and continue critical measures to provide healthcare access and economic relief and respond to evolving changes," Lamont wrote in a letter to legislative leaders.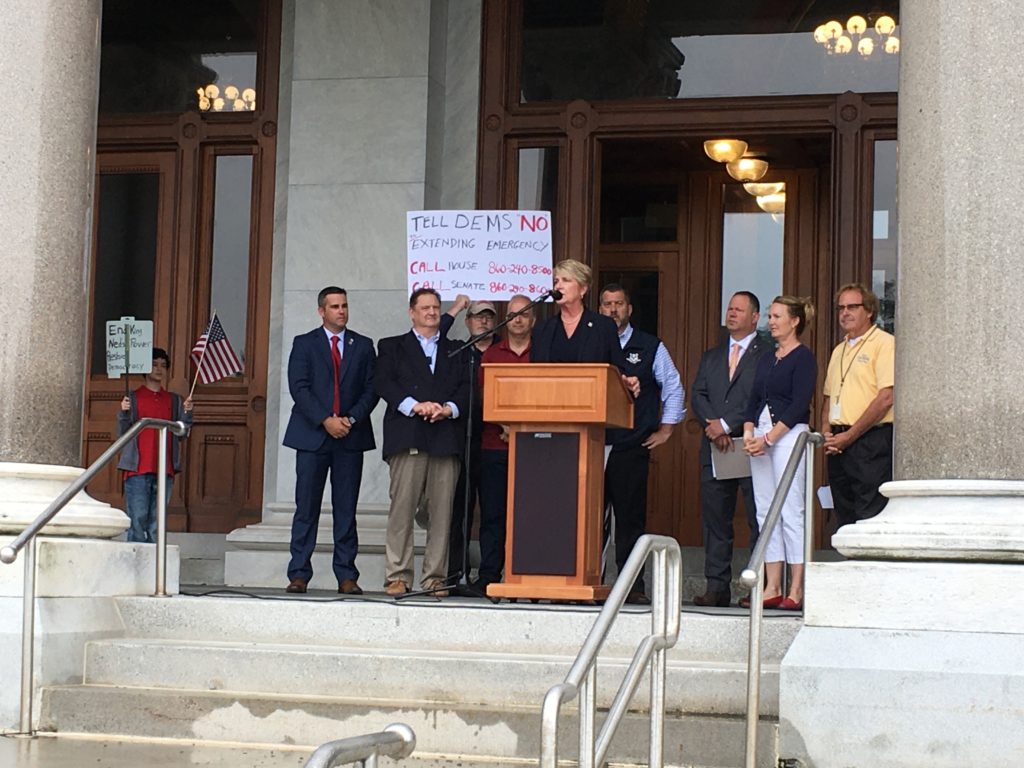 Sen. Will Haskell, D-Wilton, wrote in a Facebook post that the continuation of the governor's emergency powers was necessary to preserve federal funding for some social services like Supplemental Nutrition Assistance Program benefits and FEMA funding that supports providing shelter for the homeless.
"I desperately want to put this pandemic behind us and return to the normal procedures of governance and daily life," Haskell wrote. "Ending the state of emergency could force an unfortunate choice: should Connecticut spend more taxpayer dollars to support the nutritional needs of families who are struggling, or should we let these programs expire?"
"With a potential spike in evictions around the corner, these programs may be more critical than ever," Haskell said, referencing the ending of Lamont's eviction moratorium.
Lamont wrote that, thus far, the state has received a total $339.3 million in additional federal funds because of the emergency declaration.
But Republican lawmakers said the legislature shouldn't give up its authority for federal money.
"Some of your representatives laugh about the fact that if we manufacture an emergency that the Feds will give us money no matter what the statistics are," Fishbein said.
Rally-goers said that Connecticut is no longer in a state of emergency and there is no reason to continue the governor's emergency powers, especially when the state is fully reopened for businesses and mask mandates have largely been eliminated.
Criticisms of how the governor has handled the pandemic ranged from mask mandates for school children to separation of powers and the COVID testing contract granted to SEMA4, a company that Gov. Lamont is financially connected to through his wife Ann Lamont and her Oak HC/FT capital investment firm.
"I feel like we need a more limited definition of 'emergency,'" said Jennifer Benham of New Hartford. "I don't think 25 people hospitalized from COVID constitutes an emergency and the governor has refused to declare and determine what would be the end of the emergency."
"I have three young children that soon will be enrolled in school and I do not want them masked when they're in school," said Mike Edwards of Thomaston. "There's no metric showing kids should be masked, there's no metric to show there's an emergency or need for a declaration of an emergency anymore."
To date, Connecticut is performing well in terms of vaccination rates and COVID infections.
According to the governor's office, 70 percent of Connecticut residents over the age of 12 have been vaccinated and the daily positivity rate is .52 percent as of Friday, July 9.
Connecticut was ranked 4th in the nation for its vaccination rate, according to the Centers for Disease Control.
**Meghan Portfolio contributed to this article**