The Department of Consumer Protection sent an email to local elected officials, health officials and emergency management directors on Thursday asking them to report any COVID-related rumors they may find on social media so the state can debunk them.
"As the COVID-19 pandemic continues and the state moves into the next phase of vaccination, we are also continuing our work to combat misinformation related to COVID-19, the vaccine and its distribution," wrote DCP Communications Director Kaitlyn Krasselt.
"If you hear a rumor or see one perpetuated and shared on social media, or are frequently asked questions about the same topic that seems to stem from confusion or mis-information, and you think it deserves counter-messaging, we are asking you to let us know by filling out this simple form that we've put together," Krasselt wrote .
The email provides several links to Twitter and Facebook posts by CT Covid-19 Response which debunk rumors surrounding the COVID-19 vaccine.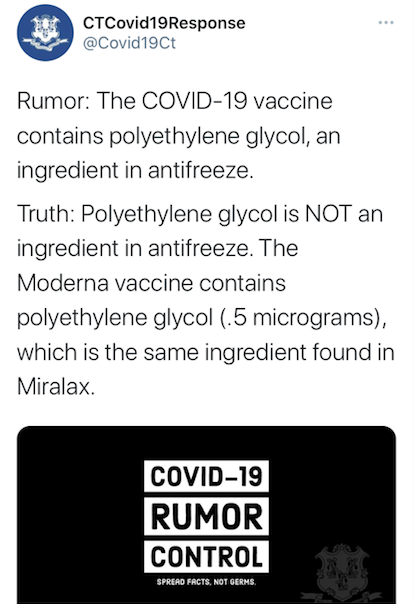 The example topics included whether or not the COVID-19 vaccine contains antifreeze ingredients or aborted fetal cells (the vaccines contain neither) and offers several source links.
The call to action comes shortly after the Department of Public Health fired their communications director Av Harris, and House Republican Leader Vincent Candelora, R-North Branford, called for Gov. Ned Lamont to bring some stability to DPH by appointing a commissioner.
Dr. Deirdre Gifford has been acting commissioner since Lamont dismissed Renee Coleman-Mitchell in May. Gifford is also the commissioner of the Department of Social Services.
"While I appreciate Commissioner Gifford's background in public health and the effort she's put forth so far, the fact of the matter is that she's leading two massive state agencies at the same time," Candelora said.
Candelora also questioned the the decision to fire Av Harris and the use of a private firm to handle the COVID-related communications at a cost of $250,000.
"Given the apparent internal turmoil, it's no wonder that residents don't fully understand the vaccination rollout—why legislators are fielding questions about why someone in a congregate setting, such as a prison inmate, will receive the vaccine before a teacher or even a heart transplant recipient," Candelora said. "Taxpayers are now covering the cost of professional public relations firm, so you'd think the communication to residents during this crisis would be clearer."
The effort to combat misinformation may be crucial to the vaccine rollout as Connecticut faces the difficult task of trying to vaccinate 1.4 million residents under phase 1b of the plan.
With only 45,000 doses arriving to the state per week from the federal government, the rollout may be slower than expected and Lamont's team has created a tiered system within phase 1b.
"In order to best combat misinformation, we need the rumor as you've heard it, as well as what is actually true," Krasselt wrote. "Ideally, by combatting bad information, we will make all our jobs a little easier."
Polls have shown that some people are hesitant about getting the vaccine. A study by the Kaiser Family Foundation found that 27 percent of people have concerns about the vaccine.
The numbers are higher for Republicans, African-American adults, essential workers and healthcare workers, according to the study.
CT COVID-19 Response is a multi-agency joint information center and it's state website contains up-to-date information on Connecticut statistics and information about the vaccination program. It has over 12,000 followers on Facebook and nearly 5,000 followers on Twitter.