The Inner-City Foundation for Charity and Education, based in Bridgeport, announced it was closing its nearly 30-year operation after corporate donations dried up, donors left for other states and the pandemic ended their ability to host major fundraising events.
"We've decided to close our doors due to a confluence of circumstances," Inner-City Foundation Executive Director Karen Barry Schwarz wrote in an October 13 letter to donors.
The Foundation provided grants to charities and service providers who helped those living in poverty and helped fund education programs for both adults and children.
Schwarz wrote that the Foundation was initially supported by corporate donors in its early days, but large sponsorships have run dry during "trying economic times."
In a posting on their website, Schwarz notes that longtime corporate sponsors have also left the area. "Connecticut corporations – historically our largest donors – have considerably decreased charitable giving or have left the area, and our total charitable giving is down among individual donors."
"Many more of our longtime donors have left the area for warmer climes, like Florida," Shwarz wrote in the letter.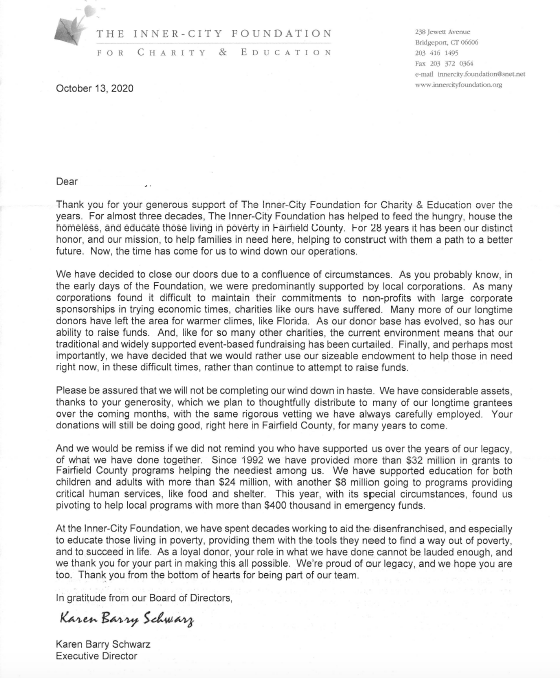 The U.S. Census Bureau reported that Connecticut lost 29,517 people to other states in 2017, with the majority of them – 63 percent – decamping for Florida.
The loss Connecticut residents to states like Florida is particularly pronounced among individuals on the higher end of the income bracket who take with them higher earnings than those moving into the state, resulting in a net loss of wealth, according to figures from both the Internal Revenue Service and state reports.
In their 2019 report, the Connecticut Council for Philanthropy reported that charitable giving among those earning more than $1 million dropped by 12 percent from 2015 to 2016, while the overall number of residents in that income bracket fell by only 4 percent.
The CCP's report was based on 2016 IRS figures, the most recent available at that time.
Since then, a survey conducted by the CCP found that 40 percent of Connecticut non-profits reported a decline or expected a decline in charitable giving in 2018.
The 2017 federal Tax Cut and Jobs Act, which doubled the standard tax deduction, lead to concerns that fewer people would donate to charities and foundations because fewer individuals would itemize their tax returns. 
The Inner-City Foundation's annual gala fundraiser was canceled this year due to the pandemic and "that method of fundraising is likely to be challenging in the future," Schwarz wrote on the foundation website.
Since 1992, the Foundation has provided $32 million in grants to Fairfield County programs to help the needy, along with an additional $24 million in education support and $8 million to programs providing food and shelter, according to the Schwarz's letter.
The Foundation will be using its endowment "to help those in need right now, in these difficult times, rather than continue to attempt to raise funds."