**Meghan Portfolio contributed to this article**
Amanda Roos never got to open her brand-new Painted Goddess Salon in Monroe.
Her new beauty and hairdressing business was ready to open its doors on March 20, the same day Gov. Ned Lamont announced a shutdown of non-essential businesses, including hair and nail salons, in response to the COVID-19 pandemic.
Two months later, she was ready to go again, waiting for the May 20 reopen date when she could begin taking customers and growing her business. She had used the two months to continue to prepare and stockpile personal protection equipment for her salon.
But two days before hair salons were set to reopen as part of Lamont's Phase One reopening plan, Lamont reversed course and pushed back the date barbershops and hair salons could reopen to June 1.
And that didn't sit too well with some salon owners, who took to the streets in New Haven to protest the extended closure of their businesses.
The governor said he had heard numerous concerns from salon owners and stylists on a phone call and his announcement to delay reopening of hair salons was made to coincide with Rhode Island's pushback of salon re-openings.
Reports in the media credited the Connecticut Beauty Association as influential in pushing back the reopen date. The group was reportedly planning to hold a protest against reopening.
But the Connecticut Beauty Association doesn't really exist… at least not yet. There is no registered trade association by that name, no website, no address and no official members.
I knew that the association didn't exist, that it wasn't a legitimate association. They were a Facebook group that got a following and then said they wanted to be a voice for the Connecticut beauty industry.

Amanda Roos, owner of The Painted Goddess Salon in Monroe
Rather, a private Facebook group called CT Stylists for Late Stage Openings, which was created on May 5, has dubbed itself the CT Beauty Association on its social media page and has been encouraging its 3,532 members to email the governor — and now the Boston Consulting Group — to delay the reopening of salons.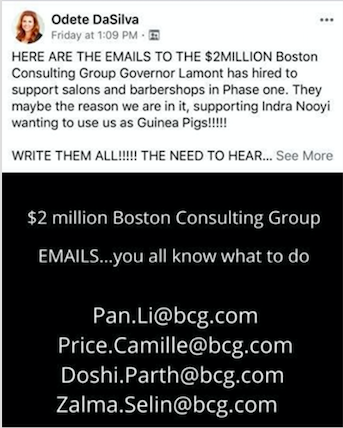 The group appears to have changed its Facebook page name to CT Stylists for Safe and Successful Openings on May 26.
"I knew that the association didn't exist, that it wasn't a legitimate association," Roos said. "They were a Facebook group that got a following and then said they wanted to be a voice for the Connecticut beauty industry."
Upset at the last-minute delay, Roos launched a rival Facebook group of stylists and salon owners who want to reopen as soon as possible, mirroring the larger and contentious national debate of when to reopen sectors of the economy closed down by the pandemic.
Roos created CT Stylists for Reopening on May 18, after Lamont pushed back the reopen date and now has 744 members who do not feel the new Connecticut Beauty Association or Stylists for Safe and Successful Openings represent them.
"I don't blame them for being afraid, but what is ten days in the world of coronavirus?" Roos said. "But some salon owners needed those ten days to survive."
A video circulated on Facebook shows Odete DaSilva and Allison Valsamis, who are both salon owners and administrators of CT Stylists for Safe and Successful Openings, thanking their followers for getting the salon reopen date pushed back and saying they are forming the Connecticut Beauty Association to have official representation in Hartford, including lawyers and lobbyists.
DaSilva and Valsamis expressed fears of COVID-19 cases increasing again as restrictions are loosened, particularly following the Memorial Day weekend, and that public health departments will be inspecting salons and possibly levying hefty fines or closing them down if they are not properly prepared.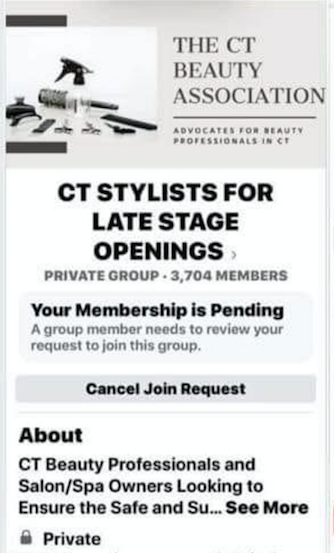 They said they were fighting for salon owners to have the right to reopen when they felt ready, particularly for those who might not feel safe or have childcare issues.
"When we were emailing the legislators, that's when everything really turned around for us. They got back behind us," they said in the video. "We're still in communication with the legislators and we're still working with them and they're still working with us."
Both women acknowledged that the "other side" is "rallying" and said that they are well within their rights to have a differing opinion.
But having a different opinion means you might not get admitted to the private group, which has dubbed itself the CT Beauty Association and the voice of the industry.
In the video posted by Roos on her page, DaSilva and Valsamis said they will admit salon clients to their group if those clients agree with their position.
"They blocked anyone who disagreed with them," Roos said.
Some of that privacy and secrecy has to do with negative feedback the group received for taking a controversial stance.
Clearly, some salon owners and employees were angered over Lamont's push back of the date and were upset with the group of salon owners role in the delay.
Yankee Institute reached DaSilva on Facebook who only said they are not doing "any negative interviews to show any divisiveness in industry or bullying."
"There are some responding to that, but it is not us," DaSilva wrote in a Facebook message.
In a previous interview with the Hartford Courant, DaSilva said reopening on May 20 wasn't a fair choice because those who chose not to open would be at a competitive disadvantage with those who moved forward with reopening.
Roos says she and many other owners and workers in the beauty industry are looking forward to June 1, so they can get back to work.