An April 16 Hartford Board of Education meeting attended by state representative and Hartford teachers' union vice-president Joshua Hall, D-Hartford, turned rowdy when Hartford parent, Jessie Pierce Jr., confronted the board saying teachers were failing to educate Hartford's students.
Two days later, the Department of Children and Families opened an investigation into Pierce regarding his 8-year old son, a student in Hartford's Parkville Community School.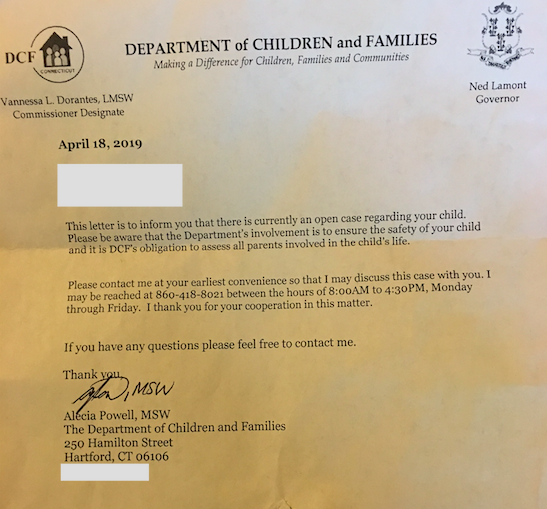 Pierce claims a second investigation was initiated regarding his 97-year old father who lives with him.
Pierce says the DCF worker informed him the investigations were launched by an anonymous complaint originating from the school.
Reached by phone, the DCF investigator assigned to Pierce's son confirmed the anonymous complaint originated out of the school and was lodged on April 18.
"I feel like it was retaliation for me saying the teachers are not doing a good job," Pierce said in an interview.
The board of education meeting on April 16 attended by superintendent Leslie Torres-Rodriguez descended into chaos for several minutes and had to be called to order. The meeting was captured on video.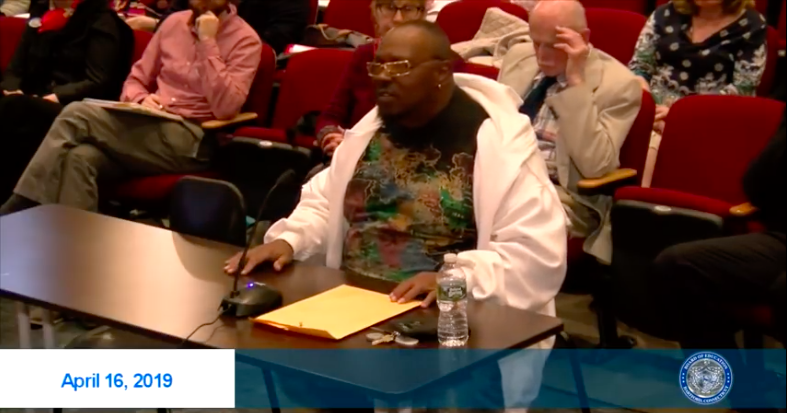 Following testimony by Hartford Federation of Teachers President Andrea Johnson who called for more disciplinary actions in the classroom, Pierce gave a strongly-worded statement that elicited cheers from some parents in the room and, according to Pierce, an offer to "step outside" from HFT second vice president Jay Guittierez.
I feel like it was retaliation for me saying the teachers are not doing a good job.

Jessie Pierce
Pierce says Guittierez was interrupting him during his testimony and Pierce can be seen responding in the video, calling someone an "Uncle Tom" as tempers flared.
Following his testimony, Pierce says Guttierez "jumped up and asked me to come outside and I'm like, why me? I found it wrong for him to get into this conversation." Further yelling can be heard in the background of the video.
As Pierce dealt with the DCF investigation, parent groups called on the state Board of Education to investigate the meeting and what happened at a May 1, State Board of Education meeting.
The Hartford Federation of Teachers also spoke out and issued a letter to its members saying it was "shocking to hear parents/community people speak about Hartford teachers who 'did not know Hartford students,' referring to teachers who were not doing their job correctly and were therefore the cause of the poor behavior by students."
The letter to HFT members was signed by HFT President Johnson and singled out Superintendent Leslie Torres-Rodriguez for criticism.
"Perhaps the most alarming part of this story is that Supt. Torres-Rodriguez did not ONCE address the crowd that were making the disrespectful comments about Hartford teachers," Johnson wrote. "A most unacceptable fact!"
Calls to the Hartford Federation of Teachers for comment were not returned.
Hartford Parents Fear Phone Calls to DCF as Retaliation
At a May, 7th Parent Teacher Organization meeting in the senior center located next door to Parkville Community School, a small group of parents — including Pierce, who is treasurer for the PTO — gathered to discuss what happened at the April 16 Hartford Board of Education meeting and hear from a group of speakers and advocates.
Those speakers included Sarah Eagan from the Office of the Child Advocate, Millie Arcinegas of the Hartford Parents University – a group that seeks to educate parents about their rights in the school system – Gwen Samuel of the Connecticut Parents Union and Keri Rodriguez of Massachusetts Parents United.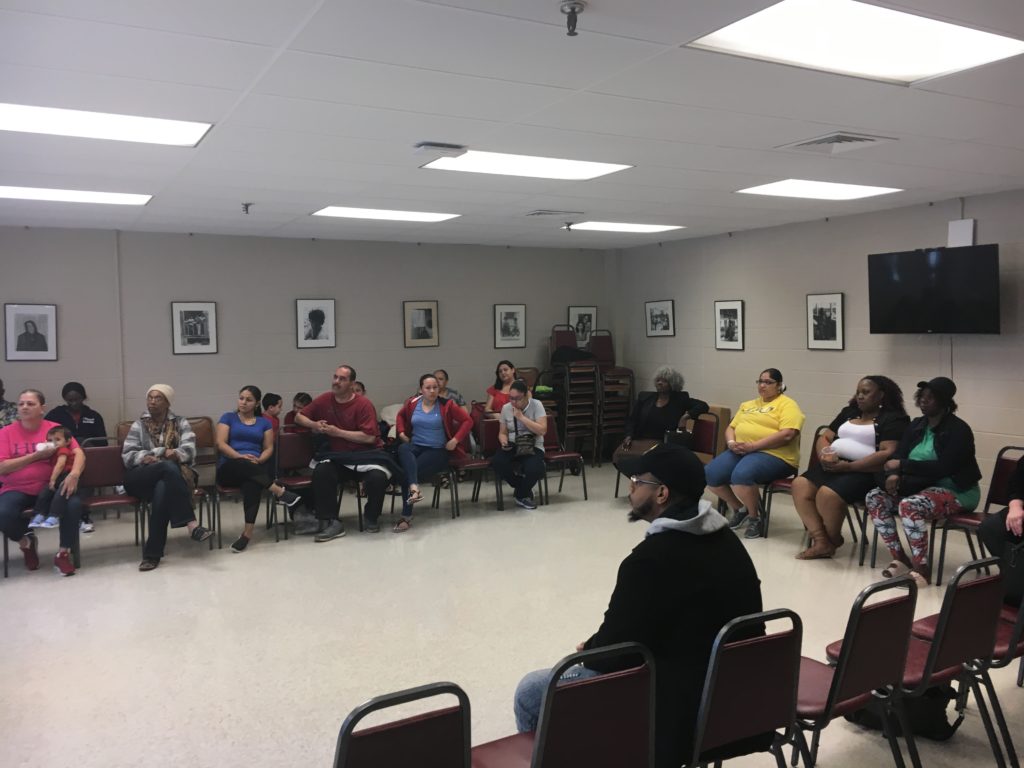 Television news stations were there to film the meeting, as parents aired grievances regarding absentee teachers, a lack of teaching in the classroom, the teachers' union and the events at the April 16 BOE meeting.
Arcinegas referenced the letter sent by the Hartford Teachers Federation to its members, saying the teachers' union sent out a letter saying "how gross the parents were speaking" about them.
"What escalated in that meeting was completely inappropriate from the teachers' union rep.," Arcinegas said. "What was concerning is there is a code of professional responsibility that they have to follow at all times and during that meeting everything was violated – everything."
"We have to send our children back into those classrooms, into an environment where it's retaliatory, and the child doesn't even know what's going on," Arcinegas said.
The fear of retaliation by teachers and union officials in the Hartford school system were raised several times.
Gwen Samuel of the Connecticut Parents Union faulted Guittierez for interrupting Pierce during his testimony before the BOE and said the DCF complaint against Pierce was to send a message to parents.
"You are not going to tell me that this is a welcoming environment that when parents speak up for their rights – in a different setting, not even in the school – that they would retaliate to such a degree," Samuel said. "And you know that that was meant to do? Put fear in all of your hearts. It sends a very clear message: if you stand up for your children, if you fight for your babies, you are about to have a problem."
Keri Rodriguez of Massachusetts Parents United said Pierce's experience was an example of DCF being "weaponized" against parents.
"Teachers are mandated reporters," Rodriguez said, meaning teachers are required by law to report if they believe a child is being abused or neglected. "We need these mandated reporters to be honest and truthful."
Pierce was not the only parent in the room who had a DCF complaint lodged against him after a run-in with a school official.
Jose Rivera, who has two children in the Parkville school and a daughter in a Hartford magnet school, said he had a DCF complaint lodged against him after he became upset when a magnet school principal ignored him.
Rivera said a couple days after the confrontation with the principal, DCF showed up at his house regarding "homework" issues with his daughter.
"I told DCF, my daughter is my daughter. I'll deal with the homework and everything and I don't know what homework has to do with you," Rivera said.
Rivera said his case was quickly dismissed, but that parents in the Hartford school system are afraid of complaints made to the state like the one lodged against Pierce.
Parents are scared. You have to understand, we have parents who are here illegally. They're afraid of what happened to him [Pierce]. They're afraid of a call to DCF.

Jose Rivera, Parkville Community School parent
"Parents are scared. You have to understand, we have parents who are here illegally," Rivera said. "They're afraid of what happened to him [Pierce]. They're afraid of a call to DCF."
"If we talk back, they use that power," Rivera said. "I have talked to a lot of parents and they are afraid, because they are not completely legal."
Eagan, during her interactions with the parents, assured them that lodging a false complaint with DCF is illegal and said her office would try to look into what is happening at Parkville Community School.
According to DCF's website, mandated reporters "are required to report or cause a report to be made when, in the ordinary course of their employment or profession, they have reasonable cause to suspect or believe that a child under the age of 18 has been abused, neglected or is placed in imminent risk of serious harm."
Pierce says he filed a police report regarding the complaint, but the police department said there is nothing they can do.
Conflict in the Classroom
In her testimony before the board of education, Johnson said the Hartford Federation of Teachers wanted to address "the difficulties within many Hartford schools concerning the climate and culture in those schools."
"Most troublesome is student discipline," Johnson told the board. "In too many cases in the schools, students are not being held accountable for behavior that is totally unacceptable."
A number of teachers came to the table to testify about disrespectful language used by students against teachers, students acting out in the classroom, creating disruptions and even physical violence.
"They have no fear of consequences because there are none," one teacher said.
The Hartford Federation of Teachers is part of the American Federation of Teachers Connecticut which has been pressuring lawmakers at the Capitol to study how schools handle unruly students and create measures for expanding student and teacher safety in the classroom.
A bill sponsored Republican and Democrat lawmakers – and supported by both AFT Connecticut and the Connecticut Education Association – would require the State Department of Education to development policies for handling incidents of school violence.
President of AFT Connecticut, Jan Hochadel, testified in support of the bill.
"We are not protecting our teachers and paraeducators, who receive the brunt of the physical abuse," Hochadel wrote in her testimony. "We are doing nothing to help the other student in the classroom who are being traumatized rather than educated during these outbursts."
But the bill also faces pushback from superintendents, parent organizations, and the Connecticut American Civil Liberties Union, which argued the changes would increase racial disparities in Connecticut's school system.
The legislation is currently awaiting a vote by the House of Representatives, although with only a few days left in session, its fate remains unknown.
The teachers testifying at the April 16 Hartford Board of Education meeting were clearly frustrated as they try to balance educating students while dealing with behavioral and social issues that have their origins outside the classroom.
The testimony from teachers, however, was not entirely directed against student behavior.
Nicole Selmanie, a math teacher in the Hartford Public School system, said that teachers must be more accountable as well and that some are not doing their jobs.
Selmanie said budgetary problems and staffing problems were outside the control of teachers but that "doing our very best job," is within their control.
"I know I'm going to be crucified for this tomorrow," Selmanie said, "but I'm going to speak the truth – we're not. We are not."
"Quite frankly, when you ask kids why they're not in class, it's because teaching isn't happening, teachers aren't being held accountable and I can say that as a teacher," Selmanie said to applause from the back of the room. "I work hard, and a lot of people don't."
The parents are frustrated as well. A number of Hartford public schools are failing and wait lists for Hartford's better performing magnet schools are long and predicated on racial quotas that have sparked lawsuits against the state's magnet school system.
"You don't know our kids," Pierce said to the teachers at the Board of Education meeting, saying that the school needs more minority staff who can understand the problems poor and urban students face.
"Half these teachers shouldn't even be teaching," Pierce said before the verbal conflict between Pierce and Guitierrez escalated.
A New Principal and a Vote of No Confidence
Pierce's testimony before the Hartford BOE on April 16 was the first time he had attended a Hartford Board of Education meeting.
He and other parents attended the meeting, in part, to show support for Parkville's new principal Omaris Journet.
Journet has been principal at Parkville for less than a year and the parents in attendance at the PTO meeting feel she is doing a good job and helping change the culture at the school.
Mike Snow, president of the PTO and chairman of the student government council for Parkville Community School, said that under the last principal, student reading and writing ability was declining, and things were becoming worse over the last three years.
"The previous person in office had the same issues and it never got addressed," Snow said.
Snow says Journet "hit the ground running and has put in place more resources for the school to be able to help these children out, not even academic wise but also behavioral-wise."
Snow says Journet hired a behavioral technician to help the children who are having difficulties and has hired more substitute teachers to make up for when teachers are absent or call out sick. "And that's in a short amount of time and we've already seen a huge difference," Snow said.
However, the teachers' union gave Journet a vote of "no confidence," sparking anger from parents who supported her initiatives. The vote lead to racial questions because Journet is Hispanic and actually attended Parkville as a child — her predecessor was white.
Like many issues in society, the racial makeup of teachers in Hartford's public schools has been brought into question with some lawmakers pushing for policies that would increase the diversity of teachers in urban school districts where the majority of students are African-American or Hispanic.
Snow says he feel the teachers' union vote was a "rush to judgement," but doesn't believe a teacher's race makes a difference.
When it comes to teaching, it's about the connection you can make with the students. You don't necessarily have to be the same demographic or same upbringing and background, you just have to share the passion of wanting to be an educator.

Mike Snow, President of the Parkville Community School Parent Teacher Organization
"When it comes to teaching, it's about the connection you can make with the students," Snow said. "You don't necessarily have to be the same demographic or the same upbringing and background, you just have to share the passion of wanting to be an educator."
The leaders of the meeting said they wanted to give a vote of "no confidence" back to the teachers' union for what they feel is an unequal abuse of power in the school system.
"Are we saying teachers don't have a tough job? No, we're not saying that," Samuel said to attendants of the PTO meeting. But Samuel said teacher unions have too much power and access in the school system.
"The very people who attacked one of your parents, get to roam the halls freely. How is that possible? Whatever happen to confidentiality? The need to know? Do you need to walk the hallways and if you do, who are you?"
The issue of discipline in the classroom is one that is not likely to go away any time soon. Teachers in districts around the state face serious difficulty in managing and attempting to teach some children facing mental and behavioral health issues along with social influences that are larger and more complex than any public policy or organization meeting will ever solve.
But discipline goes both ways and attempts at silencing frustrated parents through intimidation — particularly through a state agency that has the ability to investigate homes and even remove children from their parents' care — is a serious cause for concern.
For now, Jessie Pierce says he is no longer under "attack" and breathing a sigh of relief — not because he was concerned over the merits of the accusations but rather to nearly be out from under the watchful eye of the state.
Reached by phone for a follow-up, Pierce said that DCF is closing both cases for his son and father.
"They said there was no merit to the cases," Pierce said. "They came to the house and checked in on everything and they said everything was perfect."
The DCF investigator said that while the case involving Pierce's son is still technically pending, it will "most likely" be closed.