As Democrats in the legislature float proposals to raise the income tax rate on Connecticut's highest earners and increase the capital gains tax, Chief Executive Officer for Greenwich-based AQR Capital Management Clifford Asness tweeted "Do people generally prefer living in Texas or Florida? Asking for a friend."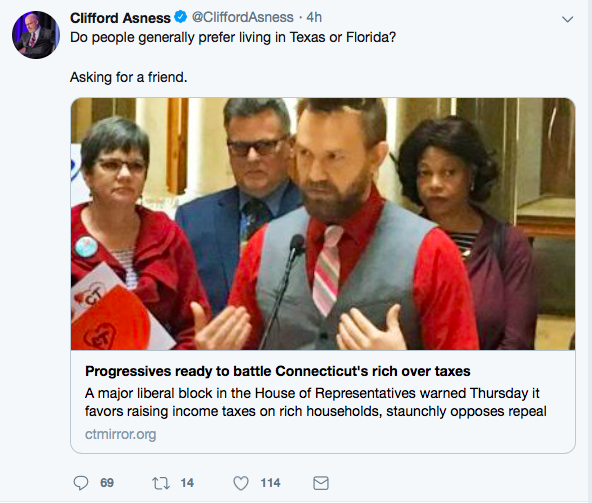 Asness' tweet linked to a February article by CT Mirror in which the powerful Progressive Caucus in the House of Representatives called for increasing the income tax for Connecticut's top income bracket.
This past week saw another proposal to increase the capital gains tax by 2 percent, an idea which has received support from Democratic lawmakers including House Majority Leader Matthew Ritter, D-Hartford, and co-chair of the Finance, Revenue and Bonding Committee Jason Rojas, D-East Hartford.
Thomas Thornton of Hedge Fund Telemetry, a data collection and analysis firm, also chimed in on the proposal to raise the capital gains tax, saying "the talk of raising capital gains taxes and other taxes has really made people seriously consider leaving while many people have already left."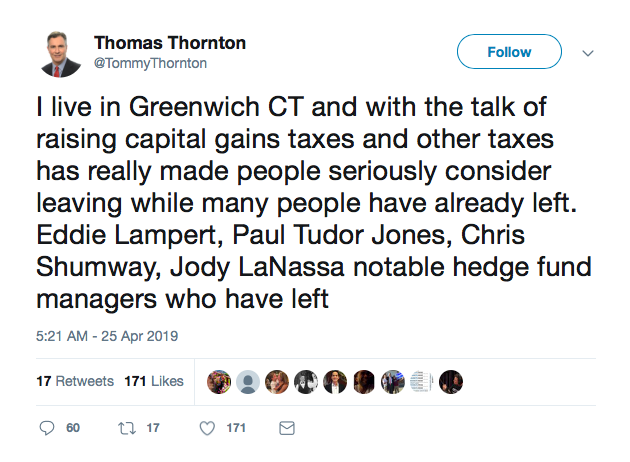 Although the tweet by Asness may have been tongue-in-cheek, it could also have been a shot across the bow for Connecticut, causing some lawmakers – including Gov. Ned Lamont – to pay attention. 
Connecticut has a history of losing major hedge funds and billionaire CEOs to Florida over the past eight years, including Paul Tudor Jones of Tudor Investment Corp., Edward Lampert, Barry Sternlicht of Starwood Capital Group, C. Dean Metropoulos and Thomas Peterffy of Interactive Brokers.
Those five individuals had a combined net worth of $68 billion, according to a study by the Cato Institute.
According to the Internal Revenue Service, Connecticut saw a massive outmigration of wealth following the 2015 tax increase, with a net loss of $2.6 billion in adjusted gross income to other states – the bulk of that loss came from those earning more than $200,000 per year.
The loss of a major investment firm or billionaire can cause big swings in Connecticut's tax revenue.
A 2014 tax incidence study found just 357 of Connecticut's wealthiest families paid 11.72 percent of the personal income tax revenue and 5.4. percent of Connecticut total tax burden.
Connecticut's fiscal situation closely tied with investment earnings, the state's financial services sector being one of the biggest and most productive for tax revenue, and Fairfield County is known as a home for major investment firms.
That reputation has slightly diminished as major investors depart for Florida, which does not levy an income tax and has actively marketed itself to Connecticut financial firms.
AQR Capital is based in Greenwich and is listed as the second largest hedge fund in the world, according to a listing by Institutional Investors Alpha 2017 Hedge Fund 100 list, managing $70 billion in assets.
Although Lamont has said he was against another income tax increase on Connecticut's wealthy citizens, Democratic party leaders are pushing back.
Lamont used his Greenwich business connections and resume to ride to victory in the 2018 gubernatorial election against Bob Stefanowski, another wealthy businessman, and has enlisted former business executive like Indra Nooyi, former CEO of PepsiCo, and David Lehman, former Wall Street executive as part of his team.
Lamont has also been reaching out to Greenwich business owners and executive to help sell his tolling proposal.
But since taking office Lamont is facing increased pressure to balance the budget with tax increases on Connecticut's top earners.
Lamont's budget called for expanding the sales tax, tolling Connecticut's highways, taxes on hospitals and maintaining a corporate surcharge meant to expire this year to balance his budget.
Both the Finance, Revenue and Bonding Committee and the Appropriations Committee are expected to release their budget proposals next week.