Hundreds of home-schooling families wearing red packed overflow rooms to watch and testify at a public hearing before the Education Committee over fears that a provision in Gov. Ned Lamont's school regionalization bill will force them to register with their school district and that the information will be monitored by the Department of Children and Families.
Their fears stem from an email sent by Rep. Liz Linehan, D-Cheshire, to a concerned home-school parent which reads "By registering, if DCF crosschecks families with neglect investigations, they can better serve these kids who actually are being neglected and abused. Does that help to understand why this may be helpful to DCF and the kids who need intervention?"
The homeschool registration provision was buried in two sections of Lamont's bill to create a school regionalization commission – an idea that already faces significant push back – and comes following last year's report by the Office of the Child Advocate that some abusive parents used the guise of homeschool in order to hide their abused children from the public eye.
The governor's regionalization bill requires home-schooling parents to register annually in person at their local school district and allows the district to make curriculum recommendations to those parents.
The provision, however, does not mention anything about DCF obtaining homeschool registration information, but the government interference combined with Linehan's comments may have kicked a hornet's nest.
Megan Morgan and Crystal Heft of the Connecticut Homeschool Network, which has 4,000 members, say they firmly believe they have a state Constitutional right to home-school their children without interference by the government.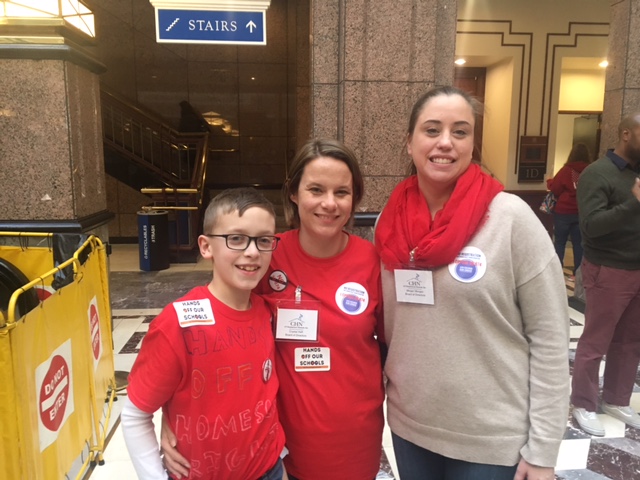 "With the language that is currently there, what this would do is force home-schoolers to register annually in person with their district," Morgan said. "We know this is related to the report by the Office of the Child Advocate, because one of the representatives let a constituent know they're going to take the registration list and send it to DCF."
The CT Homeschool Network distributed handouts with a list of publicized arrests of public school teachers and officials for abuse of children to make their point that abuse is not limited to home-schoolers.
Becky Crane, a home-schooling parent of three and administrator of a homeschool co-op with 100 members, says forcing home-schoolers to register so they can be monitored by the state is "discriminatory."
"If they already have reports of families who are abusive, they should just follow up on those reports," Crane said. "Regulation of an entire group is discriminatory against that group. That leads to taking away freedoms."
Robin Matterfiss of Madison who home-schools her daughter says she opposes regulation of home-school. "I don't think the government needs to interfere in what we're doing. We're better than the public schools and it's been shown statistically that homeschoolers do better in college and forward."
Amy Schwartz, a mother of four who home-schools her children with her husband says, thus far, Connecticut has been very friendly to homeschoolers and that any regulation may drive homeschool families away.
"I think if you regulate, you're going to turn a lot of people away," Schwartz said standing with her thirteen-year old daughter clutching a Lord of the Rings novel. "It's one of the things that attracts home-schoolers to Connecticut."
The public hearing required overflow rooms which were packed with homeschool families and a number of other families opposing the idea of forced regionalization of Connecticut's school districts.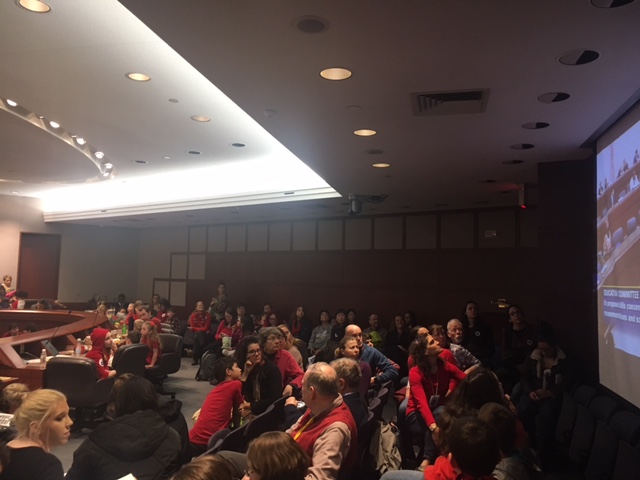 Two bills being heard before the Education Committee would force smaller school districts to merge with larger districts, however those bills have not yet been drafted. Rather, it is the governor's bill which is drawing the most concern from home-school families.
Sen. Will Haskell, D-Wilton, has come out against the forced regionalization bills and says "I have some real concerns about the homeschool aspects of this bill. I plan to take the governor up on his offer to talk about these issues."
The mass showing before the Education Committee mirrors a 2018 public hearing in which hundreds of Asian-American families turned out to support a bill which would ban further disaggregation of student ethnic data beyond federal requirements.
Home-school groups believe the addition of the home-school provision in the governor's regionalization bill was an attempt to sneak a new regulation past them by burying it in a bill which would otherwise not affect them.
"This is very concerning," Becky Crane said. "The current law has been working. There's no reason to add a law requiring all the home-schoolers to register with the state."
Linehan wrote in her email that she welcomes the opinion of her constituents. "If, after knowing this reasoning, you still believe this is an infringement on your rights, might you have any suggestions on how to achieve the same outcome, but without an objectionable mandate? Sometimes the best ideas come from constituents, so your input is valuable."