If you've been waiting all year for Connecticut's Sales Tax Free Week to purchase that new lobster bib or athletic supporter, you're going to be disappointed.
The Department of Revenue Services released a list of items Connecticut residents can buy without paying sales tax between August 19 and August 25.
DRS also listed items which will still be subject to the sales tax, which make up an interesting hodge-podge of retail items.
Yes, lobster bibs are included on that list, as well as most athletic gear. Wigs, purses, shower caps, jewelry, roller skates and umbrellas are also listed as items still subject to the sales tax during Connecticut's sales tax holiday.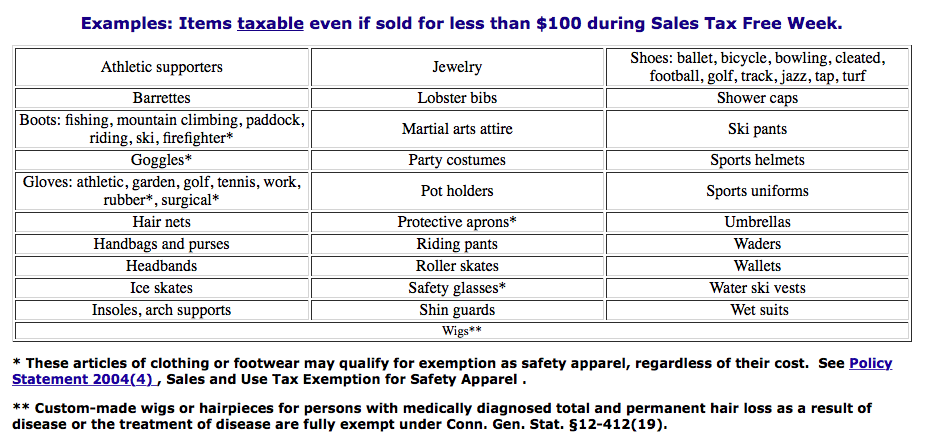 Sales Tax Free week is meant to offer residents a break for back-to-school shopping, waiving the 6.35 percent tax for purchases under $100.
In a press release, the DRS says many retailers offer sales, coupons and discounts during the week.
Any item less than $100 after all coupons and discounts will not be subject to the tax, while any purchase over $100 will be "subject to the sales and use tax for the entire price of that item."
DRS estimates Sales Tax Free Week will save shoppers an estimated $4.8 million.
"Sales Tax Free Week has become an anticipated tradition in Connecticut, offering savings on a variety of clothing and footwear purchases at a time of year when families do their back-to-school shopping," DRS Commissioner Scott Jackson said in the press release.
"Sales Tax Free Week is a great platform to promote Connecticut's retail sector, and an opportunity for shoppers to take advantage of savings and incentives," Jackson said.
Unless, of course, you're shopping for a new lobster bib, martial arts uniform, or arch supports.