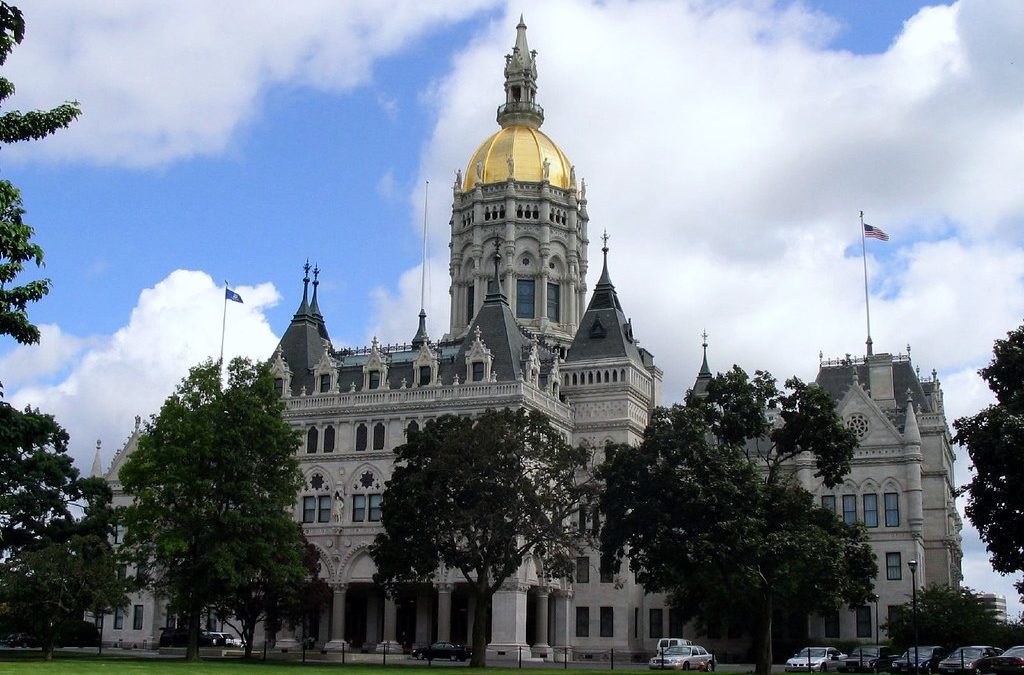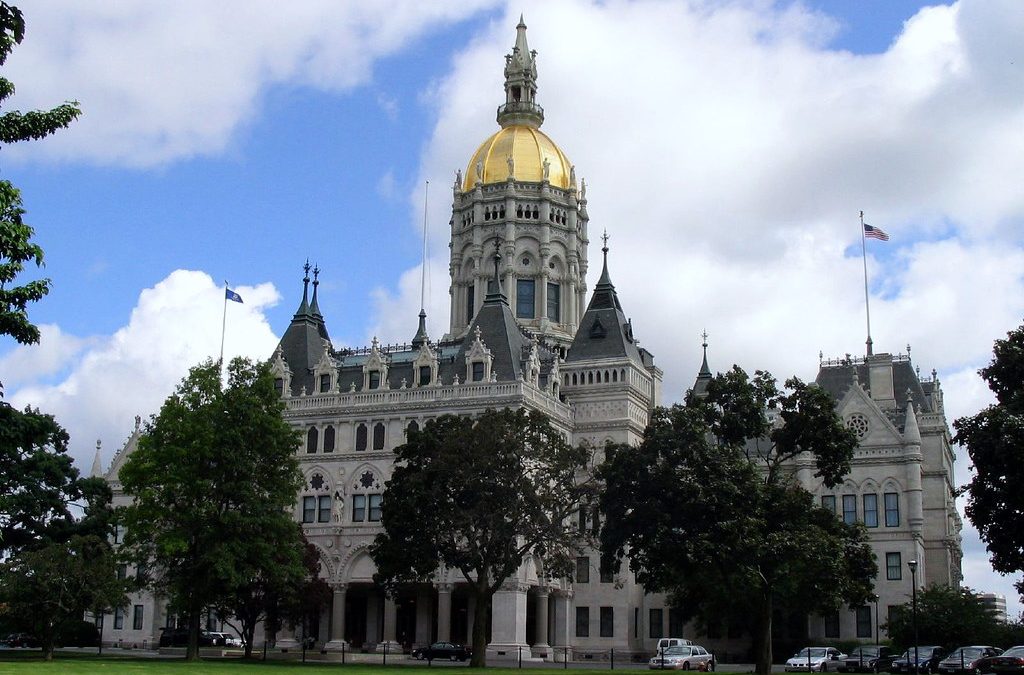 Since 2011, Connecticut has bonded nearly $1.8 billion for economic development, but the effort has produced little effect on the state's economy.
During the seven year period from 2011 through 2017, Connecticut's gross domestic product declined 1.6 percent when adjusted for inflation, according to figures from the Bureau of Economic Analysis.
The term "economic development" can include brownfield remediation and some municipal projects meant to spur economic growth.
But borrowing for economic development also includes money the state provides for companies to either relocate to Connecticut, expand operations, purchase new equipment, or provide seed money for businesses to grow through several state-run programs.
2011 marked a major increase in state borrowing for economic development as Gov. Dannel Malloy launched both his First Five Program — which provides loans, grants and tax credits to major companies — and the Small Business Express program, which serves small businesses.
From 2003 through 2010, Connecticut only bonded $329 million for economic development, even as the state struggled through 2008 recession, according to figures at CTStateFinance.org.
Borrowing for economic development increased suddenly in 2012, growing from $67 million to $260 million.
Since then, Connecticut has consistently borrowed hundreds of millions each year for the purpose of economic development. The forgivable loans, grants and tax credits are mostly made through the Department of Economic and Community Development.
According to the DECD's 2017 annual report, the agency has made $1.1 billion in loans and grants to 278 companies.
The First Five Program has provided, thus far, $321 million in direct state assistance, $160 million in tax credits, $99 million in grants to fifteen large businesses like ESPN, CIGNA, and Bridgewater Associates, according to the DECD's 2018 First Five report.
The state will spend $20 million servicing the First Five debt this year. The tax credits cost an additional $13 million, increasing to $21 million by 2021.
Not including interest on the debt, Connecticut doled out $580 million to create 4,668 jobs — a total of $124,250 per new job through the First Five Program.
The DECD counts retained jobs in their calculations, which lowers the per job cost to 27,292.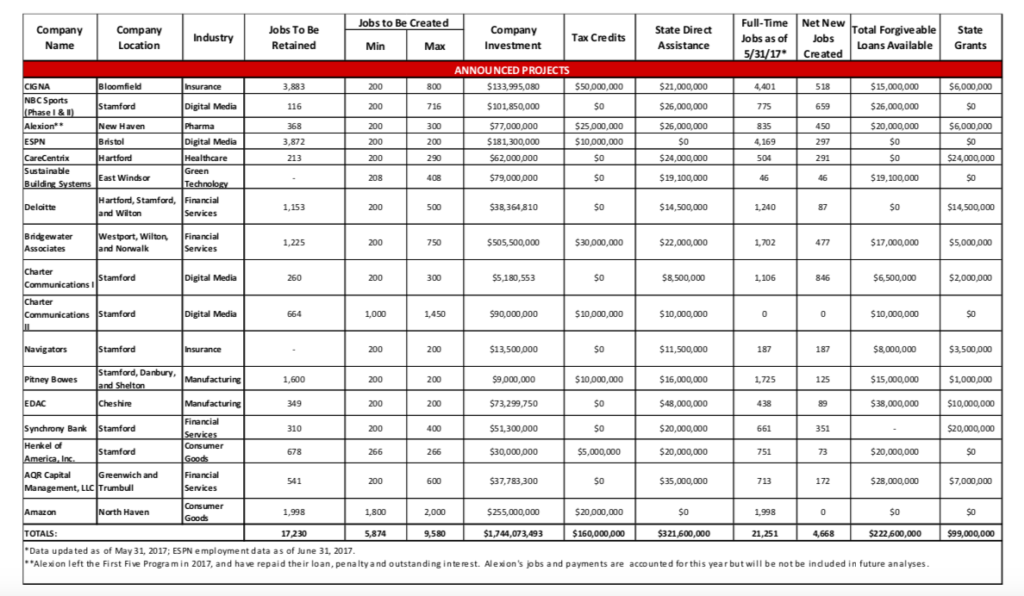 Connecticut's investments in those companies, however, appear to have mixed results and little to no effect on the economy as a whole: state GDP contracted, job and wage growth has remained stagnant, some First Five businesses like ESPN laid off employees, and Alexion Pharmaceuticals relocated to Massachusetts and had to repay the state loan.
Donald Klepper-Smith, chief economist and director of research at DataCore Partners, says Connecticut's priorities might be misplaced.
"In theory, state investment should add to economic growth depending on where it is focused. However, the current First Five initiative is, I think, counterproductive because it creates a strata of haves and have-nots," Klepper-Smith wrote in an email. "The role of state government with respect to business growth is to create an environment that is conducive to business growth for all, not just a select few."
The First Five Program is not the state's only program offering loans and businesses incentives, although it is the most talked about.
The Small Business Express program offers a combination of loans and grants up to $400,000 for small businesses in the state.
Between 2011 and 2017, Small Business Express awarded $254 million to small businesses, according to a report by the Hartford Business Journal.
Connecticut also provides business loans, grants and tax credits through its Manufacturing Assistance Act, which predates the Malloy administration.
The governor, however, also created the Connecticut Manufacturing Innovation Fund in 2014, which has since invested $43.7 million in smaller manufacturing businesses.
Connecticut Innovations — which acts as a quasi-public venture capital firm — is not controlled by DECD, but receives money bonded by the state to invest in technology based companies.
CT Innovations recently forgave a $165 million of a loan to Jackson Laboratories ahead of schedule because the company had already met and surpassed its goal of employing 300 people. The forgiven portion of the loan equalled $430,909 per employee.
According to the DECD, however, the investment of taxpayer money creates revenue for the state through increased economic activity and new jobs. The same 2016 First Five report estimated Connecticut would net $62 million for the state.
Jim Watson, spokesman for DECD, said that although Connecticut's economy has been slow to recover since the 2008 recession, the state's investments are paying off.
"We have had four straight quarters of GDP growth and the jobs picture has improved as well," Watson said. "In fact, we have more private sector jobs now than we did just before the Great Recession. At the same time, government became smaller and more efficient."
In it's annual reports, the DECD claims state investment leveraged private capital to the tune of $3.36 per every one dollar of state funding.
However, the effectiveness of tax incentives and loans to corporations and businesses has been questioned by recent studies. A massive study on state business incentives between 1990 and 2015 by the W.E. Upjohn Institute for Employment Research found the effects of state business subsidies were negligible.
Another study by the Institute on Taxation and Economic Policy found state incentives had "extremely limited economic benefits."
State Comptroller Kevin Lembo pushed for an audit of Connecticut's business investments in 2017, backed by Republicans and a diverse group of supporters ranging from state employee union leaders to the Yankee Institute.
A bill to audit the DECD passed and in 2018 the State Auditors released their first report, which found the DECD reported inaccurate job numbers and costs. The auditors found DECD overstated the cumulative net state revenue for the Manufacturing Assistance Act by $259 million.
The Malloy administration's expansion of forgivable loans, grants and tax credits to businesses has been the source of considerable criticism, particularly in light of the state's ongoing budget crises, ballooning debt costs, and a stagnant — if not shrinking — economy.
Rather than improving the economy, Klepper-Smith says the governor's economic development policies may have had the opposite effect.
"His economic development policies appear to have redirected capital that might have come into CT to other more business friendly states," Klepper-Smith said. "There have been sizable 'opportunity costs' that have kept our job recovery rate the lowest in New England, and one of the slowest rates of average annual job growth in the nation."