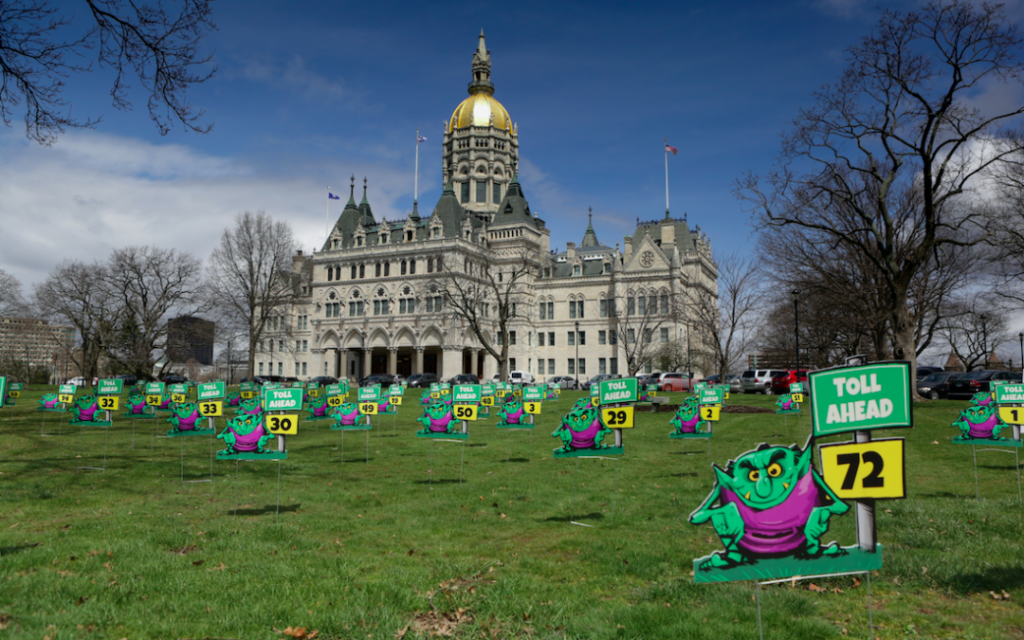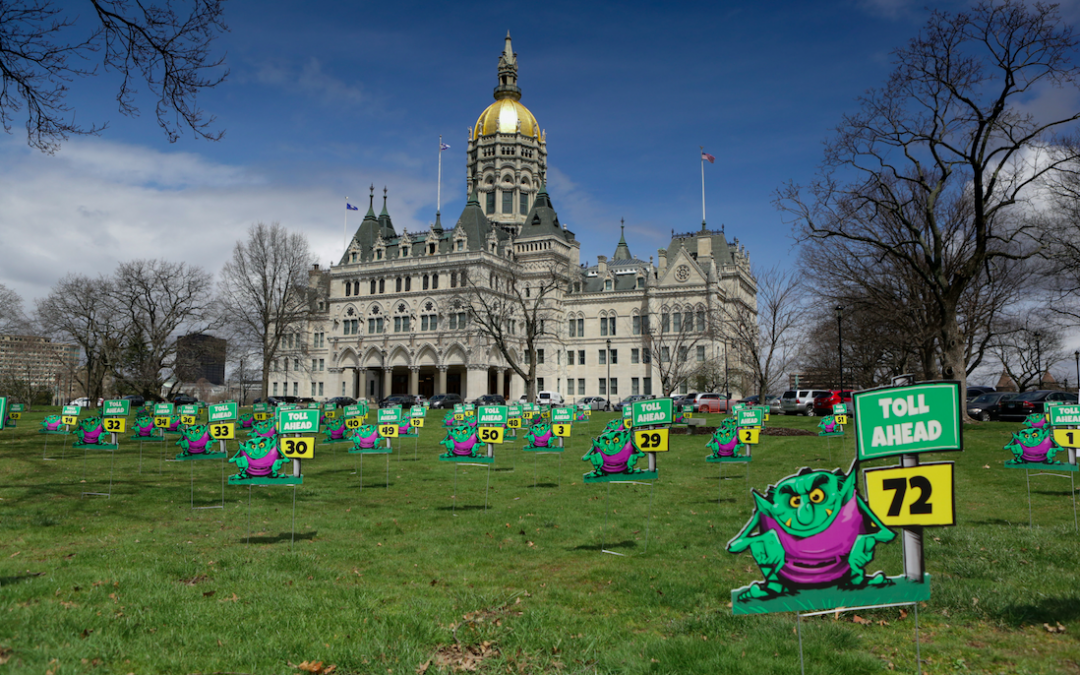 A light-hearted "Toll Troll" demonstration by Yankee Institute at the Capitol on Tuesday drew media attention and ire of House leadership.
Seventy-two cardboard cut-outs of little troll monsters — each symbolizing an electronic toll gantry — were placed on the Capitol's front lawn to raise awareness of the number of tolling gantries that may be placed on Connecticut's highways if some lawmakers and the governor get their way.
Chairman of the Transportation Committee Tony Guererra, D-Rocky Hill, showed up at the demonstration to declare he had no idea where the 72 gantries number came from (DOT's 2017 proposal) and couldn't remember the name or date of the last state tolling study (CDM Smith, 2015), repeatedly misstating the company's name.
That is not comforting to hear from the head of the Transportation Committee, particularly when hundreds of millions of taxpayer dollars are on the line.
CDM Smith is a large, Massachusetts-based engineering firm which does tolling and transportation work across the country. The CT DOT pays them yearly for engineering and consulting services, including $2.7 million in 2017. If anyone would know the number of tolls Connecticut would need and how much it would cost, it would be CDM Smith.
Their 2015 study proposed between 78 and 121 electronic gantries, depending on how many roads Connecticut wants to toll. If anything 72 trolls were too few.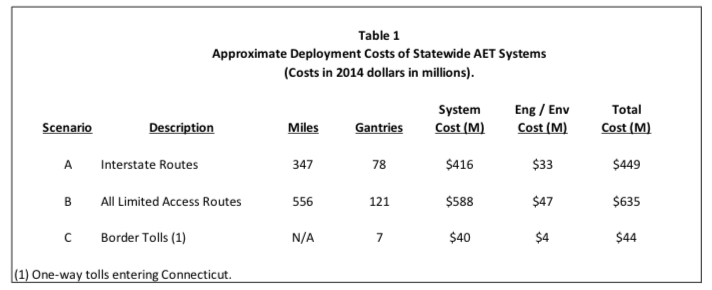 Not to be outdone, House Speaker Joe Aresimowicz and Majority Leader Matthew Ritter insisted at a press conference that Yankee Institute "should be ashamed of themselves" for spreading misinformation about tolls because there is no legislation calling for a specified number of gantries.
Aresimowicz was elected to the legislature in 2006, Ritter in 2010. Over the course of their careers, the Speaker and the Majority Leader have actually voted to take money out of the Special Transportation Fund, voted for two of the largest tax increases in state history, voted for Malloy's $100 billion Lets Go CT! project, overseen an explosion of state bonding, and saddled the state with ten more years of an unsustainable employee benefits contract, which is cannibalizing state resources.
Suddenly not-so-suddenly, Connecticut is broke, but apparently it is Yankee Institute who should be ashamed for opposing another massive tax on Connecticut residents.
Speaking of disingenuous, it's worth pointing out that there isn't just one toll bill on the table — there's four. But supposedly, Guererra, Aresimowicz and Ritter only really like just one of them.
House Bill 5391 calls for the DOT to conduct studies necessary to satisfy federal environmental requirements for installing tolls and draft a proposal to establish tolling on I-95, I-84, I-91, the Merritt and Wilbur Cross parkways. So Connecticut would only find out the number of tolls after the legislation has been passed.
Notice the bill does not call for DOT to study how many tolls there would be and where they would be placed. They don't need to — CDM Smith already did that work.
HB 5391 contains a little provision whereby if the legislature does not vote on the DOT proposal within 30 days, it is automatically "deemed approved" and tolls are good to go.
And who controls whether or not a bill comes up for a vote in the House? Speaker Aresimowicz, naturally.
Because the state can only install congestion tolls, numerous gantries have to be placed on a highway in order to control for traffic and time of day. The DOT is not going to suddenly turn around and say Connecticut can get by with only five gantries.
HB 5391 does say the gas tax would be lowered by 5 cents over the course of five years. That's especially interesting because the governor and DOT commissioner said Connecticut needs to raise the gas tax by 7 cents in addition to tolls in order to save the Special Transportation Fund.
Someone's numbers aren't adding up.
And here's a little back-of-the-napkin calculation: a 5 cent decrease on the gas tax means saving a dollar on filling a 20 gallon tank. CDM Smith recommended tolling the highways between 10 and 20 cents per mile. So those gas tax savings will be eaten up by the time a commuter drives five highway miles.
Guererra and his allies like to say that Connecticut residents could be offered a discount or maybe a tax break on their tolls.
Here's a hint: It's not a discount when you're forcing commuters to pay for something new. If the toll is $5 but a Connecticut resident only has to pay $2.50, they are still paying more than they were for the past thirty years.
But there are other tolling bills, too! Senate Bill 389 and House Bill 5393 create an unaccountable quasi-public authority, which would have complete control over tolling. What fun!
And then there's the governor's bill — House Bill 5046 — which would just allow DOT to go ahead and install whatever tolls they like with a private entity entrusted to collect the toll revenue.
But still, the argument goes, Connecticut has to get all those terrible, ugly, out-of-state drivers who are ruining the roads!
So in order to get that 30 percent of toll revenue from out-of-state drivers, Connecticut residents are going to have pay the other 70 percent — upwards of $700 million per year. None of this adds up. No matter how you play the numbers, Connecticut drivers lose.
Despite all the panic surrounding the Special Transportation Fund and infrastructure, the truth is: revenue to the STF is up year over year. The real problem is that Connecticut has been spending it on new busways and trains to Springfield. Debt costs have increased so rapidly revenue can't keep up.
Infrastructure work has not stopped either. DOT is slated for $3.7 billion more in bonding over the next five years to fund Gov. Malloy's Let's Go CT! project, but they want more — $4.3 billion more, to be precise.
Somehow, this is all the taxpayer's problem, not the problem of those who actually spend the money.
"So you tell me," Guererra told one news station, "how are we going to pay for our infrastructure?"
Frankly, and with all due respect, you guys broke it and now you have to fix it. But it won't be with any more of the people's money. You've taken enough already.
#NotOneCentMore