Figures released Tuesday by the Office of Fiscal Analysis show Connecticut made big strides in reducing overtime, despite recent state employee layoffs. In fiscal year 2016, state agencies reduced overtime payments by 14.5 percent, $37 million less than the previous year.
The biggest reduction in overtime came from the Department of Correction, which reduced overtime by $21.4 million, followed by the Department of Developmental Services, which reduced overtime spending by $5.2 million.
Overall, Connecticut spent $219 million on overtime in 2016, a reduction of $47 million since overtime payments topped out at $266 million in 2013.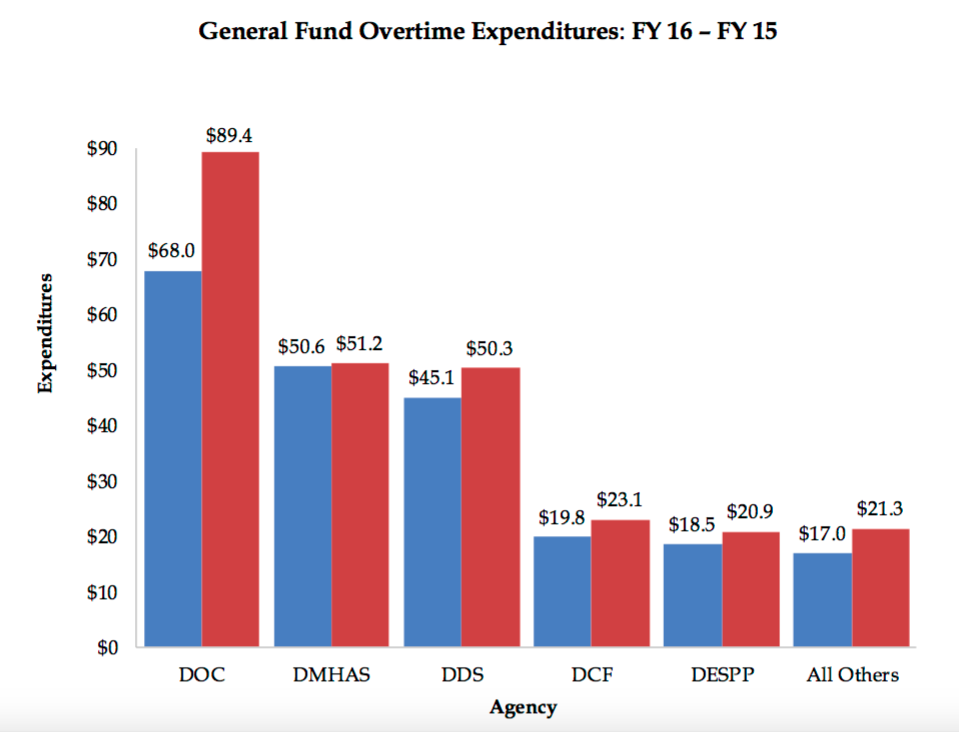 DOC was hardest hit by the recent layoffs prompted by state budget deficits. The agency issued 187 layoff notices to employees in May. DDS reduced staff by 113.
However, there were some notable increases in overtime pay. The Office of Early Childhood Development saw a 307 percent increase in overtime, although this only resulted in an addition $27,000 expenditure over the previous year. Other agencies that saw increases included the Comptroller's Office, the Office of the Chief Medical Examiner and UCONN Health Center, although these increases were minor in comparison to the amount of overtime paid out in other agencies like DOC.
DOC sees the largest overtime expenditure year after year. In 2013 it spent $73.3 million and increased by $10 million the following year, according to an analysis by the Waterbury Republican-American. The other largest contributors to overtime spending are the Department of Mental Health and Addiction Services, the Department of Developmental Services and the Department of Children and Families.
Since 2015, the Office of Fiscal Analysis is required to issue reports on state agency use of overtime. This marks the first full-year report issued by the agency.
Overtime payments are factored into state employee pensions and can drive up retiree pension payments. Connecticut currently has one of the most underfunded employee pension plans in the nation, according to CNN Money.