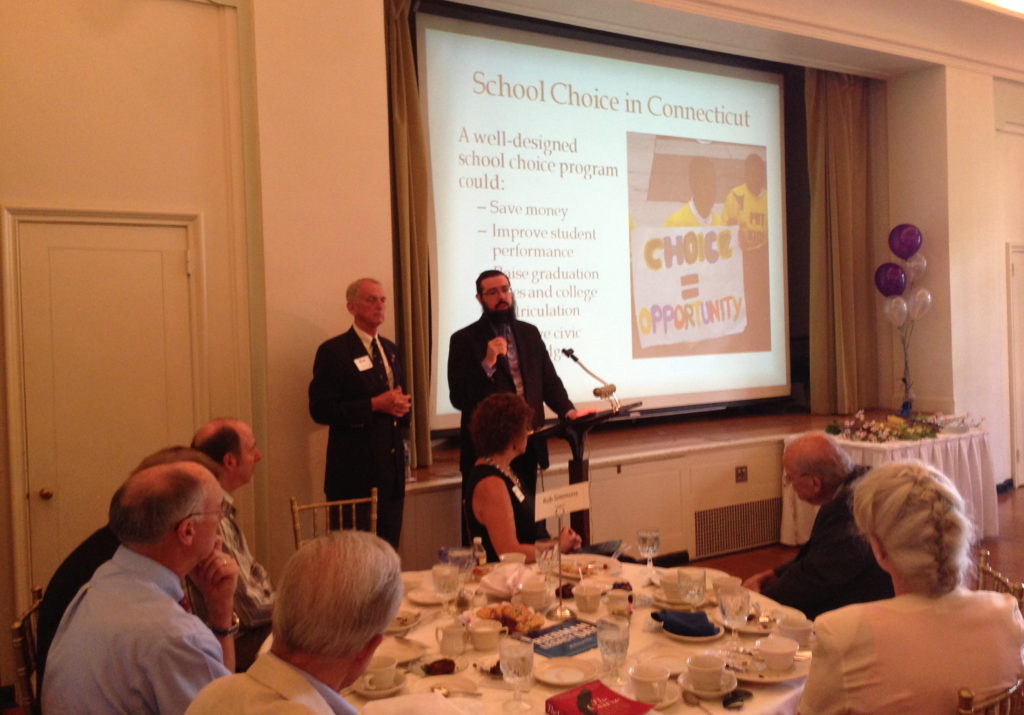 The Yankee Institute honored the legacy of Dr. Milton Friedman on Wednesday, July 31 with a luncheon and policy discussion led by Jason Bedrick of the Cato Institute.
The New Britain Herald's Scott Whipple called the event the best free lunch in central Connecticut.
Mr. Bedrick, the Director of the Center for Educational Freedom at the Cato Institute, spoke to a packed house about the merits of school choice, one of Dr. Friedman's signature issues. His presentation is available here.
In his presentation, Bedrick highlighted the high cost of educating pupils in Connecticut, noting the deceptive practice of calculating per pupil spending based only on operating expenditures rather than total expenditures which would include capital investments, pension benefits, and other costs. Using this more accurate measure, he revealed that Connecticut's average total cost per pupil is actually $17,500, $3,500 higher than the national average.
Bedrick, a graduate of Harvard's Kennedy School of Government, also pointed out that public education advocates in ten states claimed that per pupil spending was 49th out of 50 in 2012.
He also unveiled new research about the transparency of state education departments in reporting public school spending. In Cracking the Books, Bedrick graded the quality of publicly available data as an "F-", ranking Connecticut as 43rd in the nation on this measure.
Before a lively question and answer period, Mr. Bedrick suggested the benefits of a robust school choice program in Connecticut. The benefits would include:
Save money
Improve student performance
Raise graduation rates and college matriculation
Improve civic knowledge
For more information about Jason Bedrick or the Center for Educational Freedom at the Cato Institute, visit the Cato Institute or follow him on Twitter @JasonBedrick.
2013 Yankee Institute Friedman Day Presentation