After operating a food pantry for half a decade, the Faith Temple Assemblies of God in Hartford faced a setback in their efforts to expand their outreach. The city's Zoning Board of Appeals denied the church's proposal to include a soup kitchen in their operations, leaving both the organization and local community disheartened. 
The board debated the proposal during their Oct. 3rd meeting and determined that despite the church being outfitted with a kitchen the "zoning district of this property is intended for largely residential uses, and limited assembly uses" and that to "establish a community service use at this property is contrary with this intent."  
Put another way, the church's endeavor to provide meals to the underprivileged was denied due to zoning regulations. 
Rev. Roberto Calcano, the Senior Pastor at Faith Temple, submitted an application requesting a zoning variance in the Frog Hollow section of Hartford to operate a soup kitchen in the church's basement because of an increasing number of families utilizing the food pantry. His intention was to provide "individuals and families the choice of eating a prepared meal at least twice a month." 
In a heartfelt plea during the public comment segment of the meeting, Hartford resident Ivelisse Correa voiced her support for the proposed soup kitchen. Correa, a property owner in the area, addressed the escalating issues of poverty and the emergence of tent communities in the neighborhood. "I'm here to remind you," she declared, "that there is a rise in homelessness and rising poverty." She told the board she doesn't know how much longer residents will turn a blind eye before questioning where their tax dollars are being utilized. 
Correa emphasized the urgency of the situation, pointing out the stark reality of people currently residing in tents near a cemetery up the street from the church. She also highlighted the willingness of the church to provide aid without cost to taxpayers. 
Addressing the board, Correa expressed her hope for understanding and urged the possibility of waiving the restrictions. She remarked that if the answer is "no to people feeding families for free, and not using tax dollars to do it, then I've got to say that I don't know why anyone is sitting on this commission," highlighting her skepticism about the decision-making process. 
The board ultimately voted no on the proposal. 
The church may have grounds to have the zoning approved due to a potential violation of First Amendment rights when zoning laws interfere with religious practices. By operating a soup kitchen, a church is not only engaging in charitable activities but also fulfilling a religious duty based on the teaching of compassion and helping the less fortunate. Prohibiting such activities through zoning laws can be seen as interfering with the church's religious exercise. 
In 2022, St. Timothy's Episcopal Church in Brookings, Ore., sued the city over restricting how often free meals can be distributed to the needy. In the ongoing lawsuit, the church claims that the city's ordinance on "benevolent meal service" violates its "civil and constitutional rights under the First Amendment." 
St. Timothy's started operating a food pantry out of its basement in 1985 and started offering free lunches twice a week in 2010. Due to an increase in homelessness in the city, the operation was increased to three to four times a week. When other local churches closed their doors during the pandemic, St. Timothy's stepped up, expanding their services to six days a week. 
However, with increased complaints of crime and vagrancy to the area, the city passed an ordinance that limited churches and nonprofits in residentially zoned areas to offering free meal service only two days a week — as long a special conditional use permit was obtained. 
Both parties in the lawsuit have asked a judge to forego a jury trial and the case is still pending. 
Faith Temple has the option to request a zoning change and they have not filed a lawsuit to date. 
Controversial Union Boss Resigns from Union; Communists Not Happy 
The previous issue of the Hartford Portfolio covered the upcoming Communist Party Awards, including a video shared by Communist Party official Justine Medina praising the Service Employees International Union (SEIU) Executive Director of the Connecticut State Council Kooper Caraway for a speech delivered in New Haven on Oct. 9 — two days after the tragic attacks in Israel. Caraway's remarks in the video were controversial, as he praised individuals connected to the attack. 
Caraway told the crowd that "the people who built this labor movement" were called "terrorists by this country." He went on to say that civil rights leaders like Malcolm X and Nelson Mandela were also falsely called terrorists by the United States. He then implied that the U.S government "wants us to think that their enemies must be the enemies of working-class people, but they are not." Caraway then told the crowd that "our enemies are not in Gaza, our comrades are in Gaza." 
On Thursday (Oct. 19) SEIU issued a statement that Caraway had resigned, effective immediately. SEIU said they believe "that all Israelis and Palestinians deserve safety, freedom from violence and the opportunity to thrive" and "our union includes many who have family member, Israeli and Palestinian, who have been impacted by the recent violence. We stand against antisemitism, Islamophobia racism and hate in all its forms around the world." 
Caraway did not deny the criticism about his inflammatory speech and told Channel 8 News, "The only comment I'll be making about this episode is: All Power to the working class." 
Following Caraway's resignation Medina took to social media calling the situation, "horrible!" and that "every single politician and labor official who cowers to pressure to cover up for genocide is acting as an enemy of the international working class. #WhichSideAreYouOn."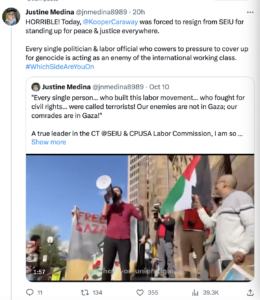 In response to a question about Caraway getting his job back, Medina tweeted, "Probably not in SEIU CT at the moment; he's got solidarity all over the labor movement and he's one of the best organizers out there, so he'll find a new home that appreciates his work."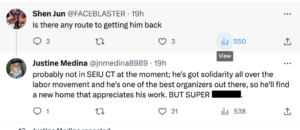 Not sure how many organizations will want such a toxic person on their payroll. Caraway has also expressed admiration towards other Hamas sympathizers. In a Tik Tok video, he is shown praising dictators Hugo Chavez and Fidel Castro. However, seeing the public fangirling of Caraway by Medina maybe the Communist Party will hire him. 
Don't CA our CT — Stop the Gas-Powered Vehicle Ban 
The Department of Energy and Environmental Protection's proposed regulation that will prohibit new gas-powered cars from being sold in Connecticut after 2035. 
Help us stop this overreach by sending an email to your legislators! Don't wait – we only have until Nov. 28 before the Legislative Regulation Review Committee votes. 
For more information on the ban and how to take action CLICK HERE. 
This Week on YI's Podcast Y CT Matters 
Many Americans struggle with debt, living paycheck to paycheck. Going to a payday lender or credit card company may be a short-term solution, but a long-term issue with paying off the interest. However, earned wage access (EWA) is another solution. EWA — sometimes referred to as early pay — is the ability for employees to access a portion of their already earned wages, if needed, outside of a traditional pay cycle. Yet states like Connecticut are over-regulating the ability for people to access their own money to help them make ends meet. Justin Hosie, a partner at Hudson Cook, LLP, explains. 
CLICK HERE to listen.