Gov. Ned Lamont and members of his staff spent the week at the Paris Air Show as part of a "business recruitment mission" to attract aerospace companies to the state. Therefore, no major bills have been signed into law. 
The Teachers Union That Cried Wolf 
Union boss Shellye Davis — president of Hartford Federation of Paraeducators, AFT — wrote in a CT News Junkie op-ed that the 1,300 unfilled paraeducator positions throughout the state "represent a large hole in our school system, and it threatens the educational outcomes of countless students." She also pointed out that this "means that students with special needs are not getting the assistance they need." 
Davis, who is also a paraeducator for the Hartford Public School District and executive vice president at the Connecticut AFL-CIO, called the shortage a "crisis" and said, "Ultimately, it's the students who suffer." 
To address the shortage in her district, a proposal that would outsource a private company to recruit and hire additional support staff was introduced at the June 13 Hartford Board of Education (BOE) meeting. Last year, Hartford had an average of 79 special education paraeducator vacancies per month, while the substitute teacher fill rate averaged 14.7%. 
After an hour debate, the BOE approved a $2.5 million one-year contract with Education Staffing Solutions (EES) to start the hiring process before school opens in the fall. 
EES has already partnered with 10 school districts in the state including Waterbury, Manchester, Portland and Bristol. They will be responsible for salaries and benefits for the new recruits. 
So, what's the problem? 
The teachers' union isn't happy. In an opposition letter from AFT bosses — signed by Davis — they say the "contract workforce will not be employees of the district, nor of a particular school." In other words, the union won't be able to collect dues from these recruits. 
AFT is prioritizing financial stability and growth over advocating for policies and reforms that directly benefit students. The district has come up with a creative way to alleviate the shortage "crisis" but the union has opted to side with their bank account over the students. 
Road Rage Alert: It's My Way or the Highway 
The Connecticut Working Families Party (WFP) expressed their discontent over the legislative session during a wrap-up event on Tuesday (June 20). WFP lobbied the legislature to expand access to Husky healthcare for undocumented immigrants up to age 26.  State statute had provided access to children 12 and under. After much debate, WFP scored a small victory when lawmakers added the provision to the budget bill this year — expanding the age range from 15 and under. 
It goes downhill from there. WFP was frustrated that the General Assembly failed to pass bills that would force all businesses in the state to provide paid sick days and require them to give workers their schedules at least two weeks in advance. 
WFP State Director Sarah Ganong blamed their failures on bipartisanship and "the lack of courageous leadership on the part of the governor and some legislative leaders," adding that bipartisanship "is one of the symptoms of the bigger problem in Connecticut." 
She stated WFP "spent a lot of money, time and resources and volunteer power trying to elect folks" but with not much to show for their efforts. 
But Connecticut is a blue state, so naturally, that "should lead to all progressive victories," according to Ganong, who blamed moderate Democrats who were "presenting huge problems in the caucus room." Her blame for WFP's policy shortcomings was also laid at the feet of the governor and leadership in both chambers for using each other as scapegoats. Ganong said both "were providing political cover to each other to avoid policies and budgetary decisions that they actually disagree with." 
There was more blame to go around. Ganong accused the Restaurant Association and Connecticut Business and Industry Association (CBIA) of having closed-door meetings to sway moderates to their side. 
It did not occur to WFP that the failures were not because of one person or a group of people. The policies failed because they were bad policies. Connecticut ranks 47th in worst business climate in the country. Policies WFP advocated for would've only moved us further down the ladder. 
Well, this is Awkward 
Sen. Matt Lesser (D-9th), who represents Cromwell, Middletown, Newington, Rocky Hill and Wethersfield, will be hosting a fundraiser at his home for Rhode Island Congressional Candidate Aaron Regunberg. Sen. Lesser will be joined by fellow General Assembly members Sen. Jan Hochadel (D-13th), Sen. Norm Needleman (D-33rd), Rep. Brandon Chafee (D-33rd), Rep. Christine Palm (D-36th), as well as WFP leadership among others. 
Ticket prices range from free to $3,300 to attend the two-hour fundraiser on June 27. 
The star-studded event is to raise money for the progressive Democratic candidate hoping to win Rhode Island's first congressional this fall. The seat opened up after former U.S. Rep. David Cicilline announced he was stepping down to pursue other interests. 
Regunberg has recently come under fire from his own party for his history of not supporting women, particularly women of color. Six members from the progressive wing of the RI Democratic party issued a joint statement explaining their lack of support. 
Former RI State Sen. Cynthia Mendes said Regunberg only called her when he wanted something, referring to him as a "terrible leader" who is "disconnected from impacted communities" and he feels "entitled to power." 
RI State Senate Candidate Jennifer Rourke revealed that when she and other progressive women formed an organization to help "working class folks run for office," Regenberg "came out and trashed us." She believes that he did not think her organization "founded by a group of women, including a Black woman" was good enough for him to support. 
Regunberg was also accused of threatening fellow State Sen. Jeanine Calkin. During a vote to elect a new Senate President she was told — by Regunberg — that she needed to vote for a certain candidate or else she would "suffer consequences." 
She went on to say, "I never imagined having to write something like this. However, I can't sit by while friends and others are continually hurt by those that claim to want the same things, yet harm and use the people I care about." 
It is unclear if the Connecticut lawmakers are aware of Regunberg's history or if getting a progressive candidate elected is so important that they would overlook his behavior just to declare a victory.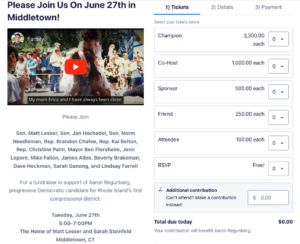 This is Even More Awkward 
The State Employees Bargaining Agent Coalition (SEBAC) has taken to social media condemning Gov. Ned Lamont over various issues. 
It was pointed out in a recent Yankee Institue article — by yours truly — that SEBAC is only supportive when they want something.  
Gov. Lamont was considered "fair and honorable" when he was negotiating the group's nearly $2 billion raise and bonus agreement in 2022 which is a far cry from calling the governor and out of touch millionaire. (See below)  
It must have dawned on SEBAC that the 2022 deal did not include a wage increase in the final year of the contract (July 2024-June 2025) because all but one of the tweets have since been deleted. 
Raises for the final year will be re-negotiated with both sides during the 2024 legislative session. Following this public outcry, SEBAC's relationship with the once-regarded "fair and honorable" governor may be strained, setting the stage for a contract that benefits both taxpayers and state employees. 
Some Exciting News about Yankee Institute's Labor Fellow Frank Ricci 
Frank's new book Command Presence: Increase Your Influence is now available! The book offers readers lessons on how to lead when everyone is watching, strengthen your negotiating tactics and developing a media presence. 
Find it here or wherever books are sold. 
Frank was also a guest on this week's Y CT Matters podcast where he talks about his book and career as a firefighter — retiring as a Battalion Chief — and serving as the union president. 
CLICK HERE to listen