Connecticut's overtime costs rose $5 million over the course of fiscal year 2021, topping out at $239 million, according to the Office of Fiscal Analysis.
Despite declining numbers of incarcerated people in Connecticut's prison system, the Department of Correction saw the biggest rise in overtime payments for the year, jumping $12.8 million.
Gov. Ned Lamont announced in June the closure of Northern Correctional Institution and two other facilities are reportedly to be closed in the future, although they have not yet been named.
There was also a $5 million increase at the Department of Emergency Services and Public Protection, which includes the Connecticut State Police.
However, several state departments saw less in overtime payments, including the Department of Mental Health and Addiction Services and the Department of Children and Families, which paid out $8 million less in FY21 than in FY20.
Connecticut overtime spending topped out in 2015 at $256.2 million, but by 2017 had dropped to $204.4 million. Overtime payments have been rising slowly and steadily since then, particularly at the DOC where overtime has increased from $62.1 million in 2017 to $91.6 million last year.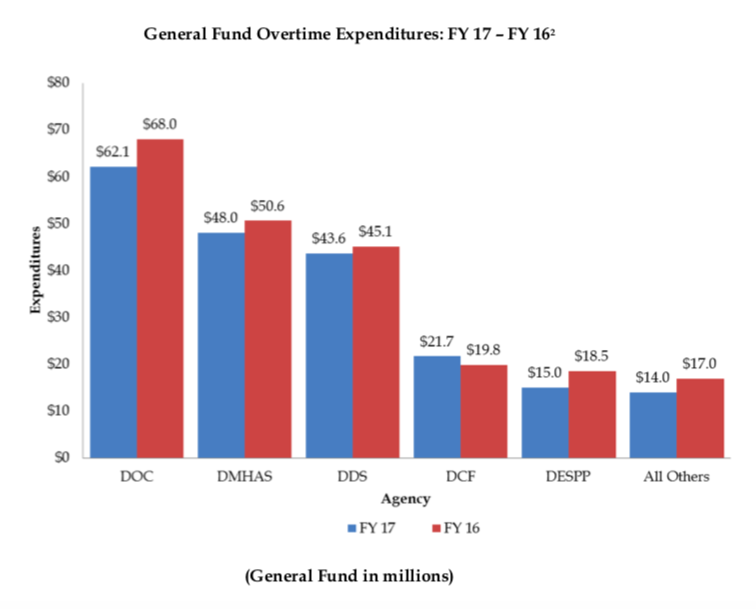 The payments not only increase payouts from the state but are also considered when calculating a retiree's pension payout, adding to Connecticut's unfunded pension problems. Past legislative proposals to eliminate overtime payments from pension calculations have been met with fierce backlash by Connecticut's government unions and were ultimately dropped.
The 2017 SEBAC Agreement, however, did create a new retirement tier that limits the amount of overtime that can be used to calculate a retiree's pension.
Connecticut's overtime costs outpace its nearest neighbors, according to an efficiency report by Boston Consulting Group, which found the percentage of payroll Connecticut spends on overtime is double that of Massachusetts.
The report found that overtime was driven by absenteeism, job vacancies, state statutes and labor regulations, as well as scheduling practices by state departments.
Part of the report noted that some agencies which require 24/7 coverage also have 35-hour work weeks resulting in 3 hours of overtime or overlapping hours every day. DOC, for instance, has a 36.25-hour work week, while healthcare professionals and paraprofessionals have 35-hour work weeks, according to their respective collective bargaining contracts.
Employees of those agencies can be mandated to work overtime by management, and employees of Connecticut Valley Hospital, part of DMHAS, said at a union press conference Tuesday that they are understaffed, facing burnout and are calling on DMHAS to hire more workers.
Staff at CVH can sometimes earn more in overtime payments than they do for their base salary, elevating their take-home pay substantially, but it comes with the cost of exhaustion and time away from their families.
Job vacancies and lack of adequate staff numbers could increase in the coming years as the state prepares for a potential retirement wave before July of 2022, which was the primary reason Gov. Ned Lamont commissioned the Boston Consulting Group study.
The CREATES report by Boston Consulting Group indicates that upwards of 27 percent of the state workforce – not including higher education – will be eligible for retirement by July 2022, amounting to over 8,000 employees.