Sen. Will Haskell, D-Wilton, was joined by three business leaders in the parking lot of Noble gas station in Hartford to pitch the Transportation and Climate Initiative as both good for the environment and good for business.
"If Connecticut, for once, is not a follower, but instead a leader in this country in embracing 21st century technology, in embracing green infrastructure then we will be paving the way for green-collar jobs," Haskell said.
Haskell said TCI "will allow us to invest $100 million annually in green infrastructure projects, 50 percent of which will go to communities like this one, communities that are underserved by transportation and overburdened by air pollution."
Haskell was joined by Michael Frisbie, owner of Noble gas stations in Connecticut; Paul Vosper, CEO of JuiceBar EV which manufactures electric vehicle charging stations and Tony Sheridan, head of the Chamber of Commerce of Eastern Connecticut.
Frisbie, whose gas station in Hartford has an electric vehicle charging station, said that it was important to have more charging stations to facilitate the increased usage of electric vehicles by reducing "range anxiety" – or the concern that an electric vehicle will run out of battery life without a nearby charging station.
"Range anxiety is one of the major factors inhibiting electric vehicle sales," Frisbie said. "In politics we have to continually perform cost/benefit analysis. In this case, the policy is so important to the future of our planet, I have to err on the side of caution. In this I look for hope, to see a real benefit to Connecticut."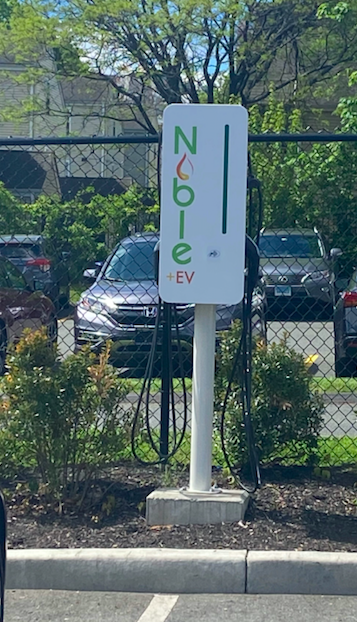 Vosper said JuiceBar EV is one of only two companies that make electric vehicle infrastructure in the United States and that both companies are located in Connecticut.
"There are really two realities," Vosper said. "One is that the world is going to transition away from gasoline, there are no ifs, ands or buts. The amount of capital being invested in the EV transition is enormous."
"The second reality is that we can't afford to burn gas anymore," Vosper continued. "We cannot allow the gas companies to burn their crude reserves if we want to keep our climate under the 2 percent required under the Paris Accord. TCI is a component in this fight."
TCI is a cap and invest system that would cap the amount of emissions gas and oil companies can produce per year and require them to purchase emission credits at auction. The funds produced from the auction would be sent to participating states like Connecticut, which expects to receive roughly $100 million per year over the next ten years.
However, the costs of the auction would likely be passed onto consumers in higher gasoline prices, ranging from an additional 5 to 10 cents in the first year, according to the Lamont administration.
Republicans, the Connecticut Energy Marketers Association, No Tolls CT, the Connecticut Food Association and the Motor Transport Association of Connecticut have all pushed back against the proposal saying it will not only increase gasoline prices but the cost of goods and groceries.
Two weeks ago, Republican leadership announced it would be holding a series of rallies around the state in partnership with No Tolls CT to stop what they're calling a tax on gasoline and a tax on food through both TCI and the governor's proposed highway use tax on trucks.
"Families across our state are struggling financially. We should not be making Connecticut even more unaffordable for working and middle class families," Senate Republican Leader Kevin Kelly, R-Stratford, said in a press statement. "The Governor has acknowledged that the TCI-P is a tax, and the facts show it will not deliver on its promises of clean air."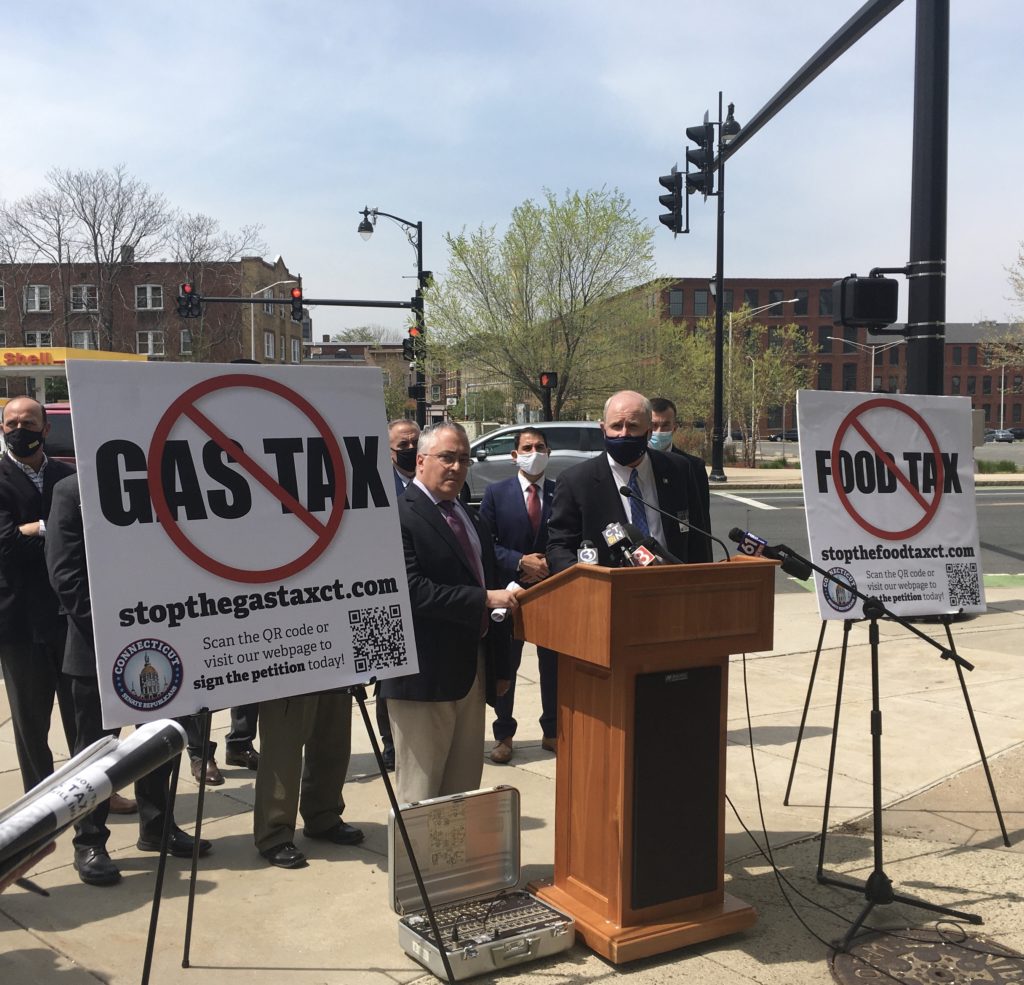 According to the TCI Memorandum of Understanding signed by Lamont, the TCI funds can be spent on electric vehicle infrastructure, public transportation improvements and "climate justice" for communities with high levels of traffic and air pollution.
While Republicans have presented a united front in opposition to TCI, some Democrats have expressed doubt over the program, noting it would not be used for roads and bridges.
Haskell, however, says that environmental goals and infrastructure improvements are "one in the same," particularly under the new U.S. Transportation Secretary Pete Buttigieg.
"I think we have a lot of support on the Democrat side of the aisle," Haskell said.
Republicans say their ideas for improving Connecticut's infrastructure have repeatedly met with rejection by the majority party. According to a handout provided by Republicans, they would prioritize transportation construction projects, invest in greenways and open space and incentivize energy efficiency for buildings and businesses.
The timing of TCI could be problematic as gasoline prices have been rising rapidly after more than a year at record lows and Connecticut's public trains and buses continue to have low ridership due to the pandemic.
"With East Coast gas shortages and skyrocketing gas prices, it shouldn't be lost on anyone that Democrats from Gold Coast communities are advocating for a gas tax increase on working people from urban areas where gas prices are already typically higher, to pay for their constituents' Teslas," Kelly said.
"We're helping people get out of their cars and onto public transit. When we invest in EV infrastructure, we're encouraging people to abandon their internal combustion engines and instead move into this 21st century technology," Haskell said.
**Meghan Portfolio contributed to this article**
**This article was updated with comments from Sen. Kevin Kelly**