Connecticut's state employee managers have endured numerous wage freezes over the last decade due to budget deficits, which has led to managers earning less but having more responsibility than the employees they oversee, according to an efficiency report from the Boston Consulting Group.
With more than 90 percent of the state workforce part of a union, management pay has been one of the few labor costs the state could cut back on without entering into protracted labor negotiations with the State Employee Bargaining Agent Coalition.
Now, many of the state of Connecticut's managers are looking for the exit and preparing to retire in the next year and half, according to the report. Forty-five percent of state employee managers in the executive branch are eligible to retire before June 30, 2022, when retirement benefits will change to result in smaller cost of living adjustments.
This could result in significant "brain drain" in state government, according to the report.
"In general, managers endure longer hours and more stress, have less job security, are required to pay more into the health and retirement benefits, and unlike union staff do not have built in guarantees for annual salary increases, regardless of performance," the consultants wrote. "In fact, salary compression has resulted in some managers making less than their employees, who are also asked to pay less for healthcare benefits than managers."
State employee managers received a wage increase in 2015 and again in 2019 while unionized state employees received "three separate adjustments," according to the report, along with layoff protection under the 2017 SEBAC agreement between Gov. Dannel Malloy and state employee unions.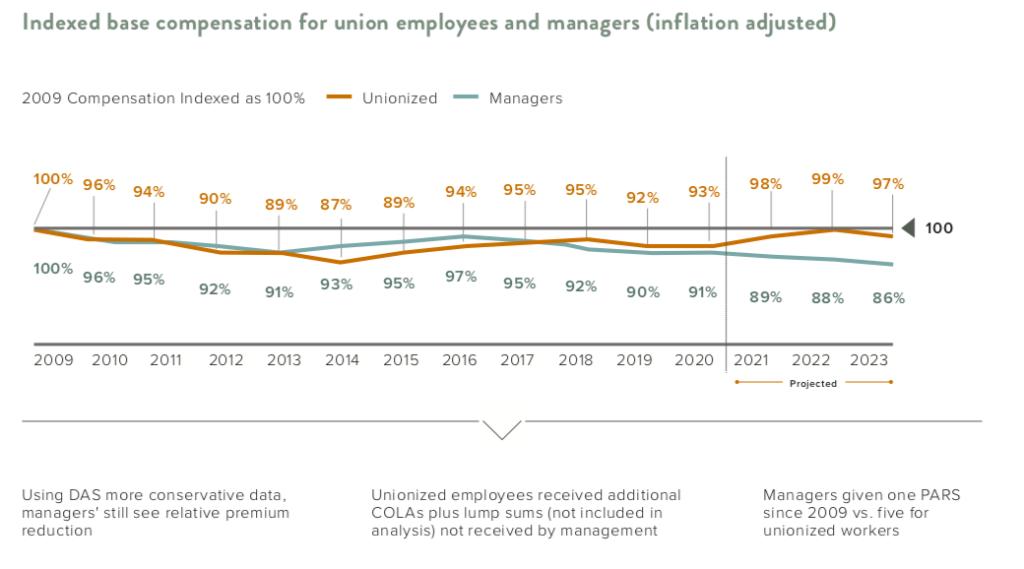 Adding to managers' frustrations are roadblocks to doing their jobs effectively in regard to the employees they manage.
"Beyond on-the-job praise, managers largely lack the tools to reward those who make an exceptional effort in their roles. Discretionary pay (e.g. performance bonuses) is largely non-existent," the report says. "On the other hand, the process of removing a low-performing employee from a role is complex and can take years. Several managers indicated that they instead look for ways to minimize the impact of a low performer or find a way to move them onto another team."
A Freedom of Information request by Yankee Institute found that only .2 percent of state employees who have completed their working test period were terminated for poor job performance over the course of a year. 
Various labor regulations outlined in collective bargaining agreements govern how, when and to what extent management can discipline employees for work-related issues. Employees and unions can file grievances to dispute or overturn discipline or even poor work annual service ratings.
However, the pressures of management and lack of pay increases due to Connecticut's numerous budget deficits since 2008 have pushed managers to join government unions in order to get the same protections and pay benefits as their workers.
A new agreement between the state and the Administrative and Residual Employees Union brought 62 managers – many of whom were earning six-figure salaries — from different agencies into the bargaining unit at a cost of $410,247, part of a growing trend in the state workforce.
Although managers are technically not allowed to unionize under state statute, the strict definitions of what constitutes a "manager" under the State Employee Relations Act means many managers are allowed to collectively bargain.
During a public hearing on the new union contract for managers, Greg Messner of the Office of Policy and Management said there are "a little over 1,300" managers remaining in state service, down from 3,000 twenty years ago.
"There is little incentive for anyone to become a manager in a state agency," the BCG report says. "In fact, the value proposition has become so unbalanced that dozens of managers continue to transition out of manager roles and into bargaining unit positions, a phenomenon rarely seen elsewhere in the public or private sectors."
Boston Consulting Group cited managerial pay as the biggest factor contributing to the problem and suggested that managers receive raises to bump up their earnings and that, in the future, managers should receive the same pay increases and benefit rates as unionized state employees.
They also recommended revising the definition of "manager" in state statute, encouraging bargaining unit employees to move up to management, offering telework options for management and creating "kudos" incentives for recognition of good performance.