Every year, fire fighters across the country participate in the Fill the Boot campaign, standing outside stores or on street corners raising cash for the Muscular Dystrophy Association.
Since 1954 the charity drive has raised $558 million in the search for a cure to muscular dystrophy, according to the MDA. Muscular dystrophy is a debilitating genetic disorder, estimated to affect 250,000 mostly boys and young men in the United States; complications from muscular dystrophy can result in death, even among teenagers.
Fill the Boot reportedly raised $20 million in both 2018 and 2019 to benefit the MDA, and, according to Fire Fighter Local 1014 in Los Angeles, "Funds raised by our Firefighters each year go directly towards helping these kids get lifechanging medicines and therapy treatments."
However, the MDA is also paying large amounts of money to the International Association of Fire Fighters, a union with over 318,000 dues-paying members that takes in roughly $79 million per year.
According to financial filings with the U.S. Office of Labor Management Standards, the IAFF has been receiving regular annual donations from the MDA in amounts ranging from $980,000 to $1.4 million consistently since 2015, although there are occasional large donations dating back to 2008.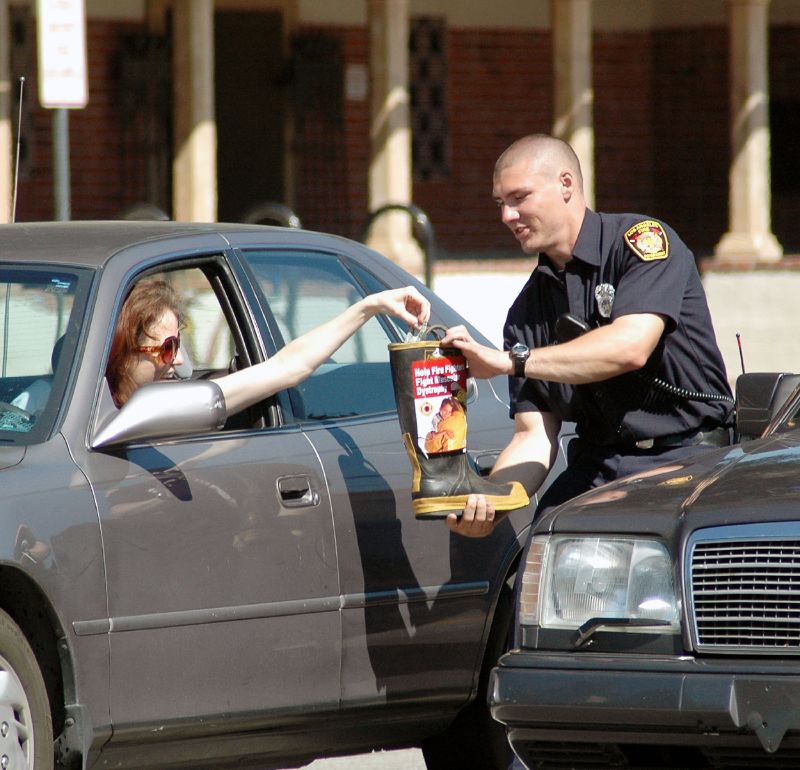 In some years, the amount of money received by the IAFF surpassed the amount given to any single research or medical organization listed on the MDA's 990 tax filings.
Reached for comment, IAFF Treasurer Edward Kelly, who prepared the LM2 filings, confirmed that IAFF was indeed receiving money from MDA in the form of large donations.
Kelly, however, would not comment on the nature of those payments, laying that responsibility on IAFF President Harold A. Schaitberger, who recently ended his re-election bid following a federal investigation into an alleged pension scheme within IAFF.
Reached by phone for comment, IAFF Director of Strategic Campaigns and Media Relations Doug Stern said the payments are for administrative costs associated with the MDA programs but wouldn't offer further details.
The Payments
Beginning in 2015, IAFF's filings show large payments consistently contributed by the MDA annually to the IAFF that were marked down as donations, contributions or, in 2019, as "A/R."
The payments are listed under "Other Receipts," which in 2019 comprised $21.4 million of the $79.5 million IAFF received in revenue.
Between 2015 and the latest 2019 filing, IAFF received $5.6 million from MDA in what appear to be regularly scheduled payments coming mostly out of MDA's former headquarters in Tuscon, Arizona.
MDA moved its headquarters from Tuscon to Chicago in 2014, but the organization reportedly still maintains a large presence in Tuscon. IAFF's 2015 filing shows payments totaling $980,000 from MDA's offices in Chicago.





The money donated or contributed by MDA to the IAFF is sometimes larger than any amount given to a single research organization which is actually conducting research to treat muscular dystrophy.
In 2016, the MDA paid out a total of $26.5 million toward research or medical organizations, with the largest recipient, the University of California, receiving an $875,983 cash grant for research. That same year, the IAFF received $1.4 million, marked down as a "contribution" on their federal filings.
In 2018, the most recent 990 filing available, MDA awarded the MDA Care Center at Suny Upstate Medical University $1.48 million, while giving a contribution of $1.15 million to IAFF.
I hate to say this, but it's a clear money grab, and it hurts the rank and file because we literally go out there and all of us volunteer our time.

David Rex, Fire Fighter, Holyoke, Massachusetts
On one hand, if the MDA is spending roughly $1 million per year to bring in $20 million, that amounts to a great return on investment and a lucrative partnership; on the other hand, it's an already well-funded and massive union taking millions from a charity dedicated to helping sick kids.
The IAFF does make other donations to the MDA, sponsoring charity golf tournaments, dinners and events.
In 2019, for example, the IAFF contributed $50,500 to four different MDA branches and, until 2017, retained an MDA Coordinator position in the union with a salary of $91,057 per year. The title of the position has since changed to Meeting and Conference Planner.
However, without further details it is difficult to tell what administrative costs are incurred by the IAFF, particularly when it's local unions who are doing the fundraising and sending the money directly to the MDA.
PJ Norwood, a 25-year member of IAFF and deputy chief training officer in East Haven, Connecticut who participates in the Fill the Boot campaign, said he was not aware of the payments to IAFF and found the payments "very concerning."
"We have IAFF members across the country who are volunteering while they're working to go out and collect for the Muscular Dystrophy Association and paying union dues at the same time for two good organizations," Norwood said. "But for the MDA to be putting money back into the coffers of IAFF is quite concerning, especially after what's going on or being uncovered over the last couple months in the IAFF."
"I'd be very interested and concerned over where that money is actually going within the IAFF," Norwood said.
Norwood confirmed that all promotional materials his union receives for the Fill the Boot campaign came from the MDA, including stickers and posters. Norwood's local union also paid from their own coffers to help publicize fundraising events and supplied a large inflatable fire fighter boot and tents to draw attention.
Norwood also confirmed that the money raised by East Haven fire fighters goes directly to the MDA and is not routed through the IAFF.
"My union is one of the top leading unions for our size in the state of Connecticut, as far as our collections each year. It's one of those activities that we do each and every year that we have 100 percent commitment from the union membership and we spend a lot of time doing it," Norwood said.
David Rex Jr., a 20-year firefighter with Local 1693 in Holyoke, Massachusetts who participates in the Fill the Boot campaign, said he was "completely floored" that IAFF was receiving money from the MDA.
"I'm absolutely, completely floored," Rex said. "The MDA was one where I truly believed all the money was going directly to research and helping kids with muscular dystrophy, so when I found out there was money being paid back to the IAFF, I was out of my mind. That's not why were here. That's not why we do what we do."
Rex also said that stickers and promotional materials his union received for Fill the Boot was supplied by the MDA and the money raised was given directly to the MDA through a dedicated account his local union set up for the charity drive. Rex said no support was provided by IAFF and his union only works with the MDA.
"Someone would have to explain the administrative costs to me," Rex said when told of IAFF's response to Yankee Institute's inquiry
"To have it thrown in our face that the IAFF is being paid a little over a million dollars for us being out there and there's no administration costs that we know of because we do everything on end," Rex said. "I hate to say this, but it's a clear money grab, and it hurts the rank and file because we literally go out there and all of us volunteer our time."
Laurie Styron, Executive Director of Charity Watch, a nonprofit charity watchdog based in Chicago, says the amount of the payments raise questions.
"Charities need to be spending money on the activities that they're soliciting donations for, they need to be honoring donors' intent," Styron said. "If making these kinds of payments is in line with how they've been raising money from donors and the donors who gave money to them are okay with this type of grant or dues or payment then, in and of itself, this transaction isn't necessarily problematic."
"Where it would become problematic is if the charity is not being forthcoming with its donors about these payments and these types of payments are something the donors might have a problem with," Styron said. "It gets into a little bit of a gray area here, it's not so cut and dry."
The funds donated to IAFF by the MDA are not specifically listed on MDA's 990 tax forms, according to review by both Yankee Institute and Charity Watch, but the organization did list $16.2 million in "fundraising expenses" in 2018.
Styron says it's unlikely the Fill the Boot campaign – conducted by fire fighters standing on street corners with boots to fill with cash – would generate the million-dollar payments listed on IAFF's federal reports.
My gut tells me that the amounts we're dealing with here and the consistency of the payments doesn't look like that sort of reimbursement arrangement.

Laurie Styron, Executive Director of Charity Watch
"My gut tells me that the amounts we're dealing with here and the consistency of the payments doesn't look like that sort of reimbursement arrangement," Styron said.
Complicating the matter is that the IAFF is a uniquely political organization. Its sole purpose is to lobby and influence municipal, state and national governments on behalf of their members and it spends ample money to so, most recently throwing their weight behind Democratic Party Presidential Candidate Joe Biden.
From 2015 to 2019, the IAFF spent $51,585,223 on political activities and lobbying, which averages out to 21.6 percent of the revenue brought in from dues-paying fire fighters, according to their LM2 reports.
During the 2020 election cycle so far, the IAFF has spent $2.3 million in political contributions with nearly 79 percent of those contributions going toward Democrat candidates, according to the website Open Secrets.
MDA on the Ropes
The well-known charity has been taking in less money over the past few years. In 2015, the MDA took in $121.9 million in contributions and grants with total revenue topping out at $126 million, according to their 2016 tax filing.
By 2018, total revenue had declined to $110 million with $103 million coming from contributions and grants, a drop of 16 percent in contributions and 14 percent in total revenue.
That same year, the organization distributed $26.5 million in grants to research organizations and universities working on treatments for muscular dystrophy, while paying out $49.7 million in salaries, compensation and benefits for employees.
The MDA also spent $16.2 million in professional fundraising fees and $31.4 million in "other expenses," leaving the organization with $2.8 million for the year.
Charity Watch recently downgraded its rating of the MDA from a B-plus to a D, largely because the charity is spending nearly 50 percent of its money on employee pay and benefits.
"In 2019, they only spent 51 percent of their cash budget on programs and it cost them $49 to raise each $100 of cash support from the public," Styron said. "They've kind of taken a dive here from an efficiency perspective."
The Muscular Dystrophy Association was well known for its annual telethon fundraiser, formerly hosted by the late comedian Jerry Lewis, and raised nearly $2 billion over the course of 45 years, according to the Associated Press.
The organization ceased conducting the telethon in 2015, but the MDA is bringing it back this year, hosted by comedian and actor Kevin Hart.
The MDA did not respond to calls or email requests for comment.
IAFF Treasurer Edward Kelly has announced that he is running for president of the IAFF in the wake of Schaitberger's resignation.