A new annual report from Truth in Accounting found Connecticut has $67 billion in bonded debt and unfunded retirement costs, making it the third most indebted state per taxpayer in the nation.
The total debt, which amounts to $50,700 per taxpayer in the state, is based on Connecticut's 2019 financial reports and does not include any potential fallout from 2020's pandemic and economic downturn which could worsen Connecticut's pension investment returns and increase its unfunded liabilities.
The report lists Connecticut as having $33.6 billion in bonded debt, $36.2 billion in unfunded pension debt, $19.9 billion in unfunded retiree health benefits and $6.2 billion in "other liabilities."
"Connecticut went into the coronavirus pandemic in poor fiscal health, and it will probably come out of the crisis even worse," the report states. "At the end of fiscal year 2019, Connecticut needed $67.4 billion to pay its bills. The Constitution State is projected to lose $8 billion of revenue as a result of the pandemic, which will put more strain on future taxpayers."
During a press conference on September 17, Gov. Ned Lamont acknowledged Connecticut's long-term debt problems and issues with pension funding.
"In the near term, Connecticut is pretty well-positioned compared to our peers. In the near-term we have a rainy day fund, in the near term our economy has performed better than true of most of those other states," Lamont said. "But I got to tell you, debt and unfunded pension liabilities are a big deal. We probably have more debt and unfunded pension than any other state in the country."
I got to tell you, debt and unfunded pension liabilities are a big deal. We probably have more debt and unfunded pension than any other state in the country.

Gov. Ned Lamont at a press conference on Thursday, Sept. 17, 2020
Connecticut's total debt amounts to 33 percent of the state's total gross domestic product, according to investment publication Barrons.
According to budget numbers presented by Office of Policy and Management Secretary Melissa McCaw, Connecticut is projecting a $2.1 billion deficit for this fiscal year, followed by two years of $3.5 billion deficits.
However, McCaw noted, Connecticut will see an increase in spending during FY2021 of roughly $1 billion related to fixed costs such as pension payments, debt and Medicaid, as well as increased costs related to education funding and the rising minimum wage, which affects state-supported nonprofit organizations.
"You'll see investments and fixed costs growth that occurred across the budget that resulted in increased spending," McCaw said.
The state is projecting a 6 percent loss of revenue due to the pandemic, McCaw said.
Connecticut's 2020 fiscal situation was much improved by an influx of federal funds and higher income and sales tax revenue than previously projected. Connecticut finished the 2020 fiscal year with a surplus, which will be deposited into the budget reserve fund.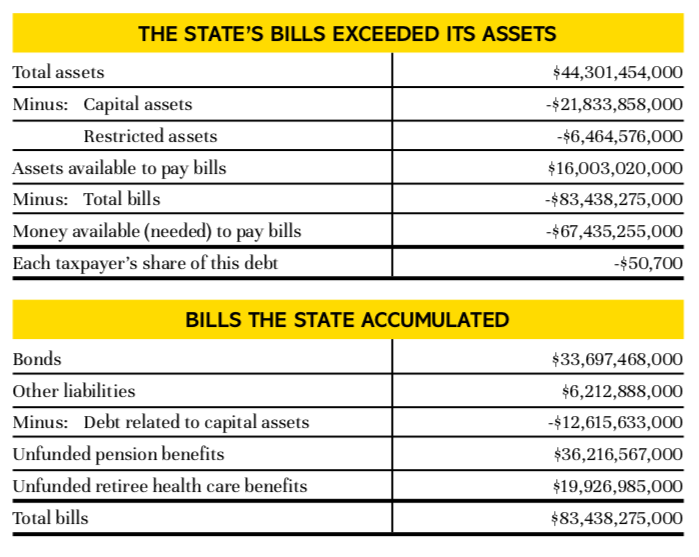 With a fully-funded budget reserve of $3 billion, Connecticut also had additional money to help pay down the state's pension debt, at the discretion of State Treasurer Shawn Wooden. "That's all very good news," said State Comptroller Kevin Lembo.
But payments on long-term retirement debt could rise or fall depending on stock market pension investment returns. The State Treasurer's Office anticipated investment fallout from the economic downturn and the market has proven volatile during the pandemic, rising and falling in big swings.
Connecticut relies on an assumed 6.9 percent investment return for its pension and retiree healthcare funds. Failure to meet the investment returns can increase the yearly payment on those liabilities.
Connecticut will pay $3.4 billion toward pension and retiree healthcare costs in FY 21, according to the Office of Fiscal Analysis. That figure is expected to rise to $4.13 billion by FY 24. However, it is unknown at this time how investment returns may affect the payments.

Connecticut's total fixed costs, including debt service payments and Medicaid, are estimated to rise from $9.9 billion this fiscal year to $11.4 billion by FY 2024.
Nationwide, Truth in Accounting reported that unfunded retirement liabilities "were the largest contributing factor to $1.4 trillion in state-level debt."
Connecticut's ranking in Truth in Accounting's State of the State report remained unchanged since last year's report at 48th in the country, ahead of only Illinois and New Jersey.
However, Connecticut's debt per taxpayer actually decreased by $1,100, compared to Truth in Accounting's 2019 report.
Connecticut was one of eight states in which total debt per taxpayer exceeded $20,000, earning it an "F" grade by the Illinois-based nonprofit organization.
Gov. Lamont will submit a budget proposal to the legislature in October, according to McCaw.