Rep. Anne Hughes, D-Easton, hosted a pool party for the Connecticut Working Families Party at her home in Easton – listed as a 4,900 square foot, 12-acre "magical estate" called "Fiddledale," according to Realtor.com — on August 24 to wrap up the summer.
Hughes, who ran on both the Democratic and Working Families Party ticket during her 2018 campaign, beat out incumbent Republican Rep. Adam Dunsby, and has quickly become a vocal leader of the 46-member Progressive Caucus in the Connecticut House of Representatives, advocating for higher taxes on wealthy residents and corporations.
The CT Working Families Party is a highly-active political force in Connecticut, often recruiting their own candidates to run in primary races against Democratic candidates who don't vote in line with their priorities, or cross endorsing candidates with their own line on Connecticut voting ballots. They were instrumental in funneling union money toward the re-election of Gov. Dannel Malloy in 2014.
According to the event listing, funds from ticket sales would go toward "canvassing, communications, and organizing work to help elect progressive candidates in Connecticut," and featured a "beer bar made from recycled pallets."
The event, posted on Facebook as the "WFP Pool Party, Cookout, and Campfire with Rep. Anne Hughes," also listed Rep. David Michel, D-Stamford, and Sen. Will Haskell, D-Wilton, as attendees.
Ticket sales were linked to the Action Network, an organizing platform for organizations like the AFL-CIO and the DUE Justice Coalition — which lists numerous supporters ranging from unions to churches and nonprofits like CT Voices for Children and the CT Citizens Action Group.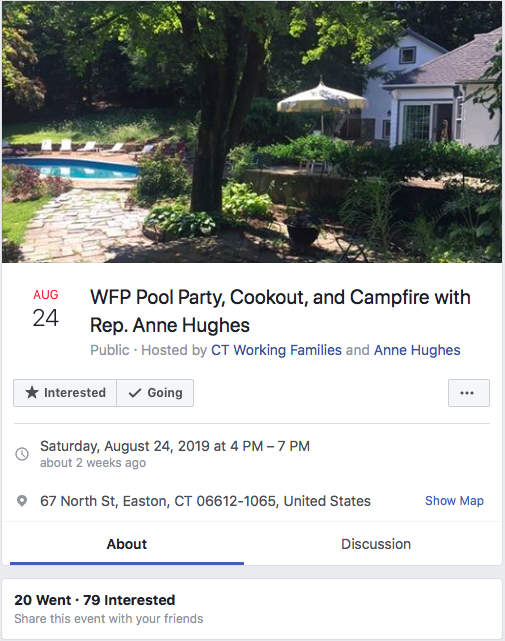 DUE Justice was the organizing force behind the "Rally for a Moral Budget," which was held at the Capitol on May 20, 2019 and called for a $15 minimum wage, paid family and medical leave, collective bargaining, higher taxes on the wealthy and corporations and better access to jobs and housing.
Although ticket prices are unknown, the Facebook post shows there were twenty attendees.
But Hughes' pool party was not the only Working Families Party event of the summer attended by lawmakers and elected officials.
The Working Families Party's "Kicking Ass for the Working Class" 2019 picnic was held at Wickham Park in Manchester on July 10.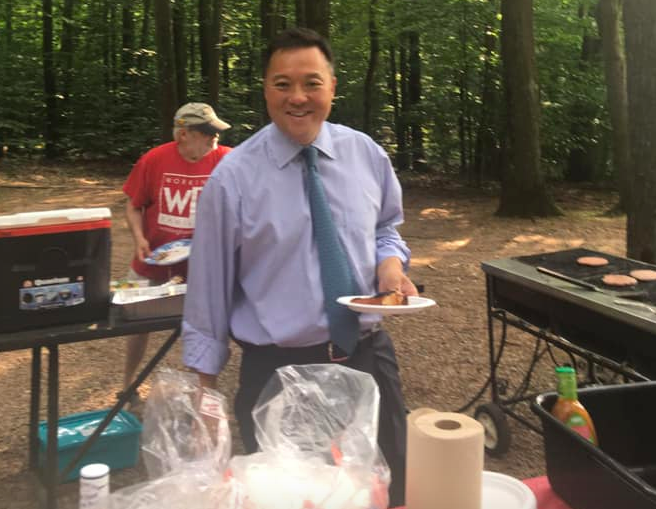 The event was attended by Connecticut Attorney General William Tong, Sen. Matthew Lesser, D-Middletown, Rep. Michael Winkler, D-Vernon, and Rep. Josh Elliott, D-Hamden, all of whom were supported and endorsed by the CT Working Families Party.
Activities during the picnic featured a cookout, kick-ball tournament and a speech by Working Families National Director Maurice Mitchell.
Funds raised went to support canvassing and organizing efforts.