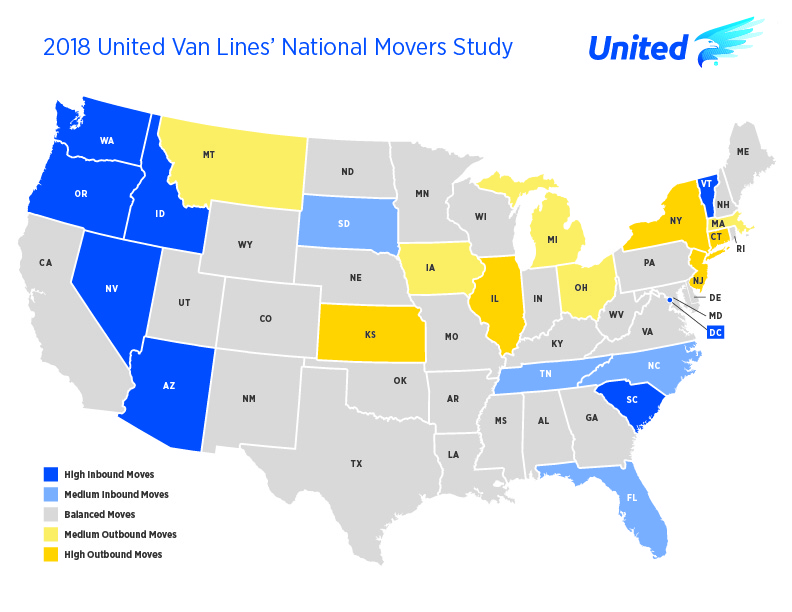 The latest National Movers Study by United Van Lines showed Connecticut had the third highest rate of people moving out in the nation.
According to the study, which tracks state-to-state migration patterns, 62 percent of Connecticut moves were outbound compared to 38 percent in-bound.
The primary reason for the outbound moves were job related (34 percent), followed by retirement (30 percent) and lifestyle (20 percent). Jobs were the primary cause of inbound migration as well, but the number of outbound moves far outpaced the number of people moving into the state.
Overall, the Northeast did not fair particularly well. New York, New Jersey, Massachusetts and Rhode Island all saw a higher percentage of people moving out.
Vermont had the highest percentage of people moving into the state in the country, but migration trends strongly favored the South and West.
According to Michael Stoll, economist and professor in the Department of Public Policy at the University of California, Los Angeles, "The data collected by United Van Lines aligns with longer-term migration patterns to southern and western states, trends driven by factors like job growth, lower costs of living, state budgetary challenges and more temperate climates."
Historically, Connecticut has lost population to other states, particularly southern states, while gaining population from nearby neighbors like New York and also from strong international immigration.
Year over year, Fairfield County sees the highest influx of people to Connecticut. U.S. Census data for 2018 offered hope as young people starting families may soon depart cities and look for nice suburbs with good schools.
Connecticut has experienced a decline in population over the past few years as people depart for other states, although the population remained relatively flat in 2018. Connecticut also has a low birth rate and an aging population.
The outmigration trend has been particularly pronounced among high income earners, which may spell trouble for state income tax revenues for Connecticut which, year after year, finds itself in continual budget deficits.
According to Internal Revenue Service data the largest group of tax filers who left the state in 2015 were those earning over $200,000 per year.
The net loss of income topped $2.6 billion that year with Florida being the largest beneficiary of that loss.
Studies conducted by various Connecticut state agencies and commissions have shown those moving into the state earn less than those departing.
Explanations for Connecticut's high out-migration patterns range from climate to taxes to the high cost of living.
According the United Van Lines study, 20 percent of people moving out did so for "lifestyle" reasons as opposed to 10 percent moving into the state, but jobs and retirement remained the highest factors for state outmigration.